Race film review: spirit of sportsmanship shines bright in Jesse Owens biopic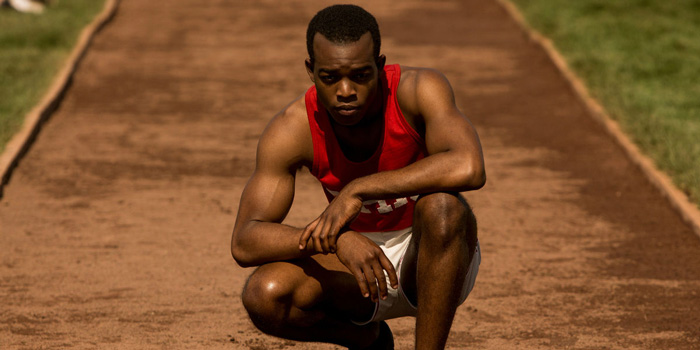 Jesse Owens' story - the Ohio State University track and field star who went on to stun the world (and especially Hitler) by winning four gold medals in Nazi Germany's 1936 Berlin Olympics - is the stuff of dreams.
Which means it's the stuff of movies.
And Race, if not perfect, is at least decent. Sure, the film is edited oddly, but is best appreciated when it focuses on Jesse's big moments and races.
Also read -Calling Suffragette a feminist film is wrong. It's a film for humanity
Stuff of legend
The first half of the 134-minute film is sees Jesse (Selma's Stephan James) become an NCAA track and field star in an intensely segregated era in the US. It also tracks his up-and-down relationship with childhood sweetheart Ruth (Shanice Banton), who eventually became his wife after they had a child.
There is also much made of his bonding with his Ohio State coach, Larry Snyder (Jason Sudekis), who eventually goes all the way to the Olympics with Owens. Snyder himself lost out his chance to go to the Paris Olympics, thus he's really invested in finding a winner.
Most of this is just your typical expected biopic stuff. The fireworks really start once it reaches the famous 1936 Games and the political issues behind them.
A sharp cast
Jeremy Irons turns up as Avery Brundage (eventual head of the International Olympic Committee), who fights to keep the US from a threatened boycott of Hitler's games. William Hurt has a brief role as his main adversary, urging the US to stay home.
Of course, a boycott is exactly what Hitler did not want. He needed these games to show the world - and America - who was superior.
Hitler, along with the menacing Joseph Goebbels (a cold-as-ice Barnaby Metschurat), even brought in top filmmaker Leni Riefenstahl (Carice van Houten from Game Of Thrones) to document the event. The footage eventually became the world-famous film Olympia.
What's very odd about the film is that Riefenstahl comes across as sympathetic - are we supposed to like her for that, despite all the other terrible things she did and said during Hitler's rise to power?
The leads pull through
A still from the film
As Jesse Owens, Stephan James gives a brave and fearless performance. His range of emotions and physical endurance are among the most impressive parts of the movie.
Sudeikis' performance was actually one of the most surprising since this is possibly the first film where his role didn't have an overt comedic aspect. He stretched his dramatic muscles in this role with great success, but still with a natural comedic tone shining through.
Sudeikis has an especially powerful scene in the Ohio State locker room when he teaches Owens to block out the noise (racial jeering) by making an example of the Ohio State football team (including the head coach).
The verdict
The movie is slightly stuffy on occasion. But it's primarily because Hopkins and his writers have given a sort of Cliff Notes-style retelling.
And though it doesn't exactly offer enough context and colour to make you think, it does manage to draw uncomfortable parallels between the situation in Germany and the US in the 1930s.
Jesse, while visiting German athlete Luz Long (David Kross), whom he's just defeated in the long jump, remarks that deep down, racist US doesn't feel all that different from Hitler's Germany. (The scenes with Luz also beautifully depict the true spirit of sportsmanship).
Also read -Zootopia review: one of the most satisfying movies Disney has ever made
That's one of the few points where Race achieves the moral complexity that this fascinating story deserves - by reminding us that Germany's Nazi madness was simply just a far more brutal manifestation of hatred that knows no borders.
RATING: 3.5 out of 5
More in Catch -45 Years review: Charlotte Rampling is as fabulous as ever
London Has Fallen review: Gerard Butler's latest is a racist piece of trash