Pride & Prejudice & Zombies: the zom-com is exactly what it sets out to be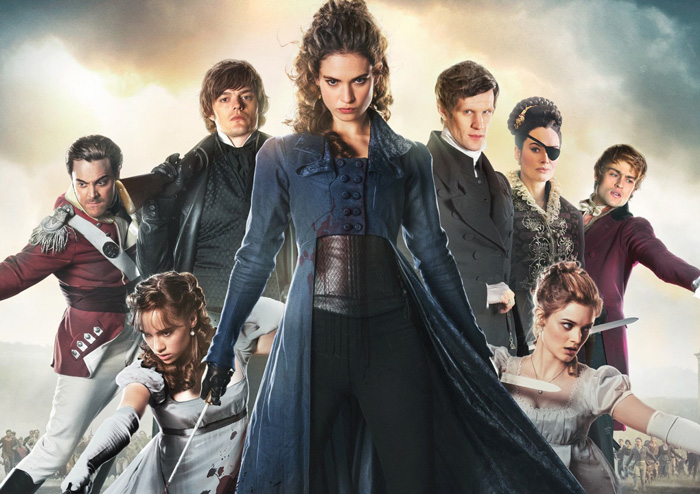 "It is a truth universally acknowledged that a zombie in possession of brains must be in want of more brains."
If you're a die-hard Jane Austen fan you probably just winced. If you're a die-hard zombie genre fan, it probably got you smiling at the thought of aristocrats having theirs heads bit off by zombies.
Also read -Why the Sanghi zombie apocalypse is upon us (and how to save yourself)
As the title makes clear, this Burr Steers' (17 Again) film basically takes Jane Austen's classic 1813 novel - the turbulent love story of Mr Darcy and Elizabeth Bennet - and sets it during an undead plague. Naturally, this means that Bennet, played by Lily James, is now a master of martial arts; while Darcy (Sam Riley) is England's top zombie killer.
The film is based on the 2009 novel by Seth Graham-Smith - the author who spawned the literary-horror mash-up genre but didn't do it any favours with his self-scripted adaptation of Abraham Lincoln: Vampire Hunter. Which totally tanked at the box office.
Here, the bulk of the original plot is untouched, if rushed and abridged. But instead of seeing Liz (not Lizzie here) and Darcy exchange sharp words in a ballroom, we see them engage in hand-to-hand combat in the same setting. Which is all kinds of surreal.
And if you thought World War Z pushed the traditional conventions of zombie behaviour too far (why were they so fast?!), you'll be truly riled by Pride & Prejudice & Zombies's approach. Not only do these zombies run, but they're also capable of talking and retaining their humanity if they resist the urge to eat human brains.
The Bennet sisters are not merely surviving
But it's gorgeous fun - the sisters all whirling and twirling in their period dresses, all packing a serious amount of metal in their stocking and god knows where else. So even if the premise is as dumb (and fun) as it gets, the fact that the women are not passively waiting for the men to kill of zombies lets this film score high on a feminist rating meter.
But what dragged even that quality down is the fact that there aren't any imaginative Shaun Of The Dead-style kills - a huge disappointment when you think of ladies just hacking away at the undead. Also, since this was rated PG-13, there isn't that much gore to satisfy Walking Dead fans at all.
There are also some chuckles in repurposing Austen's dialogue like: "zombies or no zombies, a young lady must think of marriage" and "Mr Darcy, you are as unfeeling as the undead".
And that cast...
The film may be a surreal and weird dance of old and new, but it's lifted by the presence of its all-star cast - Charles Dance as Mr Bennet to his Game Of Thrones co-star Lena Headey as the badass zombie-killer Lady Catherine de Bourgh.
Doctor Who's Matt Smith plays a hefty part as the mansplaining Mr Collins - and he delivers the lion's share of comic relief.
The verdict
You know what? I didn't hate it.
It's a one-joke movie but the joke is funny. But in the land of zom-coms, it does pale in comparison to Shaun Of The Dead and others like Zombieland and iZombie.
The film also has an overt theme of female empowerment - almost like Jane Austen on steroids. These feisty female warriors would make any feminist proud because they're not just playing the survival game, but charging off into battle to save their beaus from hungry zombie hordes.
And who knows? Maybe this will get more kids to read a damn book.
RATING: 2.5 out of 5
More in Catch -How to Be Single review: funny, enjoyable and messy in an all too real way
Deadpool: Foul-mouthed. Gore-fest. Arguably the funniest superhero movie ever