Photographer, filmmaker, and now writer: Ryan Lobo on another first, Mr Iyer Goes to War
Jhinuk Sen
| Updated on: 19 December 2016, 19:52 IST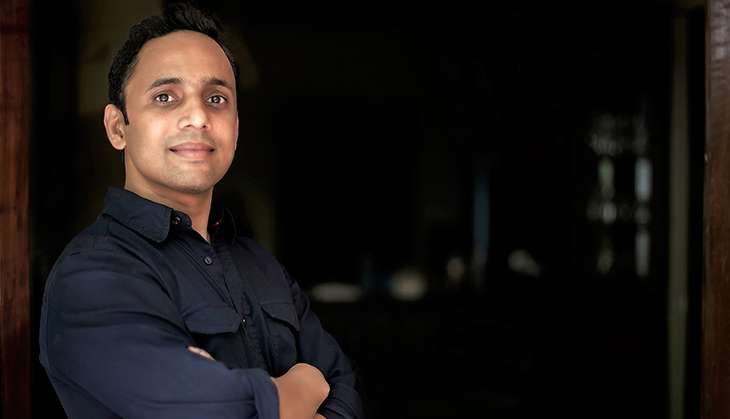 Friend: What are you reading?
Me: Mr Iyer Goes to War
Friend: What's it about?
Me: This Tam-Brahm guy in Benaras who thinks he is Bhim and then he goes on adventures...so far...
Friend: You read the strangest things you know?
Yes. I do. But I can't be that bothered to explain when it turns out to be hands down one of the funniest books I have read in 2016.
The review of the book will be out soon, but before that we got a chance to have a quick chat with author Ryan Lobo about his maiden novel.
Lobo's 'author description' goes something like this - "...He is an award-winning photographer and filmmaker based in Bangalore. His TED talk on compassionate storytelling in photography received a standing ovation. Ryan co-produced The Redemption of General Butt Naked which won an award for Best Cinematography at the 2011 Sundance film festival. His films have aired on the National Geographic Channel, Animal Planet, The Oprah Winfrey Show and PBS among many other networks."
Here are some extracts -
Jhinuk Sen (JS): Let's start at the very beginning - what got you to start writing a novel?
Ryan Lobo (RL): I sometimes feel that photography is not enough to effectively tell a story the way you might want people to understand and experience it. Being a photographer, I have experienced how my photographs might affect people very differently.
A photograph could be interpreted in many ways and its comprehension can change with time or with who might be looking at it. I have always loved reading and books have influenced me deeply. I felt that writing a novel was the best medium to communicate what I compulsively felt that I had to say, intangibles included.
JS: From film-making to photography to writing - how did that happen? Was there always a plan? Or was there a moment of epiphany that changed it all.
RL: My epiphanies always seem to come after the fact, after the labour or experience, during some unplanned moment, never before. You decide to do something then work, work and work some more at it. I have always felt that to be an artist that you are the vessel through which something else flows. You try to have faith. And you work at it.
I spent some time on the Ganges making various documentaries for various clients. More often than not our films were quite spectacular, like one we made five years ago at the Kumbh Mela. I recall watching a very old couple walk down to the river's edge and bathe in the Ganges.
Later, when I spoke with them, they told me that they knew this was the last time they were going to see the river. The venue was chaotic and all the film crews were shooting the sadhus, draped in marigolds and waving swords. It was astonishing; that spectacle, and in all that noise and colour there was something very special about that couple walking down to the river in absolute silence themselves. It struck me that what my country has been through colonialism, invasions, corruption and poverty and regardless of politics that something had survived through the centuries, that compelled that couple to make an epic journey to that confluence.
JS: How did you create Mr Iyer? Any influences from your own life? And the obvious Don Quixote connect - let's talk about that...
RL: The main character Mr Lalgudi Iyer was inspired by the character of Don Quixote, an idealist who believed in the values of an older time, knight errantry and gallantry, despite living intime of decline. He lived his ideals regardless of outcome, charging the monsters of his time both imaginary and real, and though crushed repeatedly, rises from the ashes.
I would like to think that India as a civilisation is 'rising' in the sense that particularities long suppressed due to poverty and colonialism have begun to flow again. Identities, religious and cultural, once overwhelmed and displaced are coming into themselves. Globalism seems to be going local. As the saying goes, 'History flows in blood and is not written in the books'
I chose a Tamil Brahmin as it was important for me to find a main character who lived in both the modern world and who was still profoundly in touch with his mythology and culture. In some regards, many Tamil Brahmins are people who live their beliefs quite profoundly and have done so for a very long time. I recall watching a man conduct a funeral ritual once and an archaeologist friend told me that he had found evidence of the same ritual from the Bronze Age. I wanted a character to assert himself against what he feels to be the corruptions of our time and yet hold onto what he feels is most precious, the truths of his own belief and culture.
What moved me was the relentless and enduring nature of Iyer's being, never allowing himself to be destroyed, never compromising and never giving up. He refuses to be a dying old man and instead aspires to be a hero. I have met so many of these people in my life, from various communities. I wanted such a character, a character I have met so often in my daily life, ordinary people with an epic view of themselves and the world.
JS: Why Bhim, and not any other mythological warrior?
RL: Bhima is a mythological character known for his strength and integrity. The frail old Iyer believes himself to be a reincarnation of the Bhim, maybe in some ways becoming the zeitgeist we have in India today, with muscularity possibly more pronounced due to our civilisation's woundedness, yearning to assert and become itself in the world.
JS: What made you pick Benaras to start it all off?
RL: Varanasi is the heart of the cultural geography of India. It is a spiritual capital of sorts and is considered to be the holiest of the seven sacred cities in Hinduism and Jainism. The city has been ravaged repeatedly but has repeatedly risen, phoenix-like from the ashes, maybe like Don Quixote, who though defeated, always got up and continued his quest. A city and protagonist as your character, journeying towards transcendence.
JS: Where do you want to take the story now? Or does this chapter end with this novel itself?
RL: The Ingenious Gentleman Don Quixote of La Mancha does not have the structure that modern novels have. In eastern myths the story never really ends, as the protagonist can be reborn, over and over again. To take the oldest novel in the west and adapt it to India, both in terms of philosophy and character, was interesting for me.
Iyer eventually sees himself not as a lone crusader but as a part of something much larger, a product of his different histories, yet to be reborn into his next incarnation. Thus, on his deathbed, he plans his next adventure, as a travelling leprosy patient, demon hunting on the mind. Likewise, in my own life....
JS: Finally - what next for Ryan Lobo?
RL: More films and photographs. Another book is in the works too.