Pete's Dragon review: Good family entertainment, but a tad half-hearted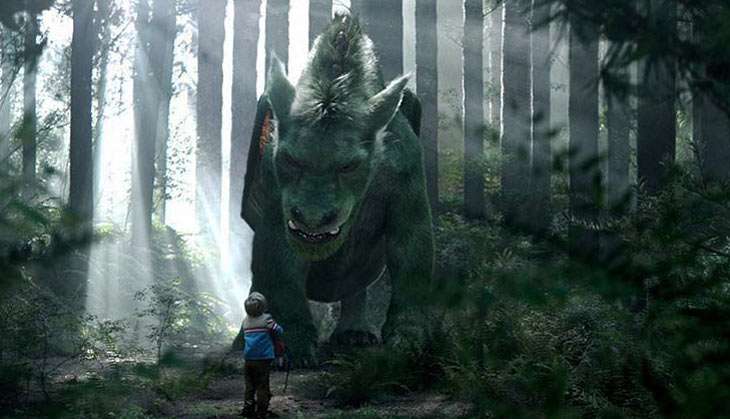 Imagination is such a wonderful thing. But, as each year brings a greater set of realities to be faced, it diminishes as you grow older. However, a world without imagination would be bare.
I honestly wish I had seen this movie when I was a kid. It is the perfect movie to inspire a sense of imagination in children without talking down to them. Even though if it is full of cliches!
Deep in the forest, there dragons will be
Pete's Dragon has that spark of imagination coursing through its blood. A little boy, Pete (Oakes Fegley) loses his family in car crash and just happens to meet a about a puppy-demeanoured dragon in the woods.
Years later, Pete and his pet dragon Elliot found in the woods by a ranger named Grace (Bryce Dallas Howard). Elliot's existence then pretty much changes everything for the people around him.
Grace has a kind, clever stepdaughter (Oona Laurence). And she in turn has a kind, clever father (Robert Redford) who once, while hunting, came face-to-face with the alleged Millhaven dragon. And this chance encounter gave him a mystical regard for the wilderness and its denizens.
Even the film's villain isn't that bad. He's played by Karl Urban - one of those macho anti-environmentalists who wants to chew up the wilderness. But the movie needs Gavin because otherwise there would be no conflict.
It's a plot line where you know exactly where the twists and turns are going to be. It's a simple story, heartwarmingly told. The adorable parts are adorable and the frustrating parts frustrating. And its heartfelt moments feel winsomely sincere.
But the live-action film from Disney, a remake of a 1977 film from the same house, it's at its most delightful when Pete and Elliot the dragon are frolicking together in the forest - they're like brothers, both lost and without families.
Directed by David Lowery, there's gorgeous cinematography, beautiful music, and strong performances - Redford in particular.
Lowery also appears to have that great directorial skill for silent pauses - that lend the movie an almost Spielbergian sense of childlike awe. (This year is already proving to be the year of Spielbergian '80s vibes, with this and Netflix's Stranger Things).
It's weighed down by its cheesiness though. That's where the whole movie begins to feel halfhearted when cliche after cliche assault you.
"Follow that dragon," Urban's character yells, looking quite embarrassed and apologetic about having to yell that out.
And even though Elliott is not the kind of dragon that we're used to - he's a furry, playful, fluffy creature - the CGI is wonderful, particularly when he does his "look, I'm invisible" trick. His fur looks real enough to stroke and that's exactly what you're going to want to do as the viewer.
The verdict
It's about kindness, bravery and family values - subjects most recent movies have missed. Overall, if you're among those who still allows their imagination to wander, it's a very pleasant way to spend a couple of hours.
RATING: 3 out of 5