Netflix's '80s sci-fi throwback Stranger Things is 2016's best TV show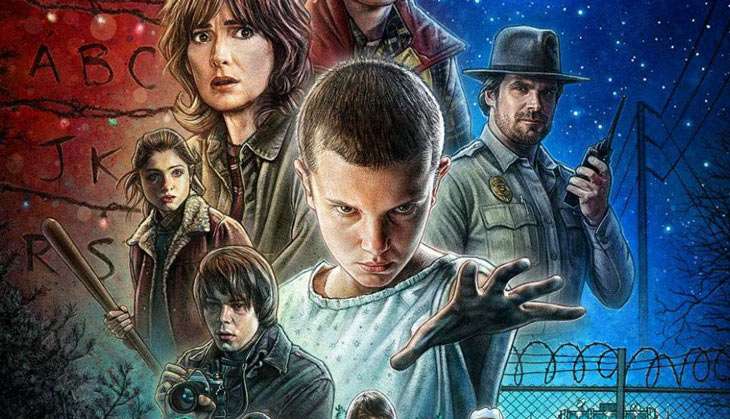 The '80s are back baby! If you've watched Netflix's new binge-worthy show Stranger Things, there's no way you missed the billion references to '80s movies, books and television shows.
And if you haven't watched Stranger Things, why haven't you watched Stranger Things? It is by far the best thing you'll see on television this year. My opinion may be biased because of my darker pop culture leanings, but do take my word for it.
Nostalgic fare
If you had told me that the show was the result of Stephen King, John Carpenter, and Steven Spielberg getting together and having a chat in the mid-80s and hashing out a TV series I probably would have believed you.
Created by the writing and directing team of brothers, Matt and Ross Duffer, the eight-episode Netflix horror-thriller series takes place in 1983 in the small town of Hawkins, Indiana.
The plot is this: Something escapes from a super-secret government facility and causes local boy Will Byers to disappear, leading his Dungeons & Dragons buddies to go out at night to find him. But instead they discover a frightened runaway with special gifts. The story is basically the stuff of Stephen King's dreams - you know what I mean if you've read It.
The brothers, in a genius move, managed to cast Winona Ryder as Joyce Byers, the mother of the missing kid. Her being there sort of just reinforces the '80s theme fully. She's absolutely fantastic as a woman crazed by the loss of her child and there are some visually gorgeous sequences when she tries to find a way to communicate with him with what looks like some demented kind of Christmas Ouija board.
David Harbour's quiet competence as the haunted police chief is also just purely fabulous. He starts of as a typical lazy-looking cop, but by the end of it, some sort of inner Indiana Jones gets unleashed in the role which looks to be modelled on Chief Brody from Jaws.
But the great casting doesn't end there - it's the kids that steal the show.
Will's friends Mike, Lucas, and Dustin - much like the Losers Club from It - also jump in to investigate their friends' disappearanceThey're helped by a hunted-looking girl their age whose shaved head, Matilda-like powers, and tattoo - 011 - suggest she's escaped from some kind of crazy experiment.
In fact, the kids were so standout good that it was thrilling to see Millie Bobby Brown and Finn Wolfhard do their thing. In fact, there are Oscar winners who wish they could do what these kids do. And Gaten Matarazzo as Dustin ("Toothless" to his bullies, who mock him for his cleidocranial dysplasia) steals every scene he's in as an unbelievably smart kid who manages to reinforce the codes of friendship in his group.
It's beyond adorable.
A love letter
The Duffer Brothers (whose previous credits include writing episodes of Wayward Pines) wrote and directed nearly every episode with the goal of crafting "a love letter to the cult classics of the '80s", according to Netflix's official description.
The nostalgia factor is huge: from the opening title screen with red letters crossing one another across a black background done to beats of a John Carpenter inspired synth soundtrack; the '80s tone for the show is set off immediately right down to white specks that mar the title sequence.
The font is also direct tribute to the Master of Horror - King himself - and if you ever had a bookshelf (or Kindle) stuffed with King's numerous terrifying and fantastical creations (okay, I'm describing my sister and me), it, along with the opening synth music, is enough to give you the straight-up chills.
The internet being the internet, has already taken cuts from the show and put them side by side with the show's retro influences - ET, The Goonies, It, Firestarter, X-Files, The Twilight Zone, Indiana Jones and even Twin Peaks.
And those who have powered through all eight hours know that it wears these influences on its sleeve, often out-and-out referencing famous Spielberg movies King's books. While it doesn't have any killer clowns or buckets of pig blood or world-destroying plagues, the Netflix series embraces many of the less terrifying things from King's library of tales, such as innocent kids facing dangerous threats (It, The Body, Stand by Me), a girl with telekinesis (Carrie, Firestarter) and a thin film of reality between alternate dimensions (The Mist, The Langoliers).
In fact, the Duffer brothers have been pretty open about King being a major influence in the show.
King heartily seems to approve of the comparison, however, sharing his praise for Stranger Things online.
Watching STRANGER THINGS is looking watching Steve King's Greatest Hits. I mean that in a good way.

— Stephen King (@StephenKing) July 17, 2016
STRANGER THINGS is pure fun. A+. Don't miss it. Winona Ryder shines.

— Stephen King (@StephenKing) July 18, 2016
Netflix itself put no pressure on Duffer brothers to make a more classic 13-episode season or a 10-episode season. That's not a freedom to begrudge them, as this is possibly the tightest series since Sherlock - one that almost feels like a movie if you do binge watch it. Which you should. Like now.
People's love for the show is evident with how it burst on to IMDB at 9.0 (making it one of Netflix's highest-rated original series to date) at the No. 20 position in their best of TV list. Better yet, the final episode has an astounding 9.5 rating, rarely seen on IMDB.
And just in case you can't get enough of the deadly Stranger Things theme tune, here's a ten-minute version for you to play on repeat.
All episodes of Netflix's Stranger Things are available to stream right now. A second season has already been confirmed.