Netflix binge ahead: these 8 films are the Oscars Best Picture nominees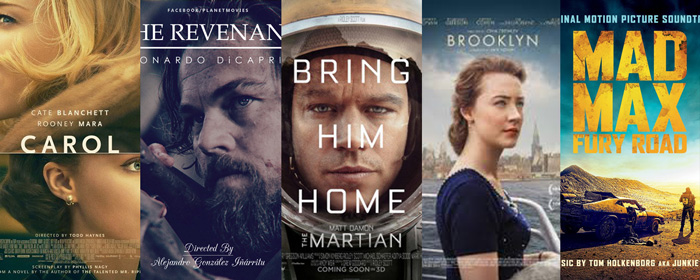 The Golden Globes have come and gone and now the final piece of the puzzle, the one everyone covets, the Oscars are left.
The Academy will crown what it thinks is the best picture of 2015 at a glitzy Oscar ceremony on 28 February.
Before the big reveal, though, came the big build-up: the nomination announcement, the cue for those who made it to hit speed-dial and start talking Oscars outfits with their stylists.
This year's nominees were announced at 5:30 AM Pacific Standard Time (7 pm Indian time) on Thursday, 14 January.
There's no fixed number of nominees for Best Picture, the crown jewel of the glittering Oscar Awards - anywhere from 5 to 10 films can make the cut. Over 6,000 voters take part and help decide the nominees and then eventually the winner.
Each film that gets the nomination has to have earned either 5% of first-place rankings or 5% after an abbreviated variation of the single transferable vote nominating process used for nominations in other major categories.
2015 has been an especially diverse year for films and the biggest box office hit of them all - The Force Awakens - isn't going to be nominated. While it may have raked in the moolah, that's not all it takes.
The field is crowded, with a host of breakout hits. Some were based on real-life stories - Room, Spotlight, The Big Short and Bridge of Spies - while others, such as Mad Max: Fury Road and The Martian were just pure, unadulterated fun.
At the Golden Globes last week, The Revenant took the Best Motion Picture - Drama award, beating out fellow-nominees Carol, Spotlight, Room and Mad Max: Fury Road.
Does that give us a cue to where the Academy is headed, or will they veer in the other direction, with The Martian, which won the other big award of the night at the Globes, Best Motion Picture - Musical or Comedy. It bested Trainwreck, The Big Short, Spy and Joy.
With a lineup this diverse, we're betting the Academy picks the higher end of the scale when picking nominees - there seem too many worthy contenders to limit them to five.
As it turns out, we got 8/8 right. We did predict nine - the one left being Carol - but the Academy went with eight this year.
All these nine films are worthy of downloading/Netflixing/watching any way you can.
In alphabetical order, because why not, are the nominees for Best Picture:
Director: Adam McKay
Cast: Christian Bale, Steve Carell, Ryan Gosling and Brad Pitt
Why it will make it: It's got a ton of nominations already, Golden Globes, British Academy Film Awards (BAFTAS) and even made it in to American Film Institute Awards top 10 movies of 2015 list. The film is a take on financial institutions and the money men whose reckless bets plunged the global economy into disaster. Adam McKay may be known for his comedies, but this may be his best yet.
Director: Steven Spielberg
Cast: Tom Hanks, Tom Hanks. Mark Rylance, Scott Shepherd, Amy Ryan, Alan Alda
Why it will make it: With a script from the Coen Brothers and a director in Steven Spielberg, this film based on the 1960 U-2 cold war incident tells the powerful story of a lawyer entrusted with negotiating the release of an American soldier. It's an old-fashioned spy thriller and since the Academy voters skew older, this is a movie they are likely to remember in real life as well.
Director: John Crowley
Cast: Saoirse Ronan, Emory Cohen, Domhnall Gleeson, Jim Broadbent, Julie Walters
Why it will make it: This is the least known film worldwide out of the frontrunners for the Oscar. IMDB describes the movie with "an Irish immigrant lands in 1950s Brooklyn, where she quickly falls into a romance with a local. When her past catches up with her, however, she must choose between two countries and the lives that exist within." It's an atypical storyline and where critics are concerned, has entered a number of top ten lists worldwide. Lead actress Saoirse Ronan won best actress at the British Independent Film Awards and this bodes well for the film on Oscars night, too.
Director: George Miller
Cast: Tom Hardy, Charlize Theron, Nicholas Hoult, Hugh Keays-Byrne
Why it will make it: It is the best-reviewed film on review aggregation site Rotten Tomatoes. It is one of the most entertaining movies of the year. It is also, along with The Martian, one of the most difficult movies to make. It may not walk away with the big prize but there's no question it will make the nominations - it was a much-awaited return to the dusty dystopian Aussie badlands and it didn't disappoint.
Director: Ridley Scott
Cast: Matt Damon, Jessica Chastain, Kristen Wiig, Jeff Daniels, Michael Pena, Kate Mara
Why it will make it: One of the most difficult movies to make in 2015, The Martian came out tops at the Golden Globes last week. It's a sci-fi thriller that ticks all the boxes for Academy voters. It was critically-acclaimed and did well at the box office. Matt Damon also won the Best Actor award at the Globes in the Comedy category.
Director: Alejandro G. Inarritu
Cast: Leonardo DiCaprio, Tom Hardy, Domhnall Gleeson, Will Poulter
Why it will make it: The Revenant won big at the Golden Globes, taking home both the Best Director award and then the one for Best Film - Drama. Inarritu is not new to award season - his last movie, Birdman did superbly, too. This is another movie that has been called "preposterously tough to make" and is likely to be the film that brings Leonardo DiCaprio his first Best Actor Oscar.
Director: Lenny Abrahamson
Cast: Brie Larson, Jacob Tremblay, Joan Allen, Sean Bridgers, William H. Macy
Why it will make it: It's a Canadian drama-thriller film where Brie Larson stars as Ma, a woman kidnapped by a stranger when she was a teenager. It seems a lock-in for Best Actress but a far shot from Best Picture. Nomination, though, seems almost certain.
Director: Tom McCarthy
Cast: Mark Ruffalo, Michael Keaton, Rachel McAdams, Liev Schreiber, John Slattery, Stanley Tucci
Why it will make it: Spotlight follows The Boston Globe's "Spotlight" team and their investigation into child sex abuse cases in the Boston area. The real Spotlight team won the 2003 Pulitzer Prize for Public Service and this film, even with nothing flashy, seems to be the frontrunner for the Oscar.
09
Carol and bonus films: Straight Outta Compton, Steve Jobs, Ex Machina, Hateful Eight
Director: Todd Haynes
Cast: Cate Blanchett, Rooney Mara, Sarah Paulson, Kyle Chandler
Why it will make it: This film has received critical acclaim ever since it premiered at the 2015 Cannes Film Festival, where Mara tied for the Best Actress award. It leads the BAFTA nominations and its storyline about "an aspiring photographer who develops an intimate relationship with an older woman," is something that intrigues most. It's an adaptation of The Price of Salt, the 1952 lesbian romance novel. These movies rarely get critical acclaim but when they do, they go big.
Whether because their directors are Academy favourites - hello Aaron Sorkin and Quentin Tarantino - or because they became surprise hits - here's lookin at you, Straight Outta Compton and Ex Machina - these are some of the curveballs the nominations may throw our way.
We'll know soon enough!