My Big Fat Greek Wedding 2 review: an absolutely unmemorable sequel
Unsolicited advice, oversharing relatives and an endless number of stereotypes. It's been 14 long years between 2002's sleeper hit My Big Fat Greek Wedding and its follow-up.
And nothing much has changed. The second bout with the Portokalos family is just as stuffed with an endless supply of big crude Greek stereotypes as the first. And all their zany traditions. And plenty of baklava.
The premise of the sequel is weak: 14 years after MBFG 1, it turns out the marriage license of Gus (Michael Constantine) and Maria (Lainie Kazan), was never signed by a priest before they left Greece for the US, meaning they're not legally married (and living in sin?!). Cue the groans.
So after much complication and a medical emergency for Gus when he gets stuck in a bathtub (cringe, cringe, cringe), they decide to have a second BFG wedding.
Meanwhile, the subjects of the first BFG wedding, Toula (Scribe-star Nia Vardalos) and Ian (John Corbett), are trying to reignite the spark in their own union while also dealing with daughter Paris (franchise rookie Elena Kampouris), who is looking at colleges, preferably one far away from her crazy, overbearing family.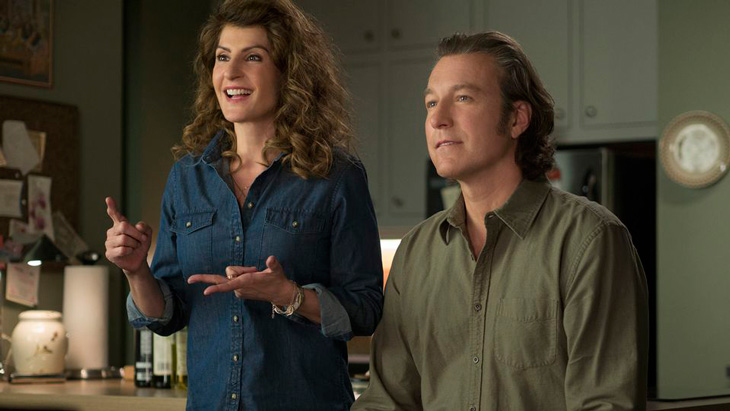 Corbett is just army candy in the sequel
The fact that the focus is shifted to Toula's parents is one of the few reasons to watch the movie - it's rare to see a focus on a relationship between an older couple who have tolerated each other for 50 years.
It's no 45 Years, of course.
Andrea Martin remains the most significant scene stealer as feisty Aunt Voula who has an incessant need to recount her sexual adventures.
Along for the ride this time are John Stamos and Rita Wilson as a married couple who pop in and out.
Nothing about Kirk Jones direction stands out - it's all mediocrity at its best.
The verdict
It's got some fun moments of course, and light-hearted family drama that will make you groan with the familiarity of the situations.
But this, without a doubt, will be one of the most unmemorable movies you'll se this year.
So you'll be grateful that it ends at the 1.5-hour mark. Any more, and you'll end up with crippling depression over having enjoyed any of it.
RATING: 1.5 out of 5