Mother's Day review: a marketing movie through and through
The bond between a mother and her children is unshakable.
Not sure what happened here though:
'Soldier mom' #JeanieDitty who posed in ghostly photoshoot charged with #murder of 2yo daughter https://t.co/ulytDt4fPJ

— cathy king (@aggiepuss44) April 5, 2016
But back to the point.
We all know Mother's Day is a great day for Hallmark to sell cards and mint money. That knowledge makes the special day feel a lot more hollow, but regardless of that extraneous nonsense it's clear mothers need to be celebrated.
But such days also become opportunities for Hollywood to exploit the masses with movies like Mother's Day.
And considering it's director 81-year-old Gary Marshall's (of Pretty Woman fame) third attempt at making a movie in the same format (Valentine's Day and New Year's Eve) - with big names, intertwining stories, family drama and slapstick humour - you'd think he'd have managed to hone his skill.
But nope, that's not the case. Sure, it's a light, entertaining, don't-have-to-use-your-brain movie, but it's also full of a racist jokes, dated jokes, contrived slapstick humour and some unrealistic family drama.
The characters include Sandy (Jennifer Aniston), whose picture-perfect divorce is threatened when her former husband (Timothy Olyphant) unexpectedly marries his much-younger girlfriend Tina (Pretty Little Liar's Shay Mitchell) and tries to include her in the lives of their two young sons.
Sandy's friend Jesse (Kate Hudson) is married to Indian doctor Russell (Aasif Mandvi) and lives next door to her sister Gabi (Sarah Chalke), who's a lesbian; both keep their domestic lives secret from their mother Flo (Margo Martindale) because she is a racist and a homophobe.
Considering that their first reaction, when they find out, is to call Russell a "towelhead," you can understand why.
There's also Britt Robertson as Kristin, a new mother in the process of tracking down her own birth mother (Julia Roberts playing the top talent over at the Home Shopping Network). Taking the marketing angle to the next level in the movie, she hawks junky bracelets and mood pendants for, wait for it, Mother's Day.
And then there's Jason Sudeikis as a widower trying to be a good dad to his two daughters after the death of his wife (Jennifer Garner in a cameo).
Overstuffed and long
All of these storylines, switch back and forth as expected, intersecting at various points but not adding up to much of anything to chew on.
There's no point really talking about camera work or the acting either as it all more or less falls flat, save two to three moments that elicit genuine laughs. (Aniston gets some truly cringe-worthy moments with a parking lot meltdown and two very strange meet-cutes. Gag).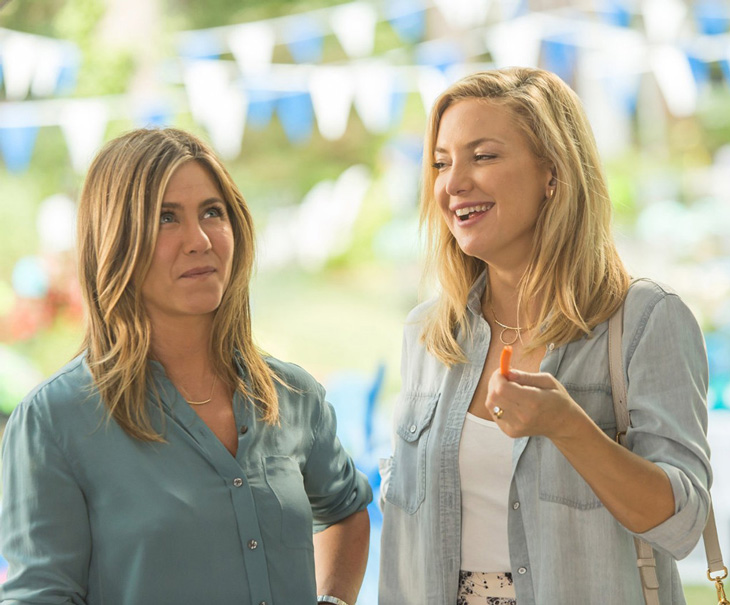 Wait, no, it's not over. There's a blooper reel, the highlights of which include Jennifer Aniston saying the word "justified" to Justified star Timothy Olyphant and accidentally calling Julia Roberts "Julia" instead of "Miranda".
Okay.
The verdict
This film was not made for the critics - it's got 7% on Rotten Tomatoes and has caused critics across the board to spew their insides out.
This one is purely for the audiences - most of whom will watch a barely funny star-studded vehicle no matter what.
But perhaps, just perhaps, you shouldn't subject your mum to this as a Mother's Day treat. She deserves better.
Rating: 1.5 out of 5