Monster guide: 21 new TV shows that you shouldn't miss in 2016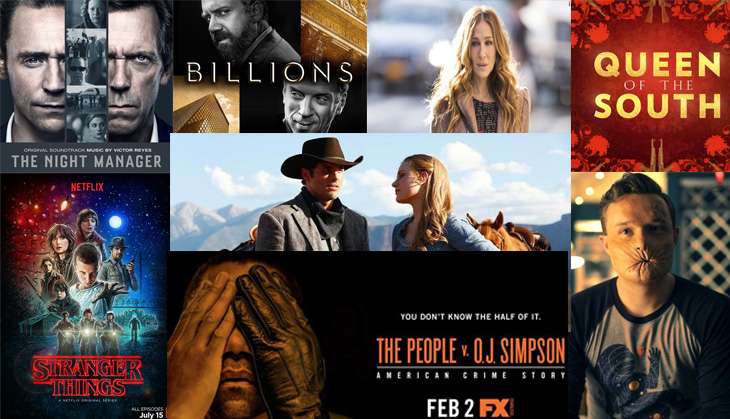 With the 68th Primetime Emmy Awards right around the corner, it's possibly the best time to catch up on all the TV shows that released this year and get excited for the ones that are still on their way.
The last year spawned the phrase "peak TV" thanks to an onslaught of shows in every format imaginable, but 2016 hasn't offered much respite.
It's quite hard to sift through all that chaos, so we've done our best to sort through a tonne of shows, and present to you a list of what may just be the most appealing offerings.
Read this once, or treat it as a reference point for the next 10 months - or any time you're left without entertainment and lacking the will to sort through hundreds of shows to find what's right for you.
So get up, charge up your broadband and binge watch these shows. But mind you, this is just a fraction of the stuff out there, and is listed in no particular order.
1. Preacher
Network: AMC
Release date: 22 May
If you're tire of reality TV, family comedies and the like, this unusual plotline is likely to make you perk up - the show follows a violent, superpowered priest (Dominic Cooper) and a vampire on his quest to find and confront god. It's based on a maniacally violent comic book from the 1990s, and its TV adaptation comes from Seth Rogen, Evan Goldberg (Pineapple Express, Superbad) and showrunner Sam Catlin (Breaking Bad).
It can most definitely be an oddly difficult show to love - what with its exploding pastors, gun-toting and coke-snorting angels. But it's a satisfying watch at a time when we're being fed such similar fare across the board.
The good news is that it has been commissioned for a longer, 13-episode second season.
2. Stranger Things
Network: Netflix
Release date: 15 July
I've gone far enough to have already, definitively, declared Stranger Things to be 2016's best show.
Also read - Netflix's '80s sci-fi throwback Stranger Things is 2016's best TV show
The show sweeps over you like a flood of nostalgia with all its wonderful tributes to Stephen King, Steven Spielberg, John Carpenter and the like. It's a complete throwback to the '80s, with a soundtrack that will give you tingles.
Created by the writing and directing team of brothers, Matt and Ross Duffer, the eight-episode Netflix horror-thriller series takes place in 1983 in a small town in Indiana, where a boy goes missing.
It hooks you in right from the beginning - it's dark and exciting - and if anything, the episodes keep getting better and better progressively.
To reinforce the '80s theme, the Duffer brothers even managed to get Winona Ryder in a lead role, and each one of the main kid characters is a delight to watch.
Just watch it already!
3. Billions
Network: Showtime
Release date: 17 January
Homeland star Damian Lewis may have been booted out of the Showtime show in Season 3, but the network didn't forget him at all.
Billions - the embodiment of real-life Wall Street happenings - basically gives its viewers a deep look into the corrupt world of hedge funds. It pits US Attorney Chuck Rhoades (Paul Giamatti) against his biggest legal challenge yet, Axe Capital's Bobby Axelrod (Lewis). Although Rhoades is privy to Axe's illegal practices, he eventually reveals a hand bad enough for him to really understand the games he's playing.
Created by New York Times reporter Andrew Ross Sorkin, the show hit the ground running and has raked in millions of viewers for each episode. It is a little bit soap opera-ish at times, but the one-percenter drama that aims to capture the pulse of America's contemporary political climate has already been renewed by Showtime for another season.
4. London Spy
Network: BBC America
Release date: 21 January
A tight, gripping drama with terrific performances all around - especially by Ben Whishaw, Jim Broadbent and Charlotte Rampling - this five-episode limited BBC series deals with some difficult topics.
Based on an original series by novelist Tom Rob Smith, it follows Danny (Whishaw), an unusual protagonist in an espionage show as he's not a spy, but a man who progressively discovers that he knew less and less about Alex (Edward Holcroft), the man he regarded as his partner.
It is a notably grownup show, both in treating gay love and love-making no differently from the way that heterosexual relationships have been televised for decades.
London Spy also has gorgeous imagery all through every episode, making it look that much more striking, and there's no way you'll regret any time spent on it. You will be left thinking, and that's usually exactly what a good spy story achieves.
5. Mad Dogs
Network: Amazon
Release date: 22 January
Amazon Studios is still a fledgling network, but after a strong 2015 that included the acclaimed second season of Transparent and the virtual history drama The Man in the High Castle, its 2016 centrepiece is this remake of a dark British comedy about four men who get more than they bargain for on a trip to Belize.
Billy Zane (Titanic), Michael Imperioli (The Sopranos), Romany Malco, Ben Chaplin, and Steve Zahn make up the ensemble.
Over the course of 10 episodes, the guys run afoul of drug lords, dirty cops, CIA operatives, and a little person assassin fond of wearing a stylised cat mask, among other problems, and they have an uncanny knack for making the worst decisions in every circumstance.
So it's more or less a show where the same awful thing just happens again and again, varying only in the details of who gets hurt and what type of stupidity our heroes display. But that still works from moment to moment, because all the actors are so incredibly watchable, and have been given just enough to play with so that each man feels like a real character and not a plot functionary.
But you really have to be into madcap mayhem to go along on this ride. Sadly, there will be no Season 2, thanks to creative differences between Amazon and the creators.
6. Angie Tribeca
Network: TBS
Release date: 17 January
A completely self-aware comedy, breaking down some of the television tropes of procedural cop TV, Angie Tribeca has been one of the most refreshing shows of the year.
Created by the husband-wife team of Steve Carell and Nancy Walls Carell, the series stars Rashida Jones (The Office, Parks and Recreation) as Angie Tribeca - a 10-year veteran of the Los Angeles Police Department's elite Really Heinous Crimes Unit (which should give you a sense of the wavelength this show is operating on).
Angie, who prefers to work alone - possibly because she's had 236 partners and they've all died) gets partnered up with J Geils (Hayes MacArthur) and the show more or less 'procedurally' follows their antics, but by endlessly poking at cop show cliches.
It's a satirical show through and through, and taking a page from Netflix, TBS kicked off the series with an all-day airing of the show's initial 10 episodes. The response was so great that second season followed rapidly in June, and the show has already been signed on for a third.
Plus the guest stars so far have included Lisa Kudrow, Busy Philipps, James Franco, Adam Scott, Keegan-Michael Key, Amy Smart, Jon Hamm, and Bill Murray.
7. Wrecked
Network: TBS
Release date: 14 June
The basic premise of JJ Abrams's Lost is back with Wrecked, but with a huge dash of comedy and 2016's favourite kind of humour - poop jokes. But more than Lost, with its roundabout island of never-ending mysteries, it becomes clearer and clearer with each episode that creators Justin and Jordan Shipley were trying to create something more like The Office meets Lord of the Flies.
Even so, there are a lot of Lost jokes, but the showrunners insist that it isn't a Lost parody in any way. But for anyone who spent years yelling at the TV screen whenever Lost's Jack Shephard made yet another stupid decision, this comedy may provide relief by poking carefully chosen holes in the Lost universe.
It is highbrow comedy mixed with a lot of lowbrow comedy, so it may not exactly be everyone's cup of tea. But it stars one very underrated comedian in Hollywood - Rhys Darby, better known as Murray Hewitt, the band manager in HBO's Flight of the Conchords.
That alone, perhaps is enough.
8. Vice Principals
Network: HBO
Release date: 17 July
HBO's newest comedy, which follows a pair of vice principals gunning for the principal job at a mid-western high school, has two ideal leads for this kind of over-the-top comic premise: Danny McBride, who plays Gamby, and Walton Goggins (The Hateful Eight) as Russell.
In fact, to quote McBride, it's about "two a**holes and their misguided lust for power". You won't find any real heroes or anti-heroes, but it'll suddenly dawn on you as you keep getting through the show that the story is about villains who are blind to the fact that they're bad guys.
Co-created by McBride and Jody Hill (Eastbound & Down), it's all about raunchy one-upmanship at its cringe-worthy worst - a classic example of "a**hole TV".
But in today's scenario, with the possibility of Donald Trump becoming the President of the US, the show pointedly and laughably tells the story of how America's most dominant and dangerous demographic is framing itself as the underdog and raging against its perceived enemies.
9. The Night Manager
Network: BBC One/AMC
Release date: 27 March
Adapted from John le Carre's taut spy thriller, the mini series doesn't disappoint one bit, and that's not just because of the two leads: Tom Hiddleston and Hugh Laurie.
Writer David Farr, for his part, completely updated the source material's historical context - the book was published in the post-Cold War climate of 1993; the show opens in the heat of the Arab Spring in 2011. It tells the story of Jonathan Pine (Hiddleston) a former British soldier and titular night manager of an Egyptian hotel, and his dealings with "the worst man in the world", Richard Roper (Laurie). Now that's a role Laurie is comfortable in, and in this series, he revels in playing the baddest of bad.
It's not as action-packed as you'll expect; in fact, it's decidedly more reserved, almost detached at times, using its depiction of extreme wealth and the influence it can buy to tell a contemporary cautionary tale. It's a story about dualities and deceptions, and it's spun so well, truly making it a stylish spy thriller that you didn't know you needed.
10. The Crown
Network: Netflix
Release date: 4 November
With Downton Abbey all wrapped up, costume drama fans are in the market for a new obsession, and it might be here in the shape of Netflix's The Crown. Ambitiously setting out to tell the entire life of Britain's longest-running monarch, it comes from the pen of Peter Morgan, who's had enormous success with this subject matter with the Oscar-nominated The Queen.
The 10-episode series, each an hour long, promises to tell "the inside story of two of the most famous addresses in the world - Buckingham Palace and 10 Downing Street - and the intrigues, love lives and machinations behind the great events that shaped the second half of the 20th century".
The cast, as you might imagine, is superb: Claire Foy, so good in Wolf Hall, has the lead role, Doctor Who veteran Matt Smith is future husband Philip Mountbatten, John Lithgow is Winston Churchill and Jared Harris is George VI.
This is Netflix's first UK series and it's also its most expensive drama ever to date, so our fingers are crossed that it won't disappoint.
11. Westworld
Network: HBO
Release date: 17 November
This new sci-fi Western series from HBO looks dark and terrifying and futuristic in all the right ways.
Based on Michael Crichton's sci-fi book (which itself spawned a successful movie in the '70s), this JJ Abrams-produced HBO show is co-created by Lisa Joy and Jonathan Nolan (co-writer of The Prestige, The Dark Knight and Interstellar). Teasers suggest a midpoint of Jurassic Park, Ex Machina and Deadwood.
And the cast is spectacular - Anthony Hopkins, Evan Rachel Wood, James Marsden, Thandie Newton, Jeffrey Wright, Rodrigo Santoro, Ben Barnes, Jimmi Simpson, Creed star Tessa Thompson and Ed Harris.
It's basically a game world writ large, with perfectly realistic robots called "hosts" replacing consoles and VR rigs. What's new in this version of the story is that it's very clear that the robots are developing human-equivalent consciousness. This isn't just a glitch in the machine; it's a robot uprising in a dystopian theme work. It looks set to fill the fantasy void for Game of Thrones fans awaiting Season 7.
12. Luke Cage
Network: Netflix
Release date: 30 September
Marvel's Netflix experiment got off to a pretty strong start in 2014: neither Daredevil nor Jessica Jones were perfect, but each had a lot going for them, particularly the latter, which was stealthily an examination of abuse and trauma disguised as a superhero noir.
Now the next in Marvel's sequence is Luke Cage, with Mike Colter as the titular hero - based on a character who played a supporting role in a few of the episodes in Jessica Jones. Cage might be a (very) large superhero with indestructible skin, but that's not the only thing that defines him. While he is incredibly strong, he's also quite complicated. The people that he cares about are dead, and he finds that he has few people to talk to. Despite people wanting him as a superhero, he doesn't want any of it.
Considering how well Jessica Jones turned out, I think it's safe to say that Luke Cage will be just as good, especially since Netflix has said that this will be more The Wire-like, if anything. But I do have some reservations, as Cage was possibly one of the few things that dragged Jessica Jones down. Let's hope it serves up some memorable villains.
13. 11.22.63
Network: Hulu
Release date: 15 January
This eight-episode limited series, based on the book by Stephen King, is a crazy time-travel tale of one man's efforts to stop the assassination of John F Kennedy, using a portal he discovers in a diner. James Franco, Chris Cooper, Josh Duhamel, and Cherry Jones round out an impressive cast, and though the series is messy in parts, there are many things that definitely work.
As one of King's Constant Readers, I'm very familiar with his work on both page and screen. There really haven't been many pure Stephen King adaptations in recent memory, but 11.22.63 (mostly) hits the nail on the head.
More than anything, there are so many Stephen King Easter eggs in 11.22.63 that it makes my head spin with delight. Little hidden gems abound throughout the series. Close watchers and King fanatics will feel especially rewarded by even the smallest of nods to the master of horror's oeuvre.
14. Queen of the South
Network: USA Network
Release date: 23 June
Explosions dominate the pilot of action drama Queen of the South, starring Alice Braga as Terea Mendoza - a female drug kingpin in a violent, macho world.
The show is like Breaking Bad meet Narcos in the middle, but keeps surprising you by never going in the direction you think it will. Like Netflix's Narcos, about the life of Pablo Escobar, it is a narco drama based loosely on real events, but the spirit of the endeavour is different.
There's a helluva lot of action, but to really get into it, you'll need to have patience over the first few episodes. But before you know it, you'll be sucked into Teresa's story, not only because she's literally fleeing for her life, but also because there hasn't been a character quite like her on television before. It's easy to say that she is a female Walter White, but their motivations are entirely different.
15. Taboo
Network: BBC One/FX
Release date: late 2016
Where do I even start with how exciting this sounds? Maybe with the words Tom Hardy and "roguish adventurer" looped together. But it has a whole lot more under the hood - the eight-episode miniseries is penned by Hardy's Locke writer/director Steven Knight (Eastern Promises, Peaky Blinders), and is based on an idea from Hardy and - wait for it - his father, Chips Hardy.
Hardy plays James Keziah Delaney, who returns to 1814 London after 10 years in Africa to discover that he has been left a mysterious legacy by his father. He decides to go after those who have wronged him, but then finds himself up against traders of the East India Company, as well as being caught up in a dangerous game between warring nations Britain and America.
So with the regular director of the Danish The Killing, Krystoffer Nyholm, tapped to direct the whole show, this sounds like it could have brains and even maybe a little controversy. It's produced by Ridley Scott and co-stars House of Cards' Michael Kelly, Game of Thrones' Oona Chaplin and Jonathan Pryce.
So luckily, it's not long before we can get our weekly fix of Tom Hardy.
16. Divorce
Network: HBO
Release date: Late 2016
Sarah Jessica Parker is returning to HBO 12 years after Sex And The City wrapped up. But for one thing, they're forgetting that before it was tainted by the terrible movies, that show was a groundbreaking and terrific comedy.
That's why there's reason to believe that Divorce, starring and produced by Parker, could be something special. The cast is strong: Thomas Haden Church plays her ex-husband, Molly Shannon her best friend, and also stars Talia Balsam, Robert Forster, Tracy Letts and Jemaine Clement.
Parker stars as Frances, a woman who begins to reassess her life and marriage. Unfortunately, the New Yorker quickly realises that finding a fresh start will be harder than she thought.
If Divorce can be half as raw, funny and charming about splitting up as Catastrophe is about getting together, we'll be there every week.
17. Designated Survivor
Network: ABC
Release date: 21 September
Kiefer Sutherland and TV appeared to have gone their separate ways for good after the last 24 reboot, but he's back with ABC's Designated Survivor.
Sutherland plays Tom Kirkman, a lower-level White House cabinet member, who is appointed the "designated survivor" - the member of the cabinet who is sequestered away from the US Capitol building during a President's State of the Union address just in case something awful happens. Well, something awful does happen - there's a devastating attack on Washington - and Kirman becomes the unelected and seemingly unfit Commander-In-Chief. The question is, is he up to a seemingly impossible task? On 24, that answer would have been "hell yes", but here's, it's intriguingly unclear.
Natascha McElhone, Maggie Q and Kal Penn co-star in the series.
18. The Night Of
Network: HBO
Release date: 10 July
The Night Of is quickly becoming the must-watch show of the summer. The mini series was written by Richard Price, the prolific crime novelist and writer on The Wire, and Steven Zaillian - who wrote the screenplays for American Gangster and Schindler's List, among others.
The eight-part limited series delves into the intricate story of a fictitious murder case in New York City. It focuses on Nasir "Naz" Khan (Riz Ahmed, who was just in the latest Bourne movie), a 23-year-old Pakistani-American college student living with his parents in Jackson Heights, Queens. While driving his father's borrowed yellow cab, he encounters an intoxicating, mystifying young woman - a 22-year-old named Andrea Cornish (Sofia Black D'Elia).
The two spend a night together, filled with booze and drugs. Later, Naz finds her brutally murdered in her bedroom and flees the scene, unsure of what happened, but knowing that it looks really, really bad.
The show then throws in John Turturro as Naz's eccentric lawyer John Stone, who leads the viewer through the ins and outs of the city's police precincts and criminal courts, greeting judges, district attorneys, and night officers.
That only skims the surface of this complex show, which is sure to touch on prejudice, urban life, moral qualms and corrupt justice systems.
19. BrainDead
Network: CBS
Release date: 13 June
The creators of award-winning show The Good Wife - Robert and Michelle King - decided to try their hand at comedy, and we're lucky they did with BrainDead. The duo themselves describe it as The West Wing meets The Strain.
The intelligent and silly political satire boasts hilarious musical recaps, camp gore and cutting gags. It stars Scott Pilgrim's Mary Elizabeth Winstead as Laurel, the documentary-maker sister of a senator. The latter ropes her into helping him out during a government shutdown, when the Democrats and the Republicans fail to agree on a budget. It soon becomes clear that the opposing sides are at loggerheads largely because those heads are full of space ants that crashed to Earth in a meteorite.
Full of "ant farts", BrainDead truly embraces crazy and takes frequent digs at the present day political scenario.
What's not to like?
20. The People v OJ Simpson: American Crime Story
Network: FX
Release date: 2 February
The conclusion of The People v OJ Simpson: American Crime Story may have played out exactly as it did in real life nearly 21 years ago, but the show's strength was creating prolonged dramatic scenes and boy, oh boy, was it good!
Ryan Murphy's (American Horror Story, Glee, Nip/Tuck) latest anthology is a semi-fictionalised account of the events surrounding OJ's (Cuba Gooding Jr) arrest for the murder of his wife Nicole and her friend, Ronald Goldman. As big a fan as I am of Murphy's previous ventures, this is by far the finest thing he's produced till date.
Thanks to it being a thing of beauty, the critically acclaimed series is already armed with 22 Emmy nominations.
Murphy's muse Sarah Paulson gives the performance of her career as Marcia Clark, a tenacious prosecutor who typically sees her emotional investment in her cases as a strength, but gradually learns the appeal of professional distance when she's thrust into the withering national spotlight. John Travolta is fantastic as the hated Robert Shapiro, as is David Schwimmer as Robert Kardashian.
Murphy, who directed most of the episodes, manages to deftly take fact and accentuate every major plot twist - recreating a race and class drama that took the US by storm all those years ago. The show is ridiculously immersive in its time and place, and there isn't a single filler episode to allow the writers to put story pieces into place. Neither is there any single missed opportunity to convey information or emotion. Minus an early, random focus on the media-loving Kardashians, it's a perfect bouquet of 10 episodes that deserves all the accolades coming its way.
21. American Gothic
Network: CBS
Release date: 22 June
American Gothic is like one of those somewhat trashy-but-engaging murder-mystery novels you take with you on vacation. It's an easy-on-the-brain series, despite the constant anxiety of "there's-a-serial-killer-among-us".
The dark and creepy show revolves around the tale of a rich and powerful Boston family that may have a serial killer in its ranks.
As the series begins, family patriarch Mitchell (Jamey Sheridan) has a heart attack at a campaign event. While he's hospitalised, two of his children, Tess (Megan Ketch) and recovering drug addict Cam (Justin Chatwin), find a box full of silver bells on the estate - perhaps evidence that dear old Dad was the Silver Bells Killer, a serial killer whose trail went cold 14 years ago? And if he was, did someone in the family help him commit the crimes?
It's fun in it's own vague way, but definitely far from the best that this year has had to offer.
More in Catch - Binge-watched Netflix? Here's a monster guide for returning TV shows
Monster guide II: 25 new TV shows to start obsessing over