Meet the author who gamed Amazon, and isn't going to stop anytime soon
Savi Sharma is a bestselling author who writes 'inspirational' romances.
We're using the word inspirational, only because that's how she describes it. In fact, the only feat her writing inspires me to perform is drilling holes in my face.
You're probably better off not reading her books. Luckily, you can get a sneak peek of her writing in this video:
(Relish the prospect of Savi Sharma gazing at a portrait of herself, and her tattoo that says "You")
The quality of literature not withstanding, here are a list of things she has accomplished in the past year:
She wrote a book. Then edited it, then designed the product, then published it, then marketed it, then distributed it. And she became a bestseller.
Also read - Not the finest, but say hello to the first: Juggernaut's first story is here
Then she published a second edition of the first book. Then signed on with Westland (Amazon has recently bought stake in Westland), and is re-releasing the same book for the third time on 15 June.
Fun aside, her name is a hashtag she uses lavishly.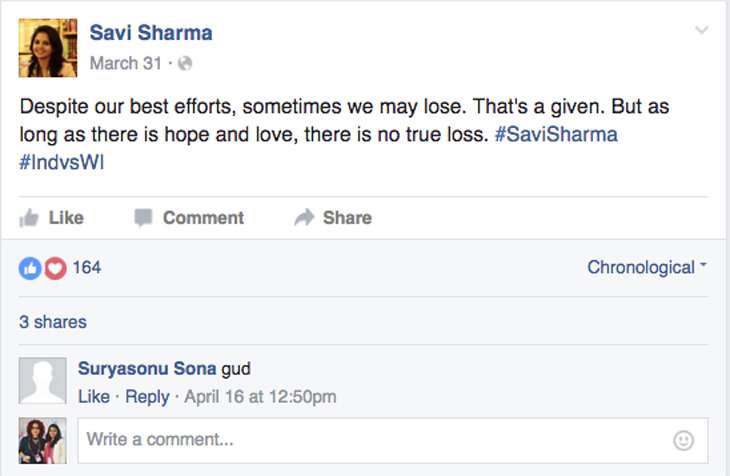 What Ravinder Singh, author of I Too Had a Love Story, and Sudeep Nagarkar, author of You Are Trending In My Dreams, achieved in three books, Savi Sharma achieved in one.
In other words...
If Sudeep Nagarkar is the Wolverine of publishing, Savi Sharma is Superman
Savi Sharma is an author to track because she is making the entire landscape of the publishing industry - publishing houses, agents, distributors and sellers - redundant.
She personally handled all sales of her book, managed her own Amazon product page (the seller listed is Savi Sharma), and was responsible for the delivery of the book to your doorstep.
Which might explain why she didn't have as much time to actually invest in the writing per se. But the quality of writing remains irrelevant to her story.
In an article published three months ago, we explored why Savi Sharma's book received the extent of the success it did.
Method #1: Her series of inspirational quotes
Here are three images, taken from the Facebook page of Storyteller Savi Sharma. In which she quotes herself three times.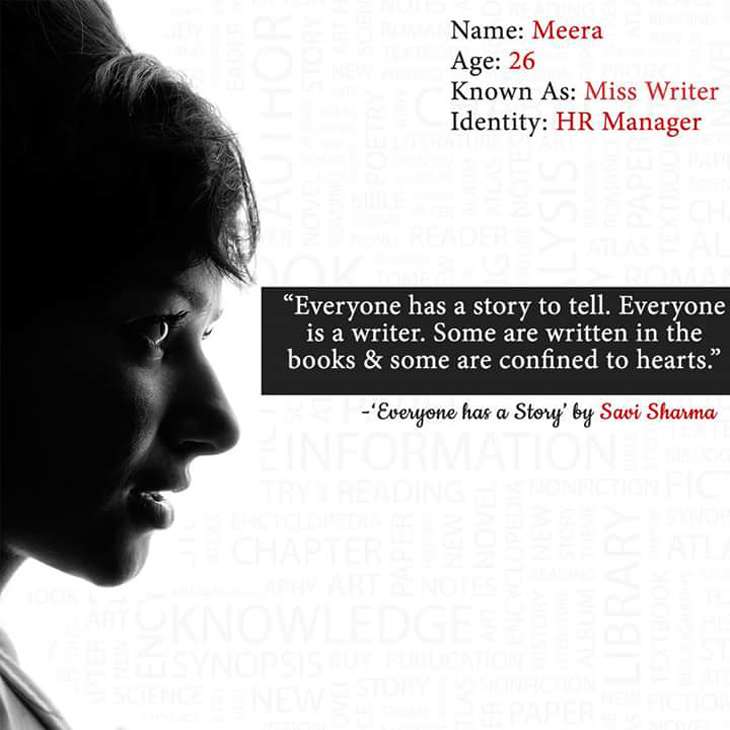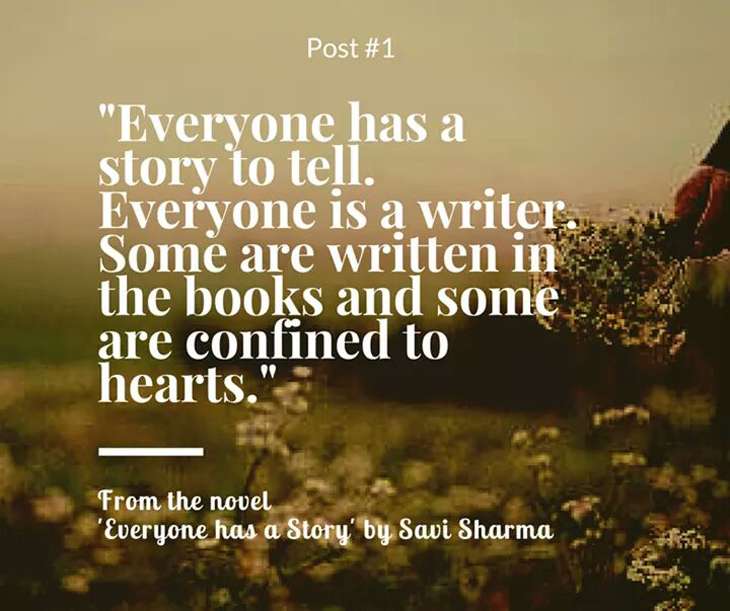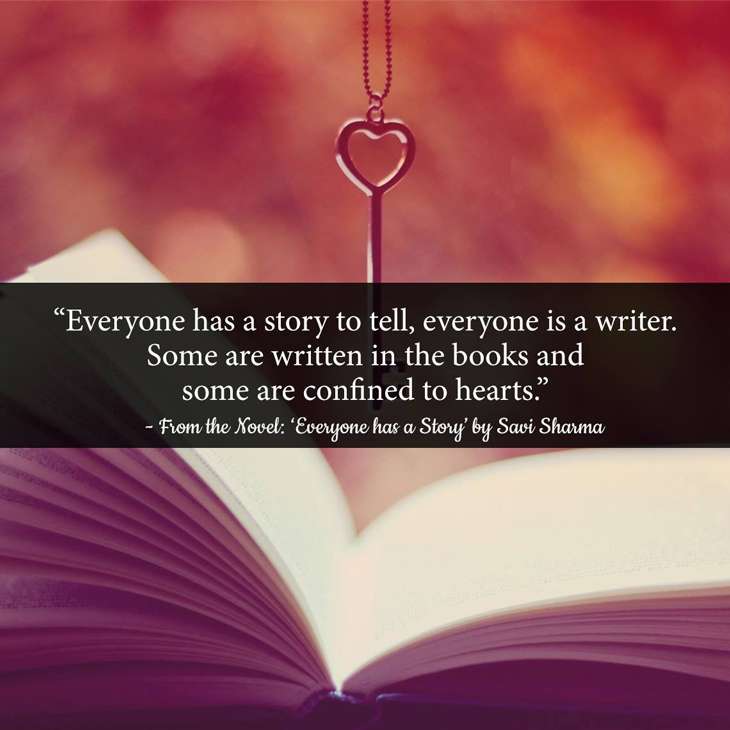 Her "quotes", it would appear, are the best parts of her book. A reader described it by saying, "An Extra effect added with the beautiful and inspirational quotes by the author to make the book more interesting and beautiful to read out." Inarticulate as that review may be, what it suggests is indisputable - that her book reads like the blurbs from Reader's Digest is its greatest appeal.
And to further strike at the hearts of readers looking for inspiration, Savi Sharma photoshops those selfsame quotes onto stock images and sends them out into the vast ocean of social media, because life is but a journey.
And it works.
Method #2: She will call you
If you review her book on Amazon, and send her a screenshot of your review, Savi Sharma will personally call and thank you.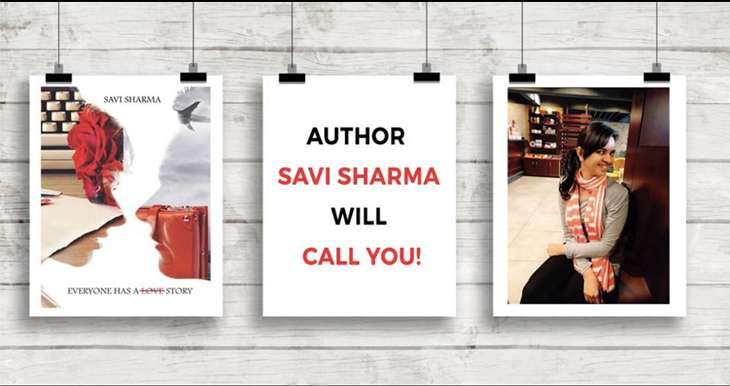 The result: Savi Sharma has 174 reviews on Amazon. The Diary of Anne Frank, in comparison, has 105.
More reviews means her book gets algorithmically pushed up the Amazon ladder. Minimal human effort (a phone call every odd day), maximum monetary impact. Could Vikram Seth do that? Possibly, but he actually has talent to hone and use.
And now, we've discovered, Savi Sharma has a third, slightly less ethical plan too.
Method #3: Constantly changing release date
Savi Sharma's book released on 2 August 2015. This is an image shared on Savi Sharma's Facebook page: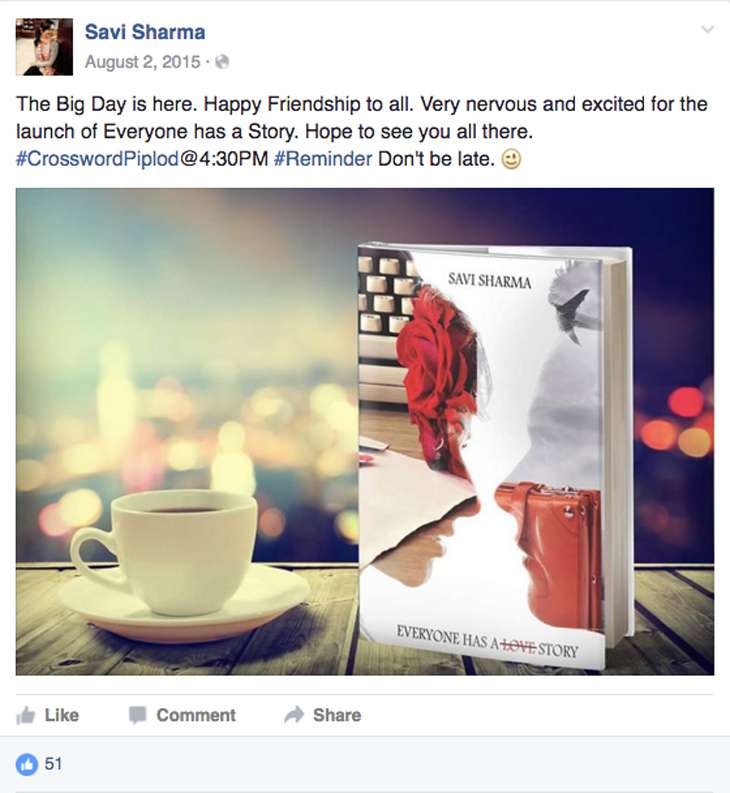 Yet, in March, over 7 months after the release of the book, Everyone Has A Love Story continued to feature on Amazon's Hot New Releases.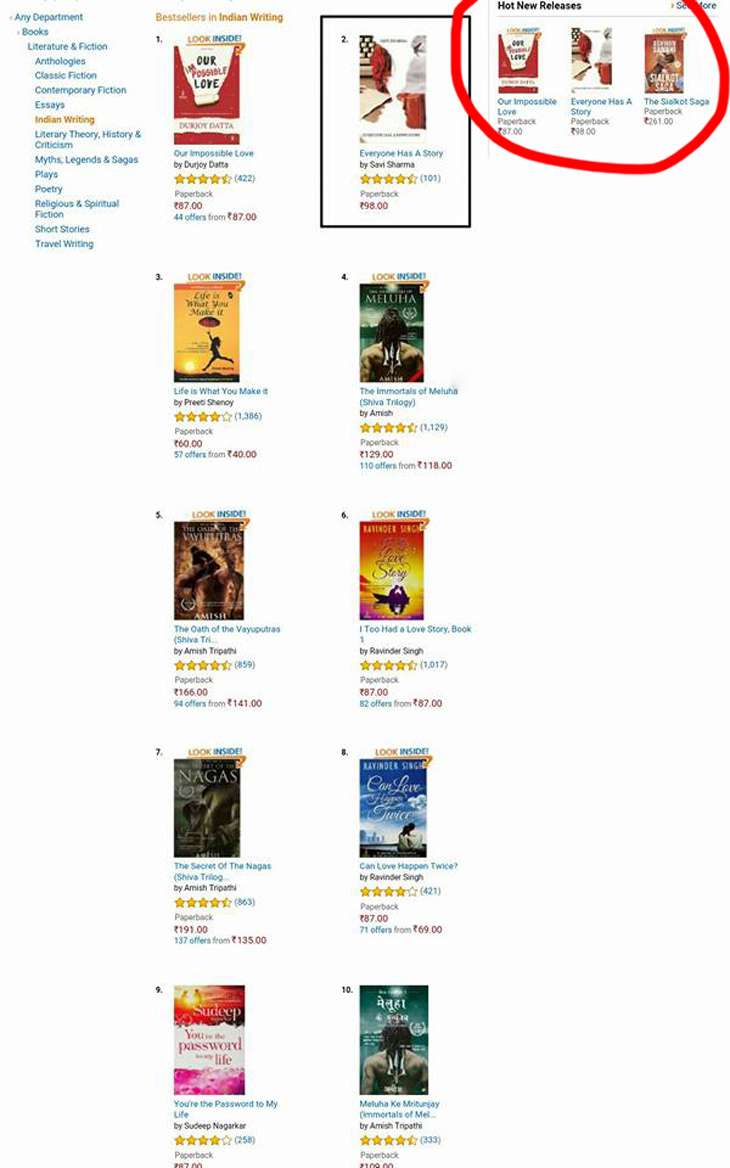 This is, technically speaking, impossible. Amazon's New Releases page only includes books that were released in the previous 90 days.
In April too, eight months after release, her book continued to feature as a New Release on Amazon. Was the algorithm making a mistake?
Turns out, no.
The seller, not the publisher nor the author, sets the release date for any product. In the case of most books, the seller is UReads, or Amazing Buy. But in the case of Savi Sharma's book, the seller was, as established, Savi Sharma.
Which means she could edit the release date of her book on a whim, even months after the book had released. She could update the release date to ensure that her book qualified as a New Release at all times. With nobody to be accountable too.
Her eight-month-old bestseller was competing for a spot on the New Release page with books that had been around for a lot less.
It was a no-brainer. Her book was going to stay at the top - alongside the January release, Durjoy Dutta's Our Impossible Love. And the April release - Ashwin Sanghi's The Sialkot Saga.
Her days as an outlaw are numbered
After a year of operating on the fringes of the publishing industry, Savi Sharma is being welcomed into the establishment. Westland, publisher of Ashwin Sanghi, Anuja Chauhan, Preeti Shenoy and Amish Tripathi, has now acquired the rights to Everybody Has A Love Story.
Here's what Sharma had to say about it:
"After the initial success of my self-published book, I emailed Westland and few other top publishers to see if they'd be interested in republishing my book. To my surprise, I received replies from all of them. They all loved my book, but for me it was important to see who would market my book really well, and Westland stood right on the top. They really understood me and my book."
Which also means that Savi Sharma will have to begin toeing the line. No more unorthodox usage of stock images. And no more wanton changes in release date.
Now that Savi Sharma is no longer distributor, publisher, editor and marketing manager of her own book, perhaps Everybody Has a Love Story will feature fewer editing errors and fewer missing pages. (The previous two editions have been fraught with both).
Conversely, it will also put Savi Sharma to the test. Will she be as successful as a writer, and just a writer, now that all other publishing responsibilities have been awarded to Westland?
We'll find out, on 15 June.
More in Catch - When Breath Becomes Air is unfinished. And the most important book this year
Roxane Gay's new book is important because she started writing it fat. And she still is.