Joy review: J-Law transcends the material in a messy biopic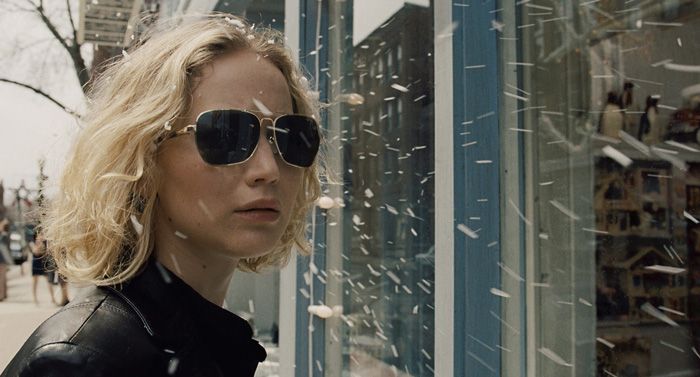 It's not very often that Hollywood makes a movie about a powerful woman, one who manages to fight against all the odds that you can think of (and some you never could)? And all that without a man?
It's isn't too often at all.
"You need a handsome prince, that's what you need, a prince," intones Joy's best friend when they're kids.
"No I don't need a prince", Joy asserts, "I have magic powers."
Starring Jennifer Lawrence, Joy is inspired by real-life entrepreneur Joy Mangano, inventor of the Miracle Mop - a 'self-wringing mop'. Her tale is a sort of Cinderella story, and while the movie itself is one hot mess - a sloppy thing that mixes over-the-top comedy and near-tragedy haphazardly - there are two very good reasons to see it.
Also read -The Hateful Eight review: classic Tarantino, but where's the new ground?
The first is that this movie focuses on the female lead.
Secondly, J-Law transcends the material. Joy may not be the best film she's been part of, but that doesn't stop her from turning in a mesmerising performance. We've come to expect great things from J-Law, and she doesn't disappoint one bit.
The mop that changed the world
So Joy was always a go-getter, she graduated valedictorian from high school. But her life suddenly gets rudely interrupted when her parents go through an ugly divorce and she can't go to college.
Flash forward a few years and she's a single-mother, She's supporting not just her children, but pretty much every member of her extended family - one that is dysfunctional with a capital D.
Joy's mother Terry (Virginia Madsen) suffers from agoraphobia, staying in her room in faux Chanel suits and pearls, and bingeing on soap operas. Joy's ex-husband Tony (Edgar Ramirez) lives in the basement with an expensive microphone and his dreams of becoming a famous singer.
Russell's penchant for abruptness fit American Hustle well. Here it falls flat
When her delusional father Rudy (Robert De Niro) is kicked out by his current wife, Joy is forced to unroll toilet paper across the space to keep the peace. The carnival is rounded out by a supportive but arthritic grandmother Mimi (Diane Ladd), the half-sister who harbours more than her share of resentment (Elisabeth Rohm) and, eventually, Rudy's new girlfriend Trudy, a wealthy widow played by Isabella Rossellini.
If Joy's relatives were just quirky, that would be one thing.
But they are manipulative and selfish, quick to grab onto her success and fame, and just as quick to crush her spirit when things go wrong. After inventing her break-through mop, Joy asks Trudy for financial backing and is put through a wringer to get it. The only genuine support she gets is from her childhood friend Jackie (Orange is the New Black's Dascha Polanco) and, surprisingly enough, her ex-husband.
Also read -Alvin and the Chipmunks: The Road Chip review - good, harmless fun for the whole family
Then she falls down a cable television rabbit hole and ends up in home shopping Wonderland. And when a pompous male announcer can't get the hang of her mop, Joy takes to the air herself, quickly selling tens of thousands. And the rest, as they say, is history.
A hot mess
A still from the film
For Silver Linings Playbook and American Hustle fans, the one main reason why the two David O Russell films were so thrilling was because of how skilfully the story was told.
In this one, it's as though Russell can't seem to make a firm decision about the which direction and style he wants to take the movie.
There are surreal flashbacks and dream sequences, and he keeps leaving them in unusual places.
The fragmentation makes it a lot like a dull, non-vibrant Wes Anderson parody.
But the ensemble does not disappoint
Bradley Cooper drifts handsomely in and out as the boss of the network. Kudos to Russell for again locating the keys to Robert De Niro as Joy's doubting father.
And five-time Oscar nominee J-Law brings her all. It's a character portrayal that is all about strength because everyone around her is flaky and unreliable. It's a performance simmering with controlled passion.
Plus, J-Law really does look sensational in a pair of super cool sunglasses.
The verdict
The short of it? Joy is a decent biographical drama anchored by J-Law's performance, but fails to realise its greater ambitions.
And J-Law is fine on her own, thank you very much. Don't be surprised if she wipes the floor with all competition to win her second Oscar.
RATING: 2.5 out of 5
More in Catch -Why does 'awards season' always disappoint? A TV junkie's rant
Daddy's Home review: for a slapstick comedy, I only laughed thrice
Our Brand Is Crisis review: A battle of the spin doctors that isn't half bad