It's like breaking up: these 11 cult TV shows won't make it into 2016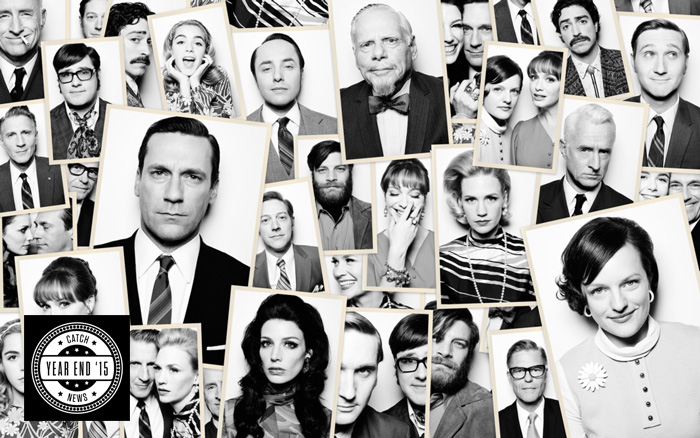 Not everything is moving on into 2016 next week - some of our absolute favourite TV shows are putting a full stop right here and now.
And it's hard, almost like breaking up with a long-term boyfriend: you know you need to move on with your life, but there's a void where a new episode used to be.
Or maybe I just watch too much TV.
Either way, here's a look at 11 insanely popular dramas and comedies that signed off for the last time in 2015.
2016, you better bring us new love.
Series finale date: 24 February
Saying goodbye to Pawnee after six seasons is tough. Leslie Knope is someone we'll miss every day forever, and that cast was one of the most talented, weird and diverse of any comedy in history.
From hidden easter eggs to inside jokes to touching character evolutions, the Parks and Recreation finale had it all.
Leslie Knope (Amy Poehler) ends up the governor of Indiana with her husband Ben (Adam Scott) by her side. April (Aubrey Plaza) and Andy (Chris Pratt) have two children - even though April was against the idea. Leslie, who, it is intimated, becomes president, gives Ron Swanson (Nick Offerman) a national park near Pawnee to run.
Tom (Aziz Ansari) loses all his money, only to make it back by writing Failure: An American Success Story, a self-help book that uses the personalities of his co-workers to guide people to riches. Donna (Retta) ends up in Seattle selling real estate and treating yo'self to diamond watches. And Gerry (Jim O'Heir), or however you spell it, dies happily at 100 after being mayor of Pawnee for life.
Why we watched: Though they had their quirks, Leslie and her co-workers always did the right thing, showed each other how much they cared, and situations always worked out for the best. Even April, the character who is supposed to hate everything, was kind of a sweetheart deep down.
Series finale date: 17 May
It's been called the greatest show ever by critics across the board. The seven seasons of Mad Men were like a window into the past, into an age where office sexism was so brazen and smoke-filled conference rooms were the norm.
It was an incredibly slow last season from Mathew Weiner. The last episode built up to a spectacular punchline for the ad show: it said that Don Draper would go on to create the legendary Coca-Cola commercial that pictured a hilltop of fresh-faced hippie youths singing 'I'd Like to Buy the World a Coke'.
It was also all about Don's redemption - a fall to reality from the web of lies he had created over the years thanks to his need to fall into the arms of various women and of course, alcohol.
But even though Don does get a happy ending (of sorts), but you know he's never really going to change - all he does is actualise.
There were other big flourishes such as Peggy (Elisabeth Moss) getting together with Stan, Roger (John Slattery) marrying Megan's mother (Julia Ormond), or Joan (Christina Hendricks) ultimately choosing career over romance.
Why we watched: Mad Men's legacy is secure right up there with The Sopranos and The Wire. Now that it's over it's easy to see that the show was never about the destination; rather, the series looked at where these characters were a half-century ago, in the process holding up a mirror to where we are now.
I'll miss the show for the dialogue, its obliqueness and the hovering consequences that never quite arrived. Even at the end.
Series finale date: 20 March
When Glee made its debut, viewers were automatically divided into two camps: those who loved its campy, musical vibe and those who absolutely despised it.
No matter where you stood, in 2009 it was the hottest show on television. Every melodramatic moment inspired a musical number and institutionalised homophobia was an endless storyline.
The ratings at the time hovered around the 14 million mark and the charts were crammed with Glee spin-off songs.
But along the way, viewers fell by the wayside. Only the devoted remained - two million of them.
And Glee's finale was for those old-timers: the original cast (with the sad exception of Cory Monteith), a reminder of where it started: as a story, equal parts hopeful and bittersweet, of small-town students and teachers wanting something more.
Why we watched: it must be acknowledged that Ryan Murphy's show was a cultural flashpoint of sorts, directly giving way to musically powered dramas like Smash, Galavant, and even Empire. It also spawned similar non-musicals like Awkward, Suburgatory and Faking It.
Also read - Binge-watched Netflix? Here's a monster guide for returning TV shows
Series finale date: 14 April
With Justified, TV loses one of its greatest good guy-bad guy combos. The FX drama starring Timothy Olyphant and Walter Goggins ended after its sixth season in April after much thought by producers.
Awash with shootouts, double-crossing characters and bullets through characters' chests, the show ended on a poignant note as the two fierce enemies Raylan Givens and Boyd Crowder - former teenage coal-mining friends - looked each other in the eye and essentially made peace.
Why we watched: though it was never as good as The Wire and The Sopranos, it's certainly won its place in the pantheon of pairs of characters that worked best together over the course of a television series.
Series finale date: 28 June
Those who watched the show seem to have a fondness for it that this writer never truly understood (maybe because of having watched two episodes only). But some research threw up the fact that people will really miss the pill-popping nutty nurse played by Edie Falco and the rest of the bunch from All Saints Hospital.
Why they watched: over its seven-year run, the half-hour Showtime series may have been slated as a comedy but had some very real moments, focusing on addiction and the terrible, grinding, vicious battle that consumes lives, sometimes ends them.
You can watch a compressed version of five seasons here:
Series finale date: 18 February
The procedural mind-game, truth-seeking show started with Patrick Jane (Simon Baker) as a gleeful "Gotcha!" guy and ended with a mature, complex hero.
It also accomplished something few shows have been able to do successfully - it underwent a major creative reboot, wrapping its core Red John mystery in the middle of Season 6, moving the setting from California to Texas and shaking up the supporting cast.
You can check out the Red John plotline here:
Spoiler alert: Season 7 ended with a two-hour finale that allowed Jane to put to rest his painful past. He married his longtime beleaguered Watson and wrangler, Agent Lisbon - which is a truly litmus test to see if happy ending do work on shows as most seem to end reasonably mournfully.
Oh, and Jane played one last mind game (of course) to nail a bad guy, using his wedding to bait and capture yet another villain. Hurrah.
Also read - Monster guide II: 25 new TV shows to start obsessing over
Series finale date: 19 February
Television viewers around the world heaved a collective sigh of relief when they were told the end was near. After 12 seasons. And who can blame them? The slow had been sliding for a long time even before Charlie Sheen was forced to make an exit.
And the storyline with Ashton Kutcher has to be some of the most forced bit of television we've had to endure.
The one-hour series finale was pretty crude in its own way with a lot of winks to Sheen's absence. But throughout the hour, the message came through loud and clear that while many have derided the show as a silly, lowbrow sitcom, Chuck Lorre and gang have been laughing all the way to the bank.
Why we watched: for a young Jake. You can watch the best of Jake here:
Another series that started around the same time and has also been losing steam is The Big Bang Theory - much like How I Met Your Mother. Looks like that one's going to be gone soon, too - we just have to endure a 10th season next year.
Series finale date: 31 March
After 102 episodes, six seasons, two networks and an infamous name, we bid goodbye to a show that gave us giant wine glasses and random suburban humour.
It may have been dumb and tasteless at times, but the Courtney Cox starrer was at least reliably entertaining week on week.
I mean, check out these retarded moments from Season 1:
The last episode, "Mary Jane's Last Dance" felt like a suitable moment to clink wine glasses together one last time, and salute Cougar Town and its cast and crew for the happiness it has brought over the years.
Why we watched: for the core elements that stayed true all through - Jules's affection bordering on obsession, Ellie's scathing wit, Laurie's zest for life, Bobby and Andy's dopey eternal love, Grayson and Travis's patient weariness.
Series finale date: 10 May
Revenge was always a guilty pleasure of sorts. That's because twist after twist, it just became hard to stick around for four seasons. (My dad gave up with a simple review two seasons in: "This is stupid".)
Spoiler alert: For those who quit watching or never even started, here's a Revenge refresher: Emily Thorne (Emily VanCamp) is Amanda Clarke. Her dad David was dead, but then he wasn't. Victoria (the fabulous Madeline Stowe) was dead and then she wasn't. Victoria was dead again and then she wasn't. Emily and Jack are in love, but still aren't together for no reason whatsoever. Nolan married a crazy girl Louise. Daniel died and his ex-girlfriend Margaux joined Team Victoria.
Watch Emily Thorne's motivations for revenge here:
Series finale date: 29 August
It's hard to think of another recent series as daring and original as this reboot of a horror franchise long considered past its prime.
While I enjoyed Hannibal immensely, plenty of people I know with similar taste in TV find it too strange and too disturbing.
Eventually, that's why the death knell was rung. Hope might still be high for a revival, but even Bryan Fuller is now admitting that it's looking unlikely.
Why we watched: at its heart this has always been a heterosexual love story, the tale of two men - Will Graham (Hugh Dancy) and Hannibal Lecter (Mads Mikkelsen) - with opposing moralities, two men who have every reason to kill each other but are tragically doomed to be the only people who will ever understand each other.
The Gothic drama got a satisfying season finale that spared no heartbreak, no gasps, and no amount of blood.
But no matter the blood, it's serene scenes like this one that usually kept the creepy factor up:
Series finale date: 9 September
The hilarious sketch show from Jordan Peele and Keegan-Michael Key ended after five seasons in September.
Along the way, the two have tackled everything from male identity, race, and sexuality to the NFL, Game of Thrones fans and OutKast.
And the last episode did not disappoint.
The duo saved some of their best material for their final hour and revealed a punchline that was clearly years in the making. For a sketch show to create that kind of continuity is just purely awesome.
It got decent ratings on Comedy Central, but it is YouTube where this show attracted hundreds of millions of views. One skit - Substitute Teacher - that first aired in 2012 is one of the show's earliest highlights. It quickly went viral, and now boasts more than 80 million YouTube views.
Why we watched: with lethal chemistry, the army of characters and genuinely fun satire - this one should've gone as long as The Simpsons.
More in Catch - Problem of plenty: keep calm, there's officially too much TV
Serial killers: what happens when real-life crime follows TV plotlines