Indian poetry loses a leading light as Bekal Utsahi passes away
Catch Team
| Updated on: 10 February 2017, 1:38 IST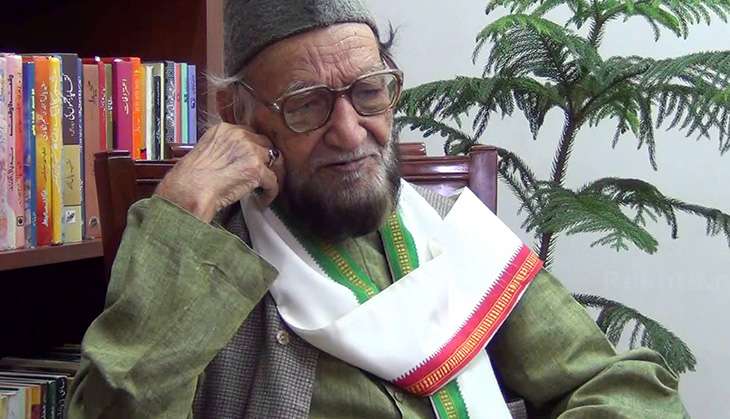 Well-known poet and former Rajya Sabha MP Bekal Utsahi passed away at New Delhi's Ram Manohar Lohia Hospital on Saturday.
The 88-year-old poet was admitted to the hospital on 1 December after a fall in the bathroom at his South Avenue residence in Delhi.
According to Utsahi's daughter Sophia, he suffered a brain haemorrhage following the accident.
Utsahi was nominated to the upper house of Parliament during Rajiv Gandhi's tenure as Prime Minister.
An enthusiastic poet
Utsahi was born on 1 June 1928 in Uttar Pradesh's Balrampur (formerly Gonda) district. His father was Lodhi Mohammad Zafar Khan.
Utsahi's family named him Mohammad Shafi Khan. He changed his name to 'Bekal Varsi' in 1945 after a visit to the mazaar of Hazrat Vaaris Ali Shah of Devan Sharif, at which time Shah Hafiz Pyari Miyan said: "Bedam gaya, Bekal aaya (Bedam went, Bekal came)."
During an election meeting in 1952, Jawaharlal Nehru was impressed with Bekal's poetry, and said: "Yeh humara utsahi shayar hai (He is our enthusiastic poet)."
This added the sobriquet 'Utsahi' to the poet's name.
Utsahi was known for his poetry in Awadhi. He also hosted several programmes for Doordarshan, including 'Bazm', a show dedicated to Urdu poetry.
Utsahi participated in several poetry symposiums across the globe. In 1976, he was awarded the Padma Shri for his contribution to the world of literature.
Edited by Shreyas Sharma