How to Be Single review: funny, enjoyable and messy in an all too real way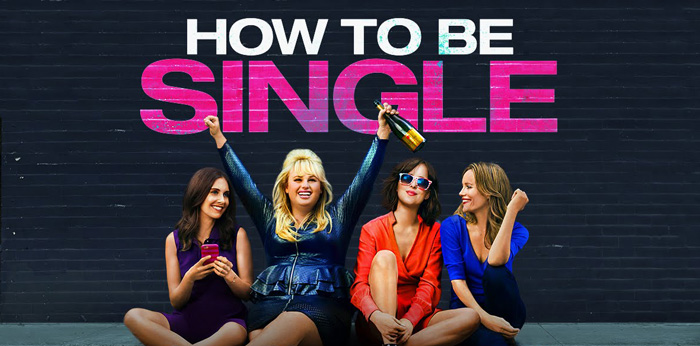 How to Be Single is a nice change from the usual fare we get when it comes to romantic comedies. It's a charming in its R-rated fun. Most importantly - it's relatable and offers plenty of laughs.
It's one of those ensemble-style romantic comedies - like Love, Actually and Valentine's Day - and its narrative centre is Alice (Dakota Johnson), who decides upon her graduation that she needs a break from her longtime boyfriend (Nicholas Braun) to find out who she "really" is in New York City.
Also read -Deadpool review: Foul-mouthed. Gore-fest. And arguably the funniest superhero movie ever
That search for self proceeds as you expect: she drives into New York with Taylor Swift's Welcome to New York (only the first of the film's far too literal soundtrack choices) blaring in the background and finds herself a job as a paralegal.
Office is where she meets hard-partying Robin (Rebel Wilson - playing the same character from the Pitch Perfect series), who introduces her to ladies' man and neighbourhood barkeep Tom (Anders Holm from Workaholics). He's committed only to staying uncommitted.
Cue lots of drinking scenes, partying and random sex. All interspersed with the desperate need to find the self.
Tom's bar is frequented by Lucy (Community's Alison Brie), who uses the bar's wifi to hunt for the "perfect" guy on dating sites.
And then there's Alice's gynaecologist sister Meg (Leslie Mann), who decides that she wants a child of her own right before she meets a great guy (Jake Lacy) and has to figure out how to tell him she's going to be a mom.
Directed by Christian Ditter (Love, Rosie), it's the right step for romantic comedies. The world of dating has changed dramatically thanks to social media, dating apps and more, and most rom coms haven't exactly reflected that.
More importantly, it focuses on trying to tell you that its important to be yourself - to feel comfortable in your own skin and to help figure out where you belong in this mad world that we have on our hands. And all this without the movie ever gunning for the storybook happy ending.
It's got its cliches, but it also breaks a few stereotypes
You'll learn yet another hangover cure from this movie
There are some gorgeous shots of New York, a skyline we've been so used to seeing thanks to years of Friends, How I Met Your Mother and the billion times we've seen it get destroyed in pretty much every superhero film. But it's a setting more than a character, and the movie succeeds in capturing the tempo and energy of a city always on the move.
And even though the comedy and the editing are uneven, the multiple plotlines keep you entertained and laughing through most of it. Dakota Johnson was perfect playing the naive girl who's willing to learn a few tricks in 50 Shades of Grey and she gives a similar performance but with more comedy.
It's sad that rebel Wilson remained under utilised by the film. Because every time she popped up on screen, the movie delivered some of its best moments.
Brie and Holm also get less screen time and are more cartoonish for it - but both are excellent at both comedy and drama so it's never really boring.
The verdict
It relies heavily on rom-com tropes, but it's a perfect Valentine's Day weekend viewing choice - whether you're in a committed relationship or simply enjoying the single life.
(It's interesting to review the movie alongside Deadpool, another film opening this week that breaks down genre conventions, albeit in a much louder way.)
RATING: 2.75 out of 5
More in Catch -The Finest Hours film review: a based-on-a-true-story nautical nailbiter
The Choice film review: too sappy for anyone but Harlequin Love devotees