Givenchy is setting up the year's most disruptive fashion show. Here's why
Payal Puri
| Updated on: 13 February 2017, 4:08 IST
It's the ultimate disruption of everything haute couture stands for.
On September 11, when Givenchy shows its Spring-Summer 2016 line at a fashion show in New York city, the audience will have not just the who's who, but the who's that.
In other words, regular people. Not A-listers. Not fashion buyers. Not stylists and fashion editors. Not Kim Kardashian. Well maybe Kim Kardashian, one of Givenchy creative director Riccardo Tisci's closest friends, and the man who designed her wedding gown.
And yesterday, on September 2 at 10 am eastern time in the US, this website went live, letting anyone with an internet connection request an invite to one of the 'It' shows of the season.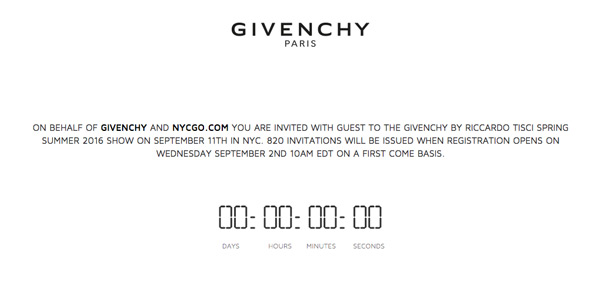 820 invitations are up for request on a first-come-first-serve basis, and it doesn't matter who you are.
Another 280 spots are blocked for students of the city's top fashion design institutes including FIT, Parsons and the Pratt Institute, among others.
And then there's a 100 invites for people who live in proximity to the show's venue, as compensation for the incredible disruption they're in for - only, since the venue is still a well-kept secret, those will be made available closer to the show date.
Expect the unexpected
To those outside the fashion universe, it's hard to get why this is such a big deal.
To understand, you need to understand what couture stands for.
It stands for unattainability, or at least extreme exclusivity. It's about influencers, not followers. It's about a closed universe that others aspire to, not access. It's a statement of craft, and craft as luxury. It's fantasy, art, concept.
It is, in every way, the opposite of open-to-all.
Tisci's Givenchy show is always among the most anticipated of the fashion season. His shows are a masterclass in focus, with hefty doses of memorability.
But even by his usual standards, this show seems set to be a standout.
For one, he's collaborating with iconic Serbian performance artist Marina Abravomic, often called the grandmother of performance art. Active for almost four decades, Abravomic is one of Tisci's closest friends and is known for her pathbreaking work which often involves the audience in radical ways.
Tisci's Givenchy show is always among the most anticipated. But even by his standards, this show will be a standout
One of her best-known performances, called Rhythm 0, was designed to test the limit of the relationship between the performer and the audience.
To do this, she placed 72 objects on a table and invited the audience to use them in any way they wished, with her as the subject. Objects ranged from honey and a feather to scissors, a whip, a gun and a single bullet.
For over six hours, she placed herself at the audience's mercy - to test how far and how aggressively people would engage with someone when protected from consequences.
At the end of six hours, she had been stripped, marked, had cuts on her neck, and had pushed the limits of performance art in ways no other artist had done before.
The calculated disruptor
Disruption isn't new to Tisci, both in his work and personal life.
His friendship with Kanye and, through him Kim was for years the ridicule of 'serious' fashion insiders, even as they continued to respect his fashion wizardry. When Kim and Kanye were featured on Vogue's April 2014 cover, it was in many ways Tisci's moment as much as Kimye's.
Long disdained by the fashion circuit as tacky, Kim Kardashian on Vogue - handpicked by the world's most celebrated fashion editor for the cover of the world's fashion bible - was an acknowledgement of Tisci's understanding of fashion as well as his influence over it. It may have been a superb commercial decision but it was, equally, Wintour's nod to Tisci.
Will inviting 'regular people' to shows become the new normal? Possibly not. But the format of the couture fashion show may well start to undergo a transformation if Tisci pulls off a memorable evening.
And then there's the date
You'd think the one date in the year an American fashion show in New York would try to avoid would be September 11.
It's the one Tisci picked.
"It's a very delicate day for America, and so the show is going to be a celebration of family and love," he said in an interview in June.
According to Philippe Fortunato, CEO of Givenchy, it's also about celebrating the Givenchy - and New York - spirit of resilience. In an interview with Women's Wear Daily in June, he said "despite what happened, the strengths of the American people, the strengths of New York, are even stronger after 9/11 than before 9/11."
The same can certainly be said of Tisci, who has the courage to follow his talent to wherever it may take him, from the unpopular to the unforgettable.