Film review: Rock the Kasbah doesn't really rock at all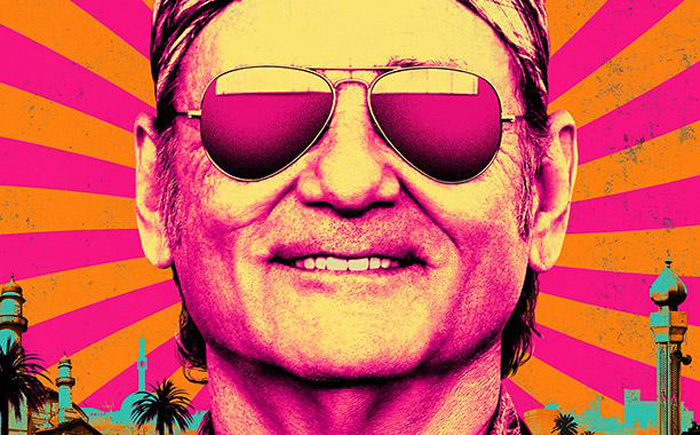 Director Barry Levinson's latest, with a script by Mitch Glazer, was partly inspired by the true story of Setara Hussainzada, a former contestant on Afghan Star who outraged the conservative Muslim community in 2008 by singing and dancing on stage.
Sadly, the film only half-heartedly attempts to champion women's rights across Afghanistan. What saves the film is Bill Murray - those who love the actor will always follow him anywhere.
The story begins with down and out music manager Richie Lanz (Bill Murray) who's bereft of talented clients. Or any clients.
Lanz operates on the outskirts of Hollywood, in a Van Nuys hotel room that's seedy as hell. There, he bilks fame-starved singers into giving him $1200 for "expenses" and the promise of untold riches.
"My handshake is my contract," he solemnly swears, knowing damn well he has no intention of honoring his outrageous deals.
Lured by the promise of big USO money, Richie takes his assistant (a surprisingly terrible Zooey Deschanel) on a musical tour of war-ravaged Afghanistan. He encounters plenty of colourful ex-patriots, including two unscrupulous arms dealers (Danny McBride and Scott Caan), one stoic mercenary (Bruce Willis), and a hooker with a heart of gold (Kate Hudson).
He also stumbles upon a beautiful young Afghan girl singing Cat Stevens standards in a cave. That's when Richie gets that old familiar itch (surprisingly, not hooker-related); he will rescue Salima (Leem Lubany) from her cave and book her on the wildly popular talent show, Afghan Star.
Baffling at best
For a wartime film in Afghanistan, there's no blood or gore at all. One car gets blown up and that's that. There's no sense of history, geography or any respect for those living in war-embittered Afghanistan.
It also doesn't help that Levinson floods the film with on-the-nose rock 'n' roll moments: a convoy rolls through the chaotic streets of Afghanistan blasting Kid Rock's Bawitdaba, warlords descend upon a small village as Bob Dylan croons Knockin' On Heaven's Door, and Harry Nillson's Jump Into Fire echoes throughout a dilapidated hotel when Murray discovers he's been robbed blind.
For some reason, the moment of triumph song is Shakira's first hit Whenever Wherever. What happened to good ole rock n roll?
The film also stunningly undervalues its muscular cast.
Willis is funny at times as an annoyed tough guy who keeps getting talked into bad situations by motormouth Lanz, and Deschanel is excellent in her few scenes as a sloppy karaoke trainwreck.
Sometimes, Murray's character Lanz who's supposed to win us all over with his "deal-making charm', behaves like a person, disguising his fear and uncertainty through all-American hustle.
His best scene comes during a midnight joyride through Kabul with military contractors and arms dealers whose leader is played by Danny McBride. Locals with guns stop the American's car and demand to see some papers; Lanz, stoned and freaked, stands up and speaks tense nonsense in an attempt to smooth things over.
He fails.
But just like Lanz wanders around aimlessly in the Afghan desert, so does the film.
Rating: 2 stars