Emmy Awards 2015: who could win, who should win, who will win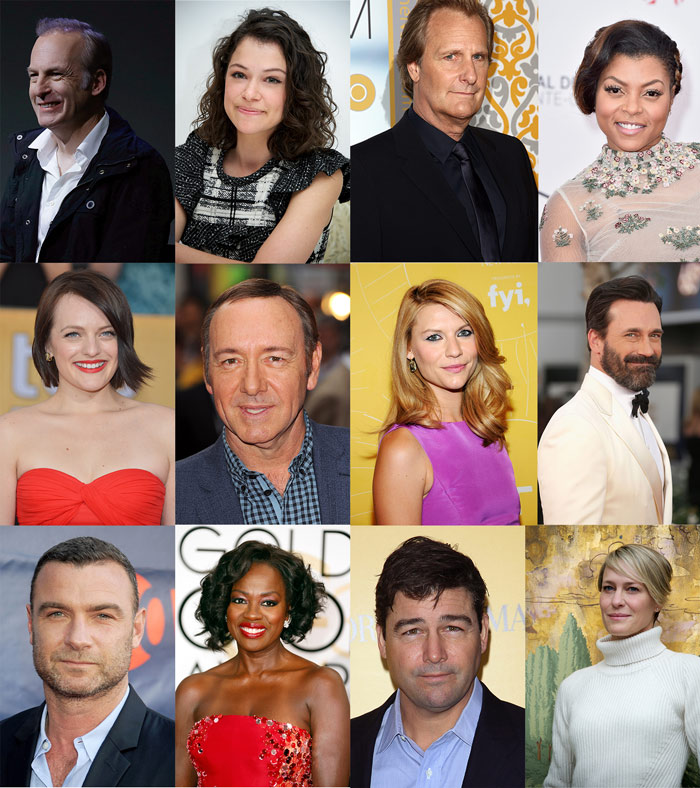 The 67th Emmy Awards are nearly here - and though most award shows are usually viewed with disdain (the recent VMA debacle only adding to such resentment), the Emmys are usually the most fun of the bunch.
Airing on Sunday, September 20 in the US (early Monday morning in India), Fox has roped in Saturday Night Live alumnus and Brooklyn Nine-Nine star Andy Samberg to take the stage for the first time as host.
In this age where we have more good TV than any sane person could possibly watch, awards for those who are the cream of this fantastic world matter more than ever.
But what's going to win? Will Mad Men pick up another statuette in its final year? Will risks be rewarded? Will a new show topple an old favourite?
Predictions are dangerous. We're making them anyway. And because we know who should win isn't always who does win, we've got a reality list as well. Here, the monster list of what to expect for the big ones.
Best Drama
The nominees:
Better Call Saul (AMC)
Downton Abbey (PBS)
Game of Thrones (HBO)
Homeland (Showtime)
House of Cards (Netflix)
Mad Men (AMC)
Orange Is the New Black (Showtime)
-
Will win: Mad Men
Could win: Game of Thrones
Should win: Mad Men
Even without last year's winner (Breaking Bad) and one of 2014's new nominees (True Detective), the race for best drama isn't an easy one to break into. But Orange is the New Black succeeded in doing so, which is no small feat.
So did newbie Better Call Saul, though it basically replaces Breaking Bad.
Beyond those two, the nominations were all about the old guard, with House of Cards, Downton Abbey, Game of Thrones and Mad Men all returning for the third, fourth, fifth and eighth times in a row, respectively. Homeland is back for a third time after sitting last year's race out.
But Mad Men, having won four times before, is definitely the critical darling. And the last season delivered what it promised, bringing the show to a close in a clever and resonant way.
That said, no series on TV thinks bigger or strikes harder than Game of Thrones. Let's see who get crowned this time around.
Best Comedy
The nominees:
Louie (FX)
Modern Family (ABC)
Parks and Recreation (NBC)
Silicon Valley (HBO)
Transparent (Amazon)
Unbreakable Kimmy Schmidt (Netflix)
Veep (HBO)
-
Will win: Transparent
Could win: Modern Family
Should win: Transparent or Louie
For the past five years, Modern Family has been the Goliath of comedy. Nothing could topple it.
But can the Dunphy clan do it again? For years, shows like Louie, Parks and Recreation and even Veep have been passed over by Emmy voters. But 2015 feels like it could be a transition year.
There are many strong picks, but Louie arguably had its best season ever. But it looks like Transparent may just be the David to Modern Family's Goliath, giving Amazon its first-ever Emmy-winning series.
But even though Transparent is beautifully and sensitively made, it's not always funny in the accessible way Modern Family and Parks and Recreation are. It is culturally relevant, what with the recent Caitlyn Jenner headlines, but it could still be overrun by Modern Family since the Academy changed the voting process so that far more people can vote - meaning popularity matters more than ever.
Best Actor in a Drama
The nominees:
Kyle Chandler, Bloodline
Jeff Daniels, The Newsroom
Jon Hamm, Mad Men
Bob Odenkirk, Better Call Saul
Liev Schreiber, Ray Donovan
Kevin Spacey, House of Cards
-
Will win: Jon Hamm
Could win: Bob Odendirk
Should win: Jon Hamm
Matthew Weiner's series Mad Men won Best Drama at the Emmys for its first four seasons. But its leading man has never won despite being nominated eight times! Will Jon Hamm finally be rewarded in his last year as Don Draper?
Over the past few months, critics and awards-show analysts have repeatedly cited the fact that no actor has ever won an acting Emmy for Mad Men. All the signs point for Hamm to finally snag an Emmy despite tough competitors - House of Cards' Kevin Spacey and Bob Odendirk from Better Call Saul.
Odendirk could also have his chance - the man has won twice previously in variety writing categories.
Don't forget, his new show created by Vince Gilligan and Peter Gould is a spinoff of their hit series Breaking Bad. That drama earned a whopping nine acting Emmys during its five seasons: four for Bryan Cranston, three for Aaron Paul and a pair for Anna Gunn. In other words, Gilligan and Gould know how to win Emmys for their actors.
Best Actress in a Drama
The nominees:
Claire Danes, Homeland
Viola Davis, How to Get Away with Murder
Taraji P Henson, Empire
Tatiana Malsany, Orphan Black
Elisabeth Moss, Mad Men
Robin Wright, House of Cards
-
Will win: Tatiana Maslany
Could win: Viola Davis or Elisabeth Moss
Should win: Taraji P Henson or Viola Davis
Julianna Margulies had won last year for The Good Wife, but was left off the list this year, as were Lizzy Caplan (Masters of Sex), Michelle Dockery (Downton Abbey) and Kerry Washington (Scandal). Only Claire Danes (Homeland) and House of Cards' Robin Wright return from the old list.
The newcomers: Viola Davis (How To Get Away With Murder) played an incredibly layered character and Taraji P Henson (Empire) who's exceptional at stealing scene after scene, are on hit new shows (either would be the category's first black winner).
Mad Men's Elisabeth Moss has sentiment in her favour. Also, there are no words to describe how beautifully her character Peggy Olson grew on the show and Moss always delivered a stellar performance each season.
But it's Tatiana Maslany who has TV's toughest job. She plays roughly a dozen characters. She's finally scored a nomination after two consecutive (and much lamented) snubs.
Even so, the fact that Moss has lost five times should make it acceptable for her to win this sixth and final nomination.
That makes this category one of the hardest as it has four equally strong contenders.
Best Actor in a Comedy
The nominees:
Anthony Anderson, Blackish
Louis CK, Louie
Don Cheadle, House of Lies
Will Forte, The Last Man on Earth
Matt LeBlanc, Episodes
William H Macy, Shameless
Jeffrey Tambor, Transparent
-
Will win: Jeffrey Tambor
Could win: Louis CK
Should win: Jeffrey Tambor
The biggest surprise in this category happened during the nomination period, when The Big Bang Theory's Jim Parsons, a six-time nominee and four-time winner, failed to make the list for the first time since 2009. Several longtime nominees still made the list - Louie's Louis CK, Shameless' William H Macy, Episodes' Matt LeBlanc, and House of Lies' Don Cheadle - but as with the Best Actress in a Drama category, it seems like the TV Academy is hungry for some new blood.
It's nice to see The Last Man on Earth's Will Forte and black-ish's Anthony Anderson make the cut - but this Emmy has had Jeffrey Tambor's name on it ever since Transparent premiered in 2014. Tambor's nuanced performance of a transgender woman coming out to her family has been universally acclaimed, and for good reason: it's simply that powerful.
With Golden Globe and Critics' Choice wins already under Tambor's belt, this should be no contest.
Best Actress in a Comedy
The nominees:
Edie Falco, Nurse Jackie
Lisa Kudrow, The Comeback
Julia Louis-Dreyfus, Veep
Amy Poehler, Parks and Recreation
Amy Schumer, Inside Amy Schumer
Lily Tomlin, Grace and Frankie
-
Will win: Julia Louis-Dreyfus
Could win: Amy Schumer
Should win: Amy Poehler
It seems utterly inconceivable that Amy Poehler has never won an Emmy. Between her long-term stints on Saturday Night Live, Parks and Recreation, and hosting the Golden Globes, the fact she's never been awarded television's highest honour just seems stupid. With her NBC sitcom over and done, she's got one last shot at earning the trophy.
On the other hand, this has been a breakout year for Amy Schumer, and the TV Academy could keep that train rolling by rewarding her stellar work as the star of the sketch comedy series Inside Amy Schumer. But Schumer's just starting out and has many award seasons to go.
Again, no one would complain if Julia Louis-Dreyfus won her fourth consecutive Emmy for Veep. But because her mantle is already stuffed with trophies from Veep, Seinfeld and The New Adventures of Old Christine, it would be nice to see some praise being handed out to other deserving characters.
Edie Falco has been nominated for an Emmy for every year of Nurse Jackie, but hasn't won since 2010. Even so, the show's final season wasn't momentous enough to merit another trophy.
Best Supporting Actor in a Drama
The nominees:
Jonathan Banks, Better Call Saul
Jim Carter, Downton Abbey
Peter Dinklage, Game of Thrones
Alan Cumming, The Good Wife
Michael Kelly, House of Cards
Ben Mendelsohn, Bloodline
-
Will win: Peter Dinklage
Could win: Ben Mendelsohn
Should win: Jonathan Banks
With Breaking Bad's six-time nominee (and three-time winner) Aaron Paul out of the race, the men in the Supporting Actor category can breathe a little easier about their chances. Unfortunately for them, there's still one hotly-tipped Breaking Bad alum in the mix: Jonathan Banks, reprising the role of Mike Ehrmantraut for AMC's spin-off Better Call Saul.
But there are other contenders: Peter Dinklage has been nominated for every single season of Game of Thrones, but hasn't won since its first in 2011. Alan Cumming hasn't been nominated for The Good Wife since 2011, but finally made the cut again this year.
And first-time nominees Michael Kelly (House of Cards) and Ben Mendelsohn (Bloodline) show that Netflix still has a couple of intriguing wild cards in the mix.
Best Supporting Actress in a Drama
The nominees:
Uzo Aduba, Orange Is the New Black
Christine Baranski, The Good Wife
Emilia Clarke, Game of Thrones
Joanne Froggatt, Downton Abbey
Lena Headey, Game of Thrones
Christina Hendricks, Mad Men
Will win: Uzo Aduba
Could win: Emilia Clarke plus Lena Headey
Should win: Christina Hendricks
The winner here for the past two years - Breaking Bad's Anna Gunn - is no longer in contention.
Here's one more chance to finally reward a stunningly consistent Mad Men performance - and this time, the TV Academy will possibly take it. Christina Hendricks is a five-time loser in this category, but this could be (and should be) her year - a chance to reward the entire scope of her performance, as well as the depth and grace with which she played Joan Holloway's final arc on the series.
But perhaps Hendricks' greatest threat comes from two of the hottest shows on television. Game of Thrones has to win something - it's too popular not to - and Emilia Clarke plus Lena Headey make for a deadly one-two punch.
And of course, there's Uzo Aduba, the lone acting nominee from Orange is the New Black, who has won tons of awards for her work on the show, including an Emmy last year in the Guest Actress category. This will be another category that may just surprise us on Monday.
Best Supporting Actor in a Comedy
The nominees:
Andre Braugher, Brooklyn Nine-Nine
Ty Burrell, Modern Family
Titus Burgess, Unbreakable Kimmy Schmidt
Adam Driver, Girls
Tony Hale, Veep
Keegan-Michael Key, Key & Peele
-
Will win: Ty Burrell
Could win: Tony Hale
Should win: Keegan-Michael Key
Ty Burrell won for Modern Family last year, and he's nominated again; Tony Hale won for his role as the bodyman on Veep two years ago, and he's in the mix too. This is Girls star Adam Driver's third consecutive nomination, and Brooklyn Nine-Nine star Andre Braugher's second.
Key & Peele's Keegan-Michael Key also showed off remarkable range in a bevy of diverse comedy sketches this year and really should be the frontrunner. His co-star Jordan Peele, who wasn't nominated, but is just as deserving of inclusion (at least here).
But this category is a toss-up, and, in the end, the TV Academy is most likely to re-reward an old favourite. If this is the year they turn on Modern Family, that makes Veep's Tony Hale the most likely to win.
Best Supporting Actress in a Comedy
The nominees:
Mayim Bialik, The Big Bang Theory
Julie Bowen, Modern Family
Anna Chlumsky, Veep
Gaby Hoffman, Transparent
Allison Janney, Mom
Jane Krakowski, Unbreakable Kimmy Schmidt
Kate McKinnon, Saturday Night Live
Niecy Nash, Getting On
-
Will win: Allison Janney
Could win: Anna Chlumsky
Should win: Allison Janney
This year's Best Supporting Actress in a Comedy category boasts a whopping eight nominees.
Mom's Allison Janney, who took this trophy last year, is a favourite to repeat (she's won six times before). She's the force which carries the show almost entirely alone.
Many of the 2015 nominees have been here before, with Mayim Bialik, Julie Bowen, Anna Chlumsky, and Kate McKinnon all returning from 2014 (and earlier).