Dario Fo: The subversive, satirical voice that'll live forever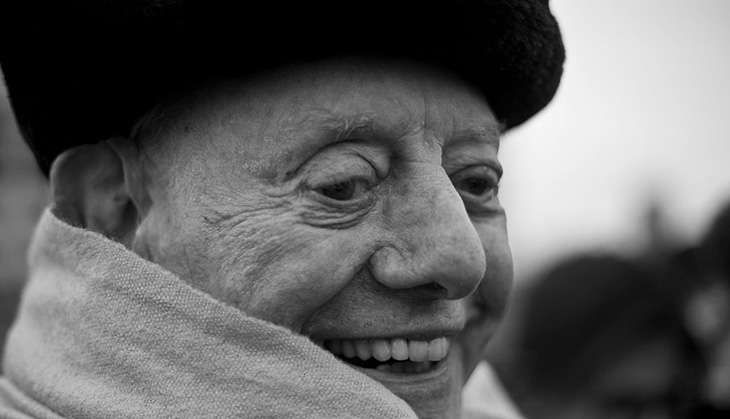 Sometimes, the Nobel Prize in Literature goes to the not so obvious choice.
Today, it's Bob Dylan. In 1997, it was Dario Fo - an Italian playwright who wrote alongside his wife and actress Franca Rame. Fo's work ruffled quite a few feathers, for neither was it easy to avoid due to its popularity, nor was it in agreement with those who wielded political control.
Fo's citation that came with the Nobel Prize for Literature read that he "emulated the jesters of the Middle Ages in scourging authority and upholding the dignity of the downtrodden".
Today, at the ripe old age of 90, the world lost Dario Fo. Possibly the most performed contemporary playwright, Fo will remain famous through a whole range of plays - over 70 - such as The Accidental Death of an Anarchist, Can't Pay? Won't Pay! and Mistero Buffo.
Also read - Dario Fo: Beloved Nobel prize-winning Italian playwright dies at 90
Dario Fo has passed away at age 90. He was awarded the 1997 #NobelPrize in Literature. pic.twitter.com/DyjsvNf26u

— The Nobel Prize (@NobelPrize) October 13, 2016
A leftist himself, Fo never shied from calling a spade a spade. Fo and Rame's brand of theatre was often at odds with censors. So much so that controversy over Mistero Buffo resulted in Italian state broadcaster Rai banning him for 14 years. Fo was also refused a visa to the US.
The Vatican went so far as denouncing Mistero Buffo as the "most blasphemous show in the history of television." All great publicity for Fo.
There was no love lost between Fo and the government of Silvio Berlusconi. He was allegedly sued for making fun of Berlusconi's size. All in satirical jest, of course.
Renato Brunetta, a politician who served under the Berlusconi government, tweeted in Italian, "No hypocrisy, I never liked him. With me he used racist terms in reference to my height. God rest his soul."
#DarioFo. Nessuna ipocrisia, non mi era mai piaciuto. Con me usó termini razzisti facendo riferimento alla mia altezza. Pace all'anima sua.

— Renato Brunetta (@renatobrunetta) October 13, 2016
However, the current Italian Prime Minister Matteo Renzi mourned Fo's death, calling it Italy's loss. "His satire, research, scenography and artistic activity will leave the inheritance of a great Italian to the world," Renzi said.
#DarioFo "who emulates the jesters of the Middle Ages in scourging authority and upholding the dignity of the downtrodden" #NobelPrize

— The Nobel Prize (@NobelPrize) October 13, 2016
A life of literature
Fo's association with narrative traditions started early. Born on 24 March, 1926 in the small northern Italian town of Sangiano, Fo was the son of a railway worker, socialist and amateur actor Felice, but his grandfather was a renowned storyteller. Fo's mother, Pina Rota, was a published writer, known for her autobiography Il Paese delle Rane (The Country of Frogs).
As he remembered fondly in his Nobel speech, Fo was also influenced by the glass artisans' oral traditions. "They were the old storytellers, the master glassblowers who taught me and other children the craftsmanship, the art, of spinning fantastic yarns," he said, adding, "We would listen to them, bursting with laughter - laughter that would stick in our throats as the tragic allusion that surmounted each sarcasm would dawn on us."
Dario Fo pursued his love for arts by studying painting and architecture at Milan's Brera Academy. By 25 years of age, Fo had already started writing and performing satirical cabarets at the Piccolo Theater in Milan.
He met his wife Rame in the early 1950s. This is also the time when he gained some recognition for his work with a series of monologues - a signature of Fo - that landed him a show on Italian national radio.
Also read - Squeeze us, we are olives. Writers, artists yield their best in times of trauma: K Satchidanandan
With his wife he founded the Fo-Rame theatre company in 1957 and their fame started growing.
The Accidental Death of an Anarchist, which was based on the real-life death of a political anarchist while in police custody, truly made him an international phenomenon. The play was first performed in 1970, and went on to be staged in over 40 countries.
In fact, it continues to play today.
There is something big coming to Glasgow in about two weeks. #DarioFo #Anarchist #Protagonist #Maniac #Dog #Trust #Lines pic.twitter.com/PwvM0TRtGr

— Yann Sicamois (@YannSicamois) October 1, 2016
What he leaves behind
Dario Fo was big on working with local issues that his audience would resonate with. He saw no point in focusing on high art that didn't shake things up.
"A theater, a literature, an artistic expression that does not speak for its own time has no relevance," he famously said in his Nobel speech.
His brand of contemporary theatre, taught in colleges around the world, was sprinkled with subversive humour that questioned as much as it entertained. Through the 1960s, all the way up to the 1980s, Fo's plays dealt with political assassinations, crime, corruption, racism, and mostly everything no one else would talk about. And Fo did this through his stronghold on satire.
He also experimented greatly with styles. His controversial Mistero Buffo was a one-man show, a monologue that he travelled with for years. He performed it over 1000 times, a record in itself. With the help of mime and a language that he partially invented, grammelot, Mistero Buffo thrived on offending those who couldn't appreciate it.
Dario Fo may no longer be amongst us. But as long as there's a need for subversion, for dissent, the plays that he leaves behind will thrive. And we know how much our world could use that.
Goodbye to Dario Fo: staunch supporter of Red Aid against intimidation by Italian state, anti-dogmatist, jester, unfailing comrade.

— James B (@piercepenniless) October 13, 2016
RIP Dario Fo.

What a man. What a voice.

— Stephen Unwin (@RoseUnwin) October 13, 2016