Creed review: a solid left hook you weren't expecting from a 40-year-old franchise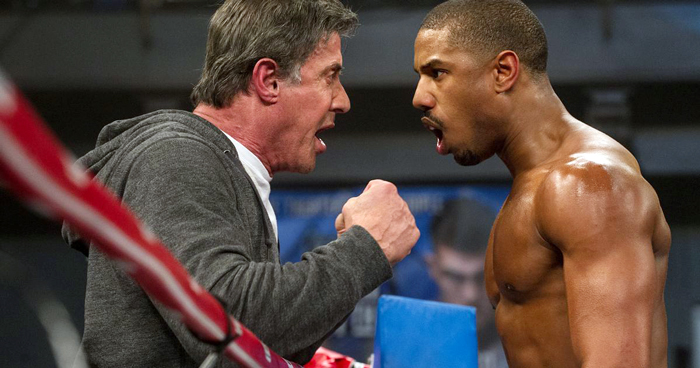 If there's one thing Creed proves, it's that you can take the most obvious things and still craft them into something worthwhile.
Anyone who's ever seen a
Rocky
movie will know what to expect from
Creed
, the seventh film in the
Rocky
franchise. A classic underdog sports story, you know you'll see the hero overcome all obstacles to become a champion.
But Creed uses old-school formulaic drama to create something rousing and heartwarming even though you can see the plot punches a mile away.
Also read - The Hunger Games: Mockingjay 2 review: a grim and fitting end
Which is why it was a completely fair decision to not call this 'Rocky VII'. Nonetheless, it goes without saying that training montages, obligatory ring-side cringes and motivational speeches are plentiful.
Meet Creed's seed
Creed reunites director Ryan Coogler with actor Michael B Jordan in their second film since 2013's Fruitvale Station.
Jordan plays Adonis Johnson Creed, the illegitimate son of Apollo Creed, the former heavyweight champion of the world who was killed in the ring back in Rocky IV.
Johnson grows up in foster homes and juvy halls. Then Creed's widow, Mary Anne (Phylicia Rashad), adopts him, so he shifts to her Los Angeles mansion and is fast-tracked for success in a brokerage firm.
But he only wants to box - it's "in his blood" after all.
So he sneaks away to Tijuana in Mexico on weekends for fights in which he's compiled a 15-0 record.
Mary Anne doesn't want him to box. She says, "You are your father's son and you're part of him, but it doesn't mean you have to be him."
But haunted and torn by his father's legacy, the restless Johnson quits his job and, unable to get anyone in LA to train him, heads to Philadelphia, where he seeks out an elderly Rocky Balboa (Sylvester Stallone) who retired his gloves long ago and proceeds to beg him to train him and help launch his professional career.
From there on the formula continues: the love interest, the montages, the petty rivalries, the nicknames, the moment of pride etc.
Also read -#Spectre movie review: license to thrill temporarily suspended
Dear White People's Tessa Thompson takes on the role of Bianca, a rising musician who becomes Johnson's love interest and source of support and Philly cheese steaks.
But despite every cliche in the book, Jordan conveys a powerful hunger for validation in Johnson's quest for glory, simmering with rage at being both abandoned by his dead father and needing to live up to the man's memory.
Steeping the film in Rocky lore makes the film richer
The Rocky franchise is now nearly 40 years old and has had quite a history. While the 1976 original won three Oscars, including Best Picture, its follow-ups never had the impact of the first.
Coogler uses an abundance of references from many of the greatest and corniest moments - from chasing chickens in the backyard to Rocky and Apollo's secret final fight.
You even get to see Rocky ascend those famous steps one last time, this time with the support of young Johnson.
A different Stallone
Stallone usually doesn't act much in most of his films except to drily deliver one-liners. But in Creed, there's something more human about his performance. He shines instead in his quiet, nuanced supporting turn as the aeging fighter and coach.
You can see his mortality in his scraggly face.
That race against time keeps popping over. Right now, Johnson is in his prime, but eventually he won't be. And what happens then?
Gripping cinematography
The camera work is pretty exquisite. An "over the shoulder" camera effect gives the film an in-your-face style that carries through most of the boxing sequences.
Shot in what appears to be a single take, Johnson's first major fight is staged with breathtaking precision, the camera circling in and out - close enough to become a participant itself.
My two cents
All in all, Creed is a fan film, a movie made by someone who loved the original Rocky movies and thought he could breathe new life into them
And Coogler has done exactly that. Despite the cliches.
So even though this is a tried-and-tested story, it's worth that Sunday family outing.
RATING: 3 out of 5
MORE TO CATCH -Destroy the record books: Adele's new album just broke all sound barriers
Israel's women soldiers have an underrated enemy: boredom. This essential film shows why