Censored, not stirred: India says hello to #SanskariJamesBond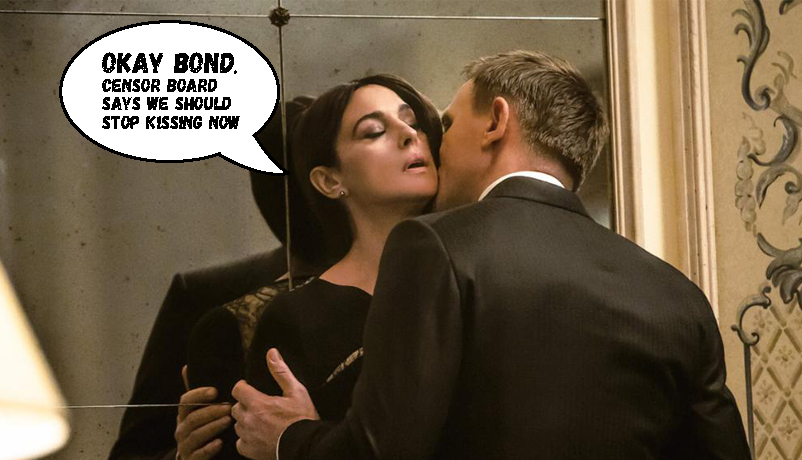 James Bond may be able to get out of most tight spots, but that's only because he hasn't come up against India's censor board.
Where the likes of Jaws, Goldfinger and Octopussy couldn't stop Bond from getting the girl, Pahlaj Nihalani, India's censor chief and a man who seems more trigger-happy than Bond, has succeeded.
Well, more than most anyway.
The censor board has, in its infinite wisdom, decided to cut short two of Bond's kisses, finding their length "to be excessive". This has been done, presumably, to protect the sentiments of innocent movie goers such as yourself, who still live in the 1960s.
If the censor board has its way, we'll finally be introduced to Bond's mother and pet cow in the next iteration of the film series. One where he'll presumably save the world from the threat of beef products, marry a virgin and settle down in Gujarat. Because it's really developed and has lots of jobs if Nihalani's video/ode to India's PM is any indication.
The censor board has shortened two kisses and cut two swear words from the latest release, Spectre
Apparently, when you buy a movie ticket, you also get the censor board's extremely sanskari babysitting services thrown in for free! So, in addition to cutting down on Bond's trademark passion, the censor board has also censored two words.
Forget being the birthplace of the Kamasutra, India is presently one of Pornhub's largest markets. Yet, the censor board is worried that an excessively long kiss and a couple of swears would corrupt our fragile sensibilities. They've obviously never taken a walk through any of India's many public parks.
Or heard of the internet.
Luckily, the internet has heard of the censor board, so what followed was an unending series of mostly funny, sometimes painful tweets. It got so popular that the trend #SanskariJamesBond was at one point the most popular Twitter trend in the country. Here are some of the best:
#SanskariJamesBond had to fill nineteen forms and bribe six Babus before he could get his licence to kill.

- Deepak Mohoni (@deepakmohoni) November 18, 2015
#SanskariJamesBondBond: Ill have a martini. Shaken not stirred. Bartender: Sorry sir dry day.

- Sanjay Manaktala (@smanak) November 18, 2015
#SanskariJamesBond mentions his surname first to make his upper-caste known firsthand.

- Gabbbar (@GabbbarSingh) November 18, 2015
#SanskariJamesBond having Gau-Mutra! pic.twitter.com/dvo7dZPkbY

- Mahir Bhatt (@Mahir_Bhatt) November 18, 2015
The only kissing that is allowed these days is @AnupamPkher and Pahlaj Nihalani kissing PMs ass. #SanskariJamesBond #CensorBoard

- arshdeep11 (@arshdeepmehta) November 18, 2015
#SanskariJamesBond just after the Ayudha poojaP.S: Mooch styled on @styl_ai pic.twitter.com/zDrkFU2KJ0

- STYL (@styl_ai) November 18, 2015
In #SanskariJamesBond movies, Bond girls will have names like Pooja & Aarti."What's Bond doing?""Pooja & Aarti""Oh!"

- Roflindian 2.0 (@Roflindian) November 18, 2015
Censor Board approved kiss for James Bond pic.twitter.com/ch6f5Pd9ZP

- Trendulkar (@Trendulkar) November 18, 2015
My biggest worry over this "Censor Board" decision is what #MonicaBellucci is going to think about Indian men.

- Rajan Lodha (@RajanLodha) November 18, 2015
Censor board to come out with their own website for acceptable forms of kissing on the movies. It will be called WikiPDA.

- Ripper (@Ace_Of_Pace) November 18, 2015