Bob Dylan gets Lit Nobel: Subterranean is now avant-garde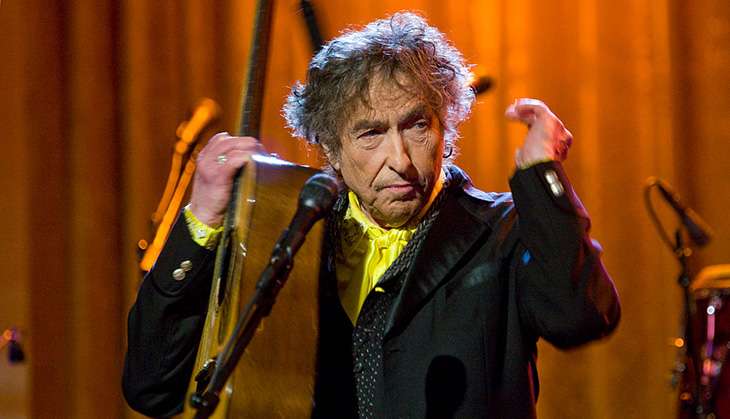 Brooks Kraft LLC/Corbis via Getty Images
Just like the Nobel Peace Prize, the Nobel Prize in Literature was also a surprise. Before the award, people were putting their bets on Haruki Murakami, Philip Roth, Don DeLillo and Claudio Magris.
At 50/1 odds, no one would have guessed. The answer, my friend, is blowin' in the wind. We all overlooked it. Bob Dylan was awarded the 2016 Nobel Prize in Literature for "for having created new poetic expressions within the great American song tradition". It was a surprise as his works does not fit into the traditional realm of the award - The prize has been about "literary canons of novels, poetry and short stories" and not necessarily "songwriting.
"A great sampler ... and for 54 years he has been at it, reinventing himself," Sara Danils, permanent Secretary of the Swedish Academy said upon describing Dylan. "An extraordinary example of his brilliant way of rhyming. putting together refrains, and his brilliant way of thinking," Danils talked about Blonde on Blonde.
Nobel Prize
With this award, Dylan becomes the 259th American to have won a Nobel and the first since novelist Toni Morrison, in 1993, to win the Literature prize. All the six Americans who won a Nobel Prize before Dylan in 2016 were immigrants. Dylan breaks that barrier.
"If you look far back, 5000 years, you discover Homer and Sappho, Danils commented upon the surprising aspect of the award. "They wrote poetic texts which were meant to be performed, and it's the same way for Bob Dylan. We still read Homer and Sappho, and we enjoy it".
Dylan has also become the first ever songwriter to have won the prize. His appearance in the betting odds, year after year, was condisered a 'Nobel joke', but not anymore. Going by the odds, 2011 was his best chance as he had the fourth best odds. Ladbrokes described this as "a substantial gamble from clued-up literary fans".
Unlike other Nobel prizes, the prize in literature is given for a lifetime of writing rather than for a single piece of work.
Divided reactions
Some were delighted and some were not amused. Here's some of the reactions to Dylan winning the Nobel prize.
I'm a Dylan fan, but this is an ill conceived nostalgia award wrenched from the rancid prostates of senile, gibbering hippies.

— Irvine Welsh (@IrvineWelsh) October 13, 2016
If Bob Dylan can win the Nobel Prize for literature then I think @StephenKing should get elected to the Rock N' Roll hall of fame.

— Jason Pinter (@jasonpinter) October 13, 2016
This feels like the lamest Nobel win since they gave it to Obama for not being Bush

— Hari Kunzru (@harikunzru) October 13, 2016
Subterranean Homesick Blues
Some say that Subterranean Homesick Blues predates hip-hop. It is considered by many to be the first ever rap song. The song also happens to be Dylan's first Top 40 single.
Borrowing from the title of Jack Kerouac's novel The Subterraneans, the song was a beat poetry-inspired glimpse into the burgeoning counterculture set to the rapid-fire pace of Chuck Berry's "Too Much Monkey Business," Dave Lifton wrote in Ultimate Classic Rock.
Hurricane
Many consider the song 'Hurricane' to be Dylan's 1975 epic as his last great protest song. Some fans consider it to be one of his greatest songs, period. It is "far more than a minor footnote to the story of the late Rubin Carter," wrote David Hinckley in New York Daily News. "After Dylan played "Hurricane" on virtually every date of his wildly popular 1975 Rolling Thunder tour, Carter's incarceration became an unavoidable subject of national discussion."
Who is Bob Dylan?
Bob Dylan was born Robert Allen Zimmerman on May 24, 1941 in Duluth, Minnesota and grew up in Hibbing in a Jewish middle-class family. He's an American singer-songwriter, artiste, writer and poet. He played in various bands during his teenage years and folk singer Woody Guthrie was his idol, the Swedish Academy said in a biographical note. Dylan was influenced by the early authors of the Beat Generation and modernist poets. While performing folk and country songs he assumed the name 'Bob Dylan'.
He formed his own bands that included - Golden Chords and one under the pseudonym Elston Gunn. While at university and performing at local cafes, he started taking the name 'Bob Dillon'. In 1960, he then dropped out of college. His idol, Woody Guthrie "was hospitalized with a rare hereditary disease of the nervous system" - Huntington's chorea - and Dylan would visit him often. In fact, he even wrote "Song to Woody," as a tribute to his idol.
"Dylan moved to New York in 1961 and began to perform in clubs and cafés in Greenwich Village. He met the record producer John Hammond with whom he signed a contract for his debut album, called Bob Dylan (1962)." He never looked back. He made Greenwich Village his own. "In the following years he recorded a number of albums which have had a tremendous impact on popular music: Bringing It All Back Home and Highway 61 Revisited in 1965, Blonde On Blonde in 1966 and Blood On The Tracks in 1975. His productivity continued in the following decades, resulting in masterpieces like Oh Mercy (1989), Time Out Of Mind (1997) and Modern Times (2006)," the note continued.
He was firmly established as one of the definite songriwriters of the 60s protest movement with the album release of The Times They Are A-Changin'. Thereafter, he became romantically involved, for two years with one of the movement's other established icons, Joan Baez, in 1963. The relationship, though short, mutually beneficial. Dylan wrote Baez's best-known material and Baez introduced hum to thousands of fans. Dylan, by 1964, was playing 200 concerts annually. According to Rolling Stone magazine, Dylan, "met the Beatles that year and reportedly introduced them to marijuana".
After the Dylan-Baez relationship fell apart, Dylan met ex-model Shirley Noznisky, a.k.a. Sara Lowndes, who was 25 years at the time. In 1965, they got married.