Alice Through the Looking Glass review: just a little more interesting than taking a nap
In the beginning, there was Alice - the 1865 novel by Lewis Carroll about a young girl's adventures in a strange fantasy land that have led to countless adventure stories ever since.
So it's more than safe to say the Western world wouldn't be the same without it. Regardless of where you first learned about the Cheshire Cat, Mad Hatter and the Red Queen, all of them are characters that are as embedded in your life as people you actually know in the real world.
For anyone who ever read the book, Tim Burton's 2010 Alice in Wonderland fell somewhat short of truly representing that fantastical universe the way it deserved.
But the box office lapped it up. That's because back in 2010, anything with 3D effects was a definite win. In fact, despite not being the best end product, Alice in Wonderland became the sixth film in history to make over $1 billion worldwide.
Back then, Johnny Depp was still the world's sweetheart. And if you want to make a weirdo fantasy film, Depp is, and always has been, your man.
So because the last movie made a boatload of money, we've got Alice Through The Looking Glass on our hands - just one more unnecessary sequel in this age of unnecessary sequels.
A return to Underland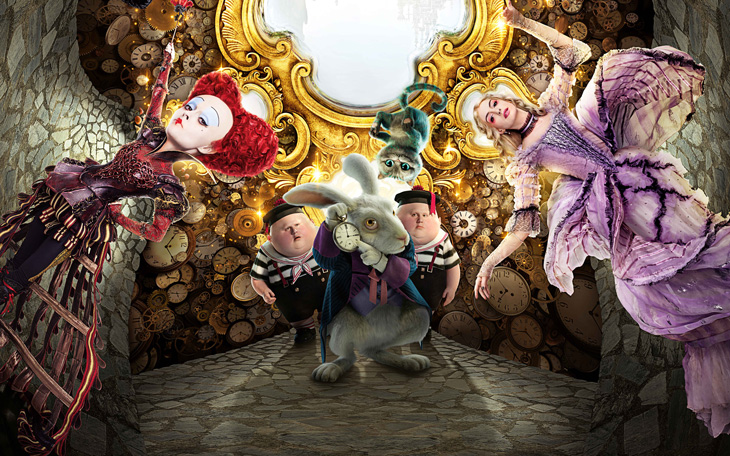 As gothic as Burton's film was (he's the producer on this one) director James Bobin's take is a far more gaudy and colourful mess. Add a script which is a complete departure from Carroll's rich world, and you get a complete snooze fest.

Director James Bobin (Muppets, Flight of the Conchords) does manage some remarkable visual cues, but he's largely stuck having to ape Burton's tiresome vision, which amounts to the most amped-up production design possible. The integration of practical effects with CGI is definitely improved over the first film - the design and colour are the elements that save the film from an abyss of dullness.

This time Alice's (Mia Wasikowska) mission is to cheer the Hatter (Johnny Depp) because he's in a bit of a funk.

Alice, who's incredibly determined to save her friend from coping with grief ends up messing with rules of the space-time continuum when she steals the time-travelling chronosphere from Time (Sacha Baron Cohen). She uses it to go into the past where she learns the relationship between the Red Queen Iracebeth (Helena Bonham Carter) and the White Queen Mirana (Anne Hathaway).

There's a lovely note of female empowerment to Alice Through the Looking Glass - Bobin and the screenwriter Linda Woolverton manage to give Alice a lot more agency that she had in the original film which is a huge step up.

The movie's cast is full of many big names - Anne Hathaway as the White Queen - and great British character actors voicing Wonderland's many inhabitants, including Stephen Fry as the Cheshire Cat and Alan Rickman as the Caterpillar. All this should be instant gold you'd think. But nobody seems all that invested in the quest to save the Hatter, perhaps because the movie is only slightly more interesting than taking a nap.

Wasikowska is fantastic as usual.

If you haven't seen the first season of HBO's In Treatment, then you might not be aware of just how powerful a performer she is, something she proved again with 2015's Crimson Peak.

The only other two actors who seem at all bothered to emote are Sacha Baron Cohen as Time and Carter as the Red Queen (she of the enormous head).

And Johnny Depp. Remember when he was an actor? The film, bad enough to start with, groans to a halt every second he is on screen.

One thing that would have lifted the movie is if Pink's rehash of Jefferson Airplane's White Rabbit had run through its entirety.
RATING: 2 out of 5