100% Pawar Play: excerpts from Sharad Pawar's just-released autobiography
Catch Team
| Updated on: 14 February 2017, 1:15 IST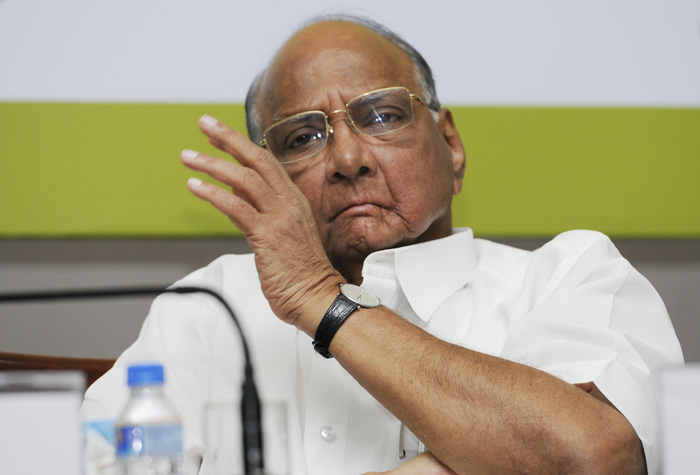 Politics and cricket are two pillars of Indian superstardom and one man has been in the thick of both for decades.
Sharad Pawar. Prime Minister in waiting. Politician of legendary wiliness. Maharashtra strongman. National figure. It's a life fascinating to chronicle, and as he hits 75, Pawar has clearly decided it's time to tell his story.
Or at least his version of his story.
On My Terms: From the Grassroots to the Corridors of Power, Pawar's just-released autobiography, is intense and gossipy at once. It's occasionally subtle, often flashy. Interesting and petty.
Also read - Are the BJP and the NCP playing a fixed match in Maharashtra?
Pawar takes pains to document how his opponents knocked down his chances of becoming prime minister, how he was instrumental in chalking out a plan to prevent the demolition of the Babri Mosque, and his pet peeve - his relationship with Congress President Sonia Gandhi.
In a grandiose style fitting of the man, the book is "Dedicated to all the people of India", while the preface to the book, "My Father, My Hero" has been written by politician daughter Supriya Sule.
"Baba displayed exemplary courage while combating cancer which coincided with the 2004 Lok Sabha elections. As soon as doctors allowed him to leave the hospital, he hit the road, addressing poll meetings, strategising, meeting party candidates."
Pawar himself writes that "it is not a healthy sign that the BJP should hold on to Modi's designer kurtas, while the Congress politics revolves only around Rahul Gandhi."
That's Pawar play. Pawar play at its best.
Edited excerpts from the autobiography:
On 1984 and Punjab
On 5 June 1984, the Indian army stormed into the Golden Temple in Amritsar to evict Khalistani militants who were holed up there. The decision to carry out 'Operation Bluestar' was taken by Prime Minister Indira Gandhi. It saw 492 militants killed. Among them was the militant leader Jarnail Singh Bhindranwale. This sparked a series of violent retaliatory actions by Sikh militants leading to Indiraji's assassination on 31 October 1984.
The entire nation was shocked by Indiraji's killing. I rushed to New Delhi to pay homage to the departed leader. Rajiv Gandhi was elected Congress Parliamentary Party leader and took oath as prime minister the next day. Soon after I offered my condolences, he took me aside and suggested that I should return to the Congress.
'Look, Sharad, I kept away from politics all these years but now the situation has forced me into it. Both of us come from the same generation. How long are you going to sit in the opposition? It is high time we started working together,' he said to me. 'I cannot decide on my own. I will have to consult my party on this,' I told him.
On breaking away from the Congress
"I broke away from the Congress when I thought that the party had moved away from its basic philosophy. This happened in 1978 and in 1999. We, of the Nationalist Congress Party, strive to preserve the original 'Congress ethos'. My emotional bond with the Congress is strong even to this day. Hence, the Congress Party's deterioration in recent years makes me sad...
Rahul Gandhi is all set to revive his party, but the future, as of now, looks uncertain."
On Ram Janmabhoomi and the Babri Masjid
"Although the Chandrashekhar government did not last for more than seven months, it made during that brief period a serious attempt to tackle the Ram Janmabhoomi-Babri Masjid issue. Bhairon Singh Shekhawat, the BJP veteran from Rajasthan, and I too joined the exercise. However, not many are aware of our efforts for two reasons. One, it was entirely unofficial. Two, it finally came to naught...
On 1 February 1986, the Faizabad district court ordered the unlocking of the gates of the disputed structure in Ayodhya, and within hours the Rajiv Gandhi government opened the gates to allow the 'shilanyas' ceremony for a proposed Ram temple. This was perceived as an attempt to appease Hindu sentiments...
Prime Minister Chandrashekhar decided to forge a breakthrough soon after he took over. He had a good rapport with Bhairon Singh Shekhawat, who was considered to be one of the 'soft' Hindu leaders of the BJP. The prime minister called Shekhawat and me to deliberate upon a possible approach to resolve the issue...
Also read - 2 million dollars & a film deal: Garth Hallberg is the unknown author you need to read
In one part of the structure, as it stood at the time, Hindus offered prayers to a small idol of Lord Ram, while Muslims used the other part of the structure to perform namaaz. Keeping this in mind the solution being hammered out suggested retention of the disputed structure and providing access to Hindus and Muslims from different sides to offer prayers as per their respective religious practices...
It was agreed by both camps to take the dialogue forward so that the long-pending issue could be settled in the near future. Alas, that was not to be.
On his PM ambitions
"Inevitably, the issue of Rajiv's successor came up (following his assassination in May 1991). My name was being considered for the prime minister's post in Congress circles, not only in Maharashtra but in some other states too.
Though a senior leader, P.V. Narasimha Rao had withdrawn from mainstream politics for health reasons before the election. Given his long experience, there were suggestions to bring him back following the unforeseen exit of Rajiv. Yet, there was a lot of uncertainty...
Personally I was more circumspect, aware as I was of how such things in the Congress worked. A lot now depended on the inclination of '10 Janpath' which had not revealed its mind yet. But it did that soon.
Self-styled loyalists of 10 Janpath started saying in private conversations that Sharad Pawar's election as prime minister would harm the First Family's interests in view of his young age. 'Woh to lambi race ka ghoda hoga (He will hold the reins for a very long time),' they argued. Among those who played this clever trick were Arjun Singh, M.L. Fotedar, R.K. Dhawan and V. George. They convinced Sonia Gandhi that it would be safer for her to back Narasimha Rao because he was old and was not in good shape. Arjun Singh himself aspired to become prime minister and hoped to succeed Rao soon...
Anyway, once Sonia Gandhi had bought the coterie's 'bring Rao' argument in 1991, the tide turned against me...
After completing the formality of 'gauging the mood' of all Congress Parliamentary Party (CPP) members, it was declared that Narasimha Rao's lead over me was of 35 'votes'. I know for sure that the outcome would have been different had 10 Janpath not intervened the way it did."
On the Mumbai blasts & Sanjay Dutt
"Immediately after the Babri mosque was demolished on 6 December 1992, Hindu-Muslim riots tore apart Mumbai's social fabric...
Large quantities of RDX, guns and ammunition were sent through a sea route to the coastal area of Raigad district and the stocks were stored at a number of places. Among them was a garage in the house of Hindi film star Sanjay Dutt. It was found during subsequent police investigations that an attempt was also made to melt a gun in his house."
Details of Sunjay Dutt's interactions with the underworld and the seizure of arms from his residential premises came as a shocker. His parents, Sunil Dutt and the late Nargis Dutt, were not only popular film personalities, they were also reputed public figures committed to the promotion of communal harmony. Sunil Dutt was, in fact, a Congress member of Parliament from Mumbai...
Keeping Sunil Dutt's stature in mind, I called him over to my office and told him about the findings of the investigation. He was shocked and dismayed. 'I shall not obstruct the path of justice. If my son is found to be involved with anti-national elements, please go ahead and punish him,' he said. While I could understand Sunil Dutt's agony as a father, I had no option but to move on with the investigations.
Sunjay Dutt was abroad at the time. His father asked him to return immediately."
On Dawood Ibrahim
"Yet another serious but completely unfounded allegation levelled against me during that decade was that I had 'connections' with underworld don Dawood Ibrahim who had a hand in the 1993 bomb blasts which killed 257 people in Mumbai...
It cropped up as recently as July 2015 when the senior lawyer Ram Jethmalani told the media that Dawood was prepared to surrender on certain conditions but I (Sharad Pawar) turned down the offer...
It is a fact that Jethmalani came to meet me with Dawood Ibrahim's proposal when I was chief minister. He said Dawood telephoned him from London to make the 'offer'. Accordingly, Dawood was ready to surrender and return to India to make himself available for a court trial. Dawood claimed he had no hand in the bomb blasts..."
Distrustful Sonia Gandhi
"Though I was among those few who invited Sonia Gandhi to become Congress president, there was little warmth between us. At best our relations were cordial. She relied very heavily on just two or three people for running the party. There was some uneasiness within the Congress that the party had won the maximum number of Lok Sabha seats in 1996 from my home state, Maharashtra.
Against this background, the coterie sought to drive a wedge between me and Sonia Gandhi by pointing out how I had defied Indira Gandhi to form the PDF government in Maharashtra in 1978. The so-called loyalists also drew her attention to the rebellion of some Congress ministers in my cabinet against me in 1990, when I was Maharashtra's chief minister...
Sonia Gandhi did not say much but the distrust was evident on her face. It also found reflection in her actions. When she and I decided something through mutual discussion, she would do exactly the opposite...
What really took the cake was a shocking amendment to the constitution of the Congress Parliamentary Party which was brought into effect solely to suit Sonia Gandhi...
She then appointed me as the Congress leader in the Lok Sabha and Manmohan Singh as the party leader in the Rajya Sabha.
I was deeply hurt by the decision...I was now 'appointed' by a person who was not even an member of Parliament. This unfortunate development put almost too great a distance between Sonia Gandhi and me."
On Sonia's foreign origin issue & suspension
"On 15 May 1999, the Congress president called a meeting of the CWC. For no apparent reason, she suddenly pulled out a sheet of paper and read aloud: 'I was born outside India. If this becomes an issue in the campaign, how would it impact our party's performance in the election?' She requested CWC members to voice their opinions candidly.
Arjun Singh was the first to speak. 'You may be a foreigner by birth but you became a domicile of this country after marriage. You did not leave even after your husband and mother-in-law were assassinated. Just as you embraced this country, the people of India also have accepted you as one of them. For them, you are the 'Rashtra maata' (the mother of the nation). You alone deserve to lead the nation and the party.'
Arjun Singh more or less set the tone of the speeches that followed. A.K. Antony, Ghulam Nabi Azad and Ambika Soni went all out to express their loyalty.
Then came the turn of P.A. Sangma. He was believed to be very close to Sonia Gandhi. So what he said was totally unexpected for many. 'There is no doubt that Sonia Gandhi's foreign origin will be made a big issue in the election. It will be foolish on our part to say there will be no impact if we are criticised for choosing a foreigner to lead us when the party has so many able people. We shall have to devise a strategy to counter that criticism.'...
When Tariq Anwar's turn came, he concurred with Sangma. After a few others spoke, it was my turn. I said, 'The people of India will not forget that the Gandhi family has contributed a lot to this country. Secondly, a large number of people in the country support the Congress because they acknowledge with gratitude the supreme sacrifices made by Indiraji and Rajiv Gandhi. Therefore we shall be able to counter effectively the opposition parties' campaign against Soniaji's foreign origin. In that sense, I agree with what Sangma said. We must meet the opposition campaign head on. But it will be our gross mistake to presume that the opposition will not campaign on the "foreigner" issue.'"
The CWC meeting ended on that uneasy note...
Sangma, Tariq and I met in Delhi and drafted a four-page letter addressing Sonia Gandhi....we urged Sonia Gandhi to take the immediate initiative of proposing an amendment to the Constitution of India so that the offices of the president, vice-president and prime minister could only be held by natural-born Indian citizens.
Our move was in sharp contrast to the mass show of 'loyalty' which was on full display outside. Soon after our letter was received, the CWC met again to suspend us from the party for six years...
We came to know later that it was all pre-planned; Arjun Singh had orchestrated the entire episode...
On the 2004 elections
Sonia Gandhi was unanimously elected leader of the Congress Parliamentary Party on 16 May 2004. A few days later she took everyone by surprise by turning down the parliamentary leader's post, citing her 'inner voice' as the reason...
Speculation was rife in political circles and the media about the cause of her 'renunciation'. When I spoke to her I could sense that the 'foreign origin' issue had something to do with her decision to turn down the post of prime minister. She apparently thought the issue would crop up again and anytime, and that would obviously put her in an awkward situation.
On looking ahead
Today, the BJP enjoys a clear majority in the Lok Sabha. This has happened after years of fragile coalition politics and has on the one hand generated the hope of a stable regime and on the other, triggered fear of authoritarian rule...
Following the UPA's ten-year rule, of which I have spoken earlier, we now have the BJP and its allies in power, with Narendra Modi as the prime minister. The most striking feature of the Narendra Modi regime is that for the first time in the BJP's history, the entire parliamentary party transcended the RSS straitjacket to stand firmly behind one man. Just as Congressmen used to say of Indira Gandhi, many present-day
BJP member of Parliaments admit openly, 'We are here because of Modi.' This was not the case even when Vajpayee was at the helm. Modi's style of functioning has caused many worries. Ruling with an iron hand in a single state like Gujarat is one thing, but the same technique cannot be replayed for a long time when you are running the country. Political power has a tendency to concentrate in a few hands and once that happens, it does not take much time to become corrupt. Nor does it last long, as world history has shown us time and again.
Today, the BJP and the Congress are the only two parties that enjoy a pan-Indian presence and both seem to be suffering from what is being called by commentators 'personality cult politics'. It is not a healthy sign that the BJP should hold on to Modi's designer kurtas, while the Congress politics revolves only around Rahul Gandhi.
As things look at present, it will be an uphill task for the Congress to stand up as a formidable alternative to the BJP at the national level. To be able to turn the tide, the Congress has no option other than to take smaller and regional parties along.
But for that to happen, it will have to create confidence among its prospective allies that it would run the coalition in the same spirit that Vajpayee showed. Manmohan Singh did exhibit this ability during the UPA's ten-year-long rule. However, let's not forget that the Congress of today is a lot weaker than it was in the UPA era.
The BJP's popularity graph, which peaked in 2014, has begun to come down. Unless it takes quick corrective measures, the party will find it difficult to retain power for long.
The setback that the BJP suffered in the Bihar assembly elections of October-November 2015 has underscored this fact. There is no denying the fact that the BJP's mainstay is the large number of dedicated, hard-working people in the RSS-BJP parivaar. But, it must also be noted that the BJP could expand its reach only when it showed willingness to be flexible about Hindutva, its core ideology.
Excerpted from On My Terms: From the Grassroots to the Corridors of Power, published by Speaking Tiger, New Delhi, 2015
Text: Lamat Hasan
More in Catch - Copyright, meet CopyFraud: Anne Frank's diary won't go public till 2050
Words have officially failed us: Oxford Dictionaries Word of the Year is an emoji
Not a political comment: our new poetry series starts with Sonnet to an Asshole