Why the govt should be more worried about the GST-induced sharp fall in exports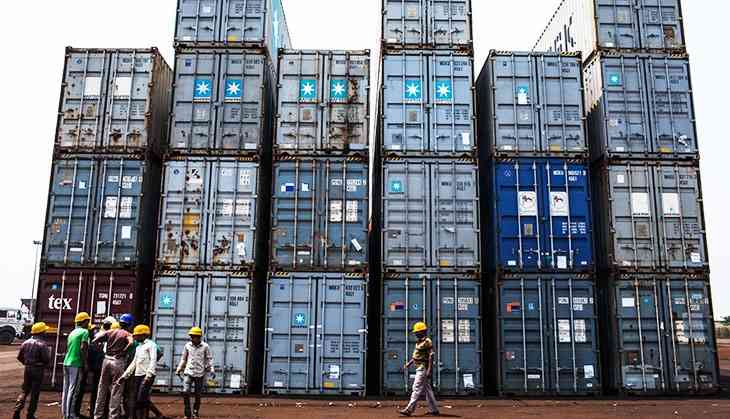 (Sanjit Das/Bloomberg/Getty Images)
Amidst all the negative news that is associated with the Indian economy, the rise of Indian exports was a silver lining. With it, the government could claim with aplomb that the economy was on the right track, and that the pain introduced by demonetisation and goods and services tax (GST) was temporary.
But that changed in October when India's merchandise exports declined for the first time in 14 months leading to the highest trade deficit in 35 months at $14 billion (Rs 89,600 crore).
Exports fells by 1.1% in October to $23.1 billion (Rs 1,47,840 crore) while imports increased by 7.6% to $37.1 billion (Rs 2,37,440 crore).
What must worry the government is that the decline is not because of the Indian traders could not win orders but because they failed to meet their shipping deadlines due to cash crunch introduced by the GST.
Reacting to the export data Ganesh Kumar Gupta, President, Federation of Indian Export Organisations (FIEO) said that "the fall was expected as exporters particularly MSME were facing liquidity problem to pay GST for four months in a row without getting any refund. There is immediate need for remedial measures to prevent further decline in exports otherwise the situation may be worse for November 2017".
Indian exporters have been unhappy with the imposition of integrated GST and delays in refund of input tax credits by the government. Another source of pain for exporters has been the imposition of 0.1% GST rate for merchant exporter who procure products from other domestic manufacturers.
Mounting troubles
A look at the components of Indian merchandise exports lays bare the story of small traders who are struggling with liquidity issues ever since the GST was introduced in the country.
In October, exports of chemicals went up by 22.3%, engineering goods by 11.8% and petroleum products rose by 3.2%.
These sectors largely have access to big capital due to the average size of the companies that are involved in it. However, ready-made garments sector- largely made up of SMEs registered a decline of (-39.2%), while gems and jewellry, another sector dominated by SMEs posted a decline of (-24.5%). Pharmaceuticals sector also registered a decline of (-8.8%).
The decline in exports indicates that the measures announced by the government to ease the problems of exporters have not been effective on ground. In October, the government had announced that it would immediately refund exporters for the month of July and August through cheques from 10 October and 18 October, respectively. As a long term measure, the government plans to introduce e-wallets for all exporters by 1 April 2018, to carry forward the refund process.
Danger to job creation
The government has not had much to boast about when it has come to creating jobs in the last three years. If we go by the data, India generates only 450 jobs as against the demand of 10,000 jobs per month.
But over the past 13 months, many SMEs engaged in exports had begun to expand their workforce. But then, they hit the hurdle of GST which, if not resolved, could force exporters to lay off their staff.
Managing the Current Account Deficit
India has had a sweet run over the past three years due to low crude oil prices in the international market which has allowed government to save foreign exchange by cutting down on the energy import bill. Oil prices touched a two-year high last week and have risen by 14% over the past one month. This may prove to be a drain on the Indian foreign currency reserves. To compensate for this, the economy must be able to increase its exports at a faster pace.
India's current account deficit sharply to $14.3 billion - 2.4% of GDP - at the end of first quarter of 2017-18. The situation is not alarming yet, but the government cannot afford to be complacent about it.