Why did Arvind Panagariya turn socialist all of a sudden?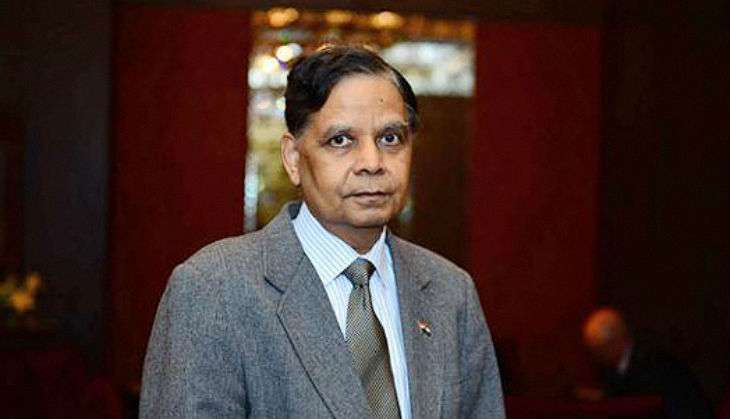 Theory is different from the practical world. Just two years in power and the gurus of Modinomics appear to have changed their beliefs.
Free market economist Arvind Panagariya, vice-chairman of government think tank NITI Aayog, suddenly seems to be going socialist in his approach by expecting the industry to do the social work and sacrifice growth for the sake of job creation.
In an event held on 8 August, Panagariya said, "Successful industry in India has tended to be capital-intensive or skilled-labor intensive. If I may be blunt, our entrepreneurs have a Brahmanical attitude towards entrepreneurship so the industries that they get into are either towards the high-end of technological or capital deployment".
He further added "We have just not been able to create jobs. Over 90% of our workforce is in the informal or unorganised sector, where jobs are clearly not well-paid".
Panagariya, who holds a PhD from Princeton University, and taught at Columbia University, has been a staunch supporter of trickle-down growth and has criticised the idea of redistribution of wealth by the state.
Panagariya, in a book co-authored with Jagdish Bhagwati named India's Tryst with Destiny: Debunking Myths that Undermine Progress and Addressing New Challenges, used the 'Gujarat Model' as a metaphor for development primarily driven by growth and private entrepreneurship.
In the same book, Panagariya criticises the Kerala Model of redistribution of wealth by the government, with an argument that it is the privately generated wealth by the Keralites living abroad that has improved the social indicators in the state.
Essentially, Panagariya's economic theory says that there should be focus only on wealth creation by the entrepreneurs which in turn can bring people out of poverty.
But under the Modi government, with extreme focus on entrepreneurship and industry, the number of jobs created in 2015 was just 1.35 lakh, lowest in 6 years.
The Modi model of development - giving industry a free hand and generating profits - is already facing flak.
Panagariya's tilt towards socialism
In a free market economy with no state intervention to redistribute wealth, an entrepreneur is supposed to focus only on industries that create profits for his company. If that comes from sectors that require skilled labour, the state cannot force them to invest elsewhere.
But Panagariya, in his speech, seems to be attaching morality with entrepreneurship. If we look at the capitalist models around the world, no country dictates where an entrepreneur should invest his capital. This is the reason why all the low skilled jobs were shifted out of developed countries to developing countries, despite criticism from anti-capitalist forces.
If one were to go by Panagariya's idea of entrepreneurship, there shouldn't be any investment in Information Technology, automobile and other such sectors that have started replacing human beings with robots or Artificial Intelligence software. World over, companies that rely on 'high-end of technological or capital deployment', are the ones making highest profits.
But these companies generate the least number of jobs as their revenue generation per employee is very high.
India needs to generate 10 million jobs every year until 2030 to cater to its ever-growing youth population. Naturally, the traditionally profit-generating sectors, cannot employ such a large population.
And this is why it becomes important to decide the course of free market economics as per India's needs. A clear example in the case is China. They joined the World Trade Organization a decade later than India. The Chinese government used this period to support sectors that were important for its demography.
On the other hand, India played by the rules of Western Countries and showcased emergence of a small segment of middle class as its economic model's success story.
Two and a half decades later, China is a world manufacturing power house that generates jobs for its demography. On the other hand, India too became a power house in the IT sector, but it has created a demographic crisis for the country due to absence of low end jobs.
Panagariya, while criticising the Indian entrepreneurs for chasing profit yielding sectors is actually criticising the free market model, which is very much against his theoretical ideas on economics.
Possibly, Panagariya is gradually realising that the hardcore open market concepts of economics have reached their limits. If a government relies only on wealth generated by entrepreneurs to bring people out of poverty, that idea is not going to work in a country like India.
More in Catch - Arvind Panagariya to be new RBI governor?
Dadri lynching case: Despite prohibitory orders, residents hold Maha Panchayat