Storm warming: the economic bad-winds awaiting the govt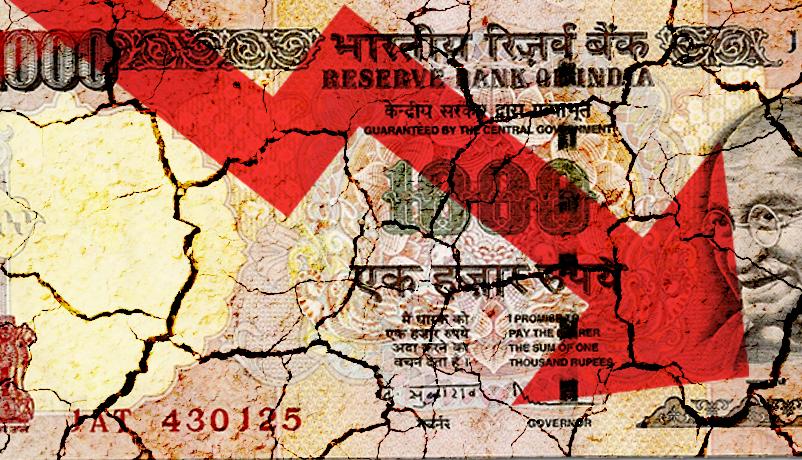 Worrying signal
The rural economy is under pressure
A bad monsoon has left several districts in five big states under drought
The stress
A fall in rural purchasing power has a spiralling effect on the economy
Exports have already been disappointing
More in the story
Where all did the government go wrong
What should do government immediately
Prime Minister Narendra Modi boasts of a development agenda, but is India's economic development at risk? Consider these:
There is a drought in district after district in five states - Madhya Pradesh, Maharashtra, Karnataka, Andhra Pradesh and Odisha.
The weather continued to remain dry even in October, leading several farmers to delay sowing for the Rabi season

Tractor sales plunged 20% in the first six months of this financial year. Its a barometer for the rural economy.

Motorcycle sales too slipped 4% in the period - between April and October.

FMCG companies recorded a dip in revenue in the three months ended September, compared with the same period a year ago. This despite lowering prices.
As the brass of the BJP government remained occupied with electioneering in Bihar, the country seems to have come to a point where it is now staring at an uncertain economy, especially in the villages where most Indians still live.
"I have been touring the states that are affected by drought. The farmers are in a bad position," said Abdul Majeed, an analyst with PricewaterhouseCoopers, one of the Big Four auditors.
"The Diwali season will bring up some good sales, but after that there will be no demand. The automobile sector, too, would be affected."
How much can a bad rural economy affect?
Pretty much. The manufacturing sector already seems to be facing the heat:
The Nikkei Purchasing Managers' Index contracted to a 2-year low of 50.7 in October (from 51.2 in September), despite the festival shopping season. A reading above 50 indicates expansion, and one below shows contraction.
Slow growth in manufacturing means fewer blue-collar jobs in urban and semi-urban areas.
"It would not be possible to add jobs this year as there is no demand in the market. We are trying to make up through urban demand, but that's not enough," said an executive with an automobile company.
All this at a time when the global economy is not exactly in the pink of health. India's exports have been falling for the past 10 months. To put things into perspective, that's even worse than a nine-month decline during the 2008-09 meltdown.
Exports declined a whopping 24.3% in September - the steepest fall in 75 months.
All this suggests that the Indian economy is on the verge of a vicious cycle that would hit the government's ability to achieve 8%-plus growth in gross domestic product (GDP), which Finance Minister Arun Jaitley has targeted.
The 7% GDP growth in the first quarter (April-June) has already lagged that target. And that was before the monsoon disappointed.
Chief Economic Advisor Arvind Subramanian has stuck to 8%-plus forecast made in February. But others are more realistic.
Like Moody's Investors Service. The credit rating agency cut its growth forecast for India by 50 basis points to 7%, citing the pressure on the rural economy. A hundred basis points make up one percentage point.
What went wrong?
This NDA government has a decidedly right-wing economic bent and despises social sector schemes.
In order to control food inflation, the NDA government squeezed funds for Mahatma Gandhi National Rural Employment Guarantee Act (MNREGA) in the previous financial year.
Though Rs 34,000 crore was allocated for MNREGA in 2014-15, only Rs 20, 722.77 crore was released by the Centre to states and Union Territories, according to a parliamentary panel report tabled in Lok Sabha in December 2014. Later, the NDA government allocated Rs 4,000 crore more. That made the actual expenditure still Rs 9,278 crore less than what was budgeted.
The repercussion of squeezing funds in a drought year should have donned on the government. This year's budget was increased to Rs 39,699 crore. It is not known how much of that has been released. But it still doesn't match the Rs 40,100 crore that the UPA had budgeted for in 2010-11.
That too was a year after a drought, and since then there has been an average 8% rise in the consumer price index.
"While it led to reduction in food prices to an extent, it also killed rural demand that is necessary to keep the economy growing," says Pronab Sen, Chairman of the National Statistical Commission.
Second, the government released additional food-stocks in the market during harvest. "The government should have released it either before the harvest or after it. When the farmers, already distressed, took their produce to the market, there were no takers!" says Sen.
What should the government do?
Supply money. Especially, release the MNREGA funds on time, says Rajiv Kumar, a senior fellow with Centre for Policy Research, who believes in the Keynesian recommendation of distributing money to generate demand.
"The government should not look at the its fiscal consolidation at the cost of economic growth. It should provide money to people to spend in the market to generate demand."
MNREGA was envisaged to give a push to rural spending. However, Narendra Modi called it an epitome of UPA's failure and squeezed funds.
"The real wages in rural India have been falling due to squeezed MNREGA funding. This has pressured the overall economy as people there have lost the purchasing power," says Jayati Ghosh, a professor Jawaharlal Nehru University.
Increasing minimum support prices for crops and hiking the floor level for wages would also put more cash in the hands of farmers, farm labourers and workers. In turn, they would be able to spend more, generating more demand, helping production and the economy in general.
But is the government listening?