Should Jaitley loosen the purse strings? Here's what economists think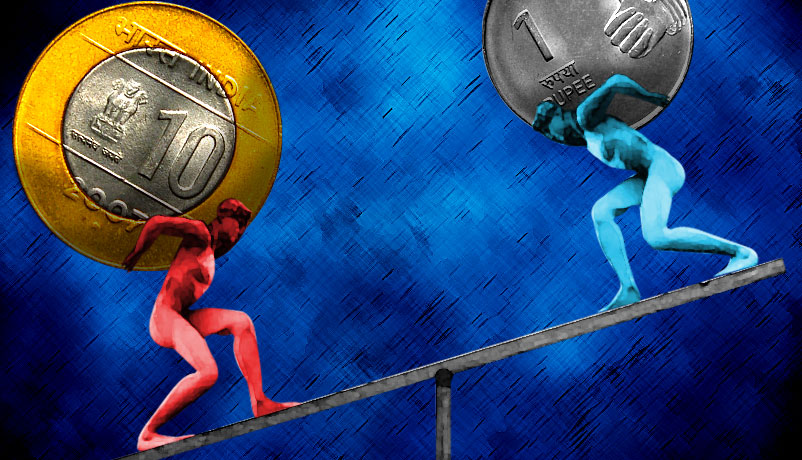 Finmin\'s dilemma
The finance minister has to present the Budget next month
Economists are divided on what course he should take
More in the story
Many analysts think he should keep focusing on fiscal deficit
But spending more will help boost rural economy
So what should the government do?
Union Finance Minister Arun Jaitley has a tough call to take: he has to decide whether to loosen the government's purse string or reduce spending.
A little over a month later Jaitley will have to table the Budget for 2016-17 in Parliament. And he is faced with the dilemma of having to chose between fiscal consolidation and fiscal expansion.
Also read - Put money into people's hands Mr Jaitley. It will work
The right-wing nature of Jaitley's economics agrees more with sticking to fiscal consolidation - limiting government expenditure to cap fiscal deficit - the difference between the government's revenue and expenses - for the next financial year at 3.5% of the gross domestic product.
However, below-par investment from the private sector in the first three quarters of this financial year and tepid rural demand forced Chief Economic Advisor Arvind Subramanian to request the finance minister to consider relaxing the fiscal targets in his mid-year economic review.
Which path should Jaitley follow? Catch spoke to some top economists and here is a selection of views and counter-views:
For fiscal consolidation:
According to Ajay Shah, professor at National Institute of Public Finance and Policy (NIPFP), India's nominal GDP - the one calculated with inflation - growth is trailing its real GDP growth this year. In the third quarter of the current financial year, nominal GDP grew at 6.04%, much below the real GDP growth of 7.4%.
Nominal GDP is growing at a slower rate due to negative wholesale inflation, resulting in a peculiar situation: at 8-9%, the interest on government debts is now higher than the growth rate.
If the situation persists, "the debt-GDP ratio will build up quite rapidly. The interest burden of the government will rise rapidly. Ratings agencies will see Indian public finance as being more vulnerable. The global cost of borrowing for Indian entities will go up," Shah wrote in an article for Business Standard recently.
According to him, there are two choices: "We could do nothing and experience a significant deterioration on public finance, or we could embark on a substantial fiscal correction." A nominal GDP growth of 5-6 % coupled with an interest cost of 8-9% can be reconciled with debt stability "only if there is a suitably strong primary surplus".
'Fiscal expansion should go hand-in-hand with unchanged monetary stand'
Clearly, Shah is against Subramanian's advise of relaxing fiscal consolidation targets in the next financial year.
Ajay Chibber, also a visiting professor at NIPFP, said: "The government will lose credibility in India and overseas if it does not stick to the fiscal consolidation path, especially as reforms in general have been slow."
He pointed out that oil prices are expected to remain low in 2016-17, which means the Centre's windfall gain will continue. "If more funds are needed for public investment and to handle Pay Commission recommendations, the government should pursue disinvestment more aggressively."
While Chibber wants the government to garner more funds through disinvestment, given the current rout in the stocks market, it is almost impossible for the government to arrange funds through that route.
The government had set a target of Rs 69,500 crore to be raised through disinvestment but it is unlikely that the government will be able to achieve even a quarter of it in the current financial year.
Shah's fear is reflected in an HSBC report 'India's troublesome twins: How to raise economic growth while lowering government debt'.
'Govt should spend more on rural economy. This will lead to demand for industrial products'
According to the report, falling inflation and lacklustre growth is likely to push India's public-debt ratio further up this year after it increased to 67% in 2014-15 from 65.5% in 2013-14.
"Higher public spending now would make it longer before India returns to the 65% 'suitable' ballpark. But more importantly, if unexpected macro shocks strike during this period, debt ratios could remain 'unsuitable' for the foreseeable future."
There are risks of this situation leading to lower-than-expected growth, another bout of disinflation and higher interest rates in the world, the report said.
This camp believes a high GDP-debt ratio can destroy an economy. Greece, for example, has a ratio of 177%.
Those favouring the middle-path
Shah and Chibber want the government to not deviate at all from the path of fiscal consolidation. On the other hand are economists who feel too much rigidity may be harmful.
"Given the current level of demand in the Indian economy, it would not be possible for the government to achieve the 3.5% fiscal deficit target in 2016-17," said DK Joshi, the chief economist of Crisil.
"The government should relax its target by 20-30 basis points. Once the economy picks up, we can have stricter targets," he said.
A percentage point is comprised 100 basis points.
Ashok Desai, former consultant to the ministry of finance, thinks if at all the government has to relax its fiscal targets "it should be done to create infrastructure in the country which gives returns."
Also read - Back to the basics: boosting investment is Modi's top priority now
The Keynesian Economists
There is a section of economists who do not agree with the idea of fiscal consolidation at all.
Abhijeet Sen, member of the erstwhile Planning Commission, criticises the whole idea of fiscal consolidation in the Indian context.
According to him, India is stuck on the fiscal consolidation issue because of:
a) the Fiscal Responsibility and Budget Management Act and
b) credit ratings agencies watch it closely
"This whole debate is not about economics, but whether the government wants to been seen with the credit ratings agencies and law or not. Otherwise, if there is idle labour and unutilised capacity in the economy, fiscal deficit does not matter much," Sen said.
The FRBM rule binds the central government to cap fiscal deficit at 3% of the GDP. While governments have missed targets since 2003 under tough economic situations, there is pressure on every government to keep it as low as possible. Economists like Sen thinks one needs to be prudent and aware of the ground situation in sticking to the FRBM targets. Clearly, in a scenario when the private sector is not spending enough, governments obsession to control fiscal deficit lead to further harm to the economy.
Ajay Kumar, a research associate at Centre for Policy Research, believes that the government needs to relax its fiscal targets and should focus on demand, especially in rural areas.
Back-to-back droughts have hurt demand in rural areas. This is evident in a 20% slump in tractor sales and a slump for FMCG companies.
"At present, the government should increase its expenditure on rural economy. This will lead to demand for industrial products. If there is no demand in the economy, it will go down further," Kumar said.
Pronab Sen, chairman of the National Statistical Commission, gave a nuanced argument on the whole debate.
'If you relax fiscal targets, it should to create infrastructure in the country which gives returns'
According to him, the implementation of the Seventh Pay Commission's recommendation will pressure government finances. In case, the government wants to implement it by cutting expenditure in other sectors of the economy, it will lead to decreased growth.
One option could be to delay the implementation of the pay panel's prescription and invest the money in the economy to push demand. But according to Sen, that may lead to a trouble for the next year as the government will have to pay the new salaries of the government employees along with arrears of the current financial year.
"To me the best way to deal with this situation is to relax the fiscal target and allow the economy to expand through public expenditure. It may lead to increase in agriculture prices, but the Reserve Bank should understand that the inflation in agri-products cannot be managed through monetary policy," Sen said.
"Fiscal expansion should go hand-in-hand with unchanged monetary stand. That may be the best thing for the economy at the moment." he added.
Which path is the best? The options are still open. One thing is for sure - Jaitley faces a tough choice.
The path of fiscal consolidation in the past two years has led to demand-side problem in the Indian economy. But the fiscal expansion of 2009-10 had resulted in a double digit inflation, which forced the RBI to increase interest rates that in turn harmed the investments from the private sector.
More in Catch - Sensex back to pre-Modi days: Is IMF right in calling India a bright spot?
Global depression around the corner? Ship cargo rates at all-time low
Cash is King: whatever happened to plastic money?