RBI bars Economist, BBC and others from its press conference. Why Mr Patel?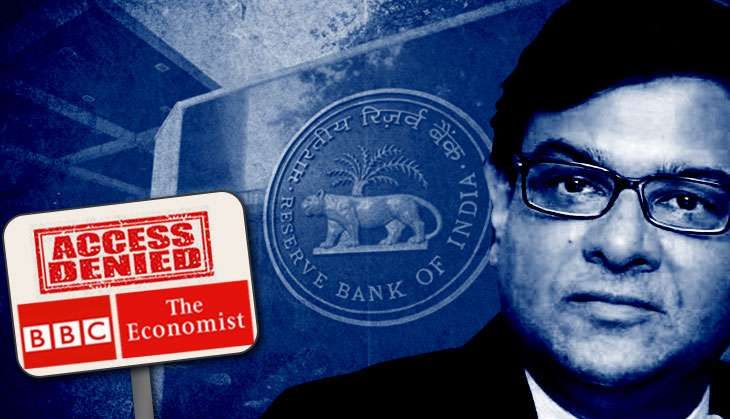 In an unexpected move, Reserve Bank of India (RBI) kept the repo rate unchanged at 6.25% on Wednesday. In another surprising move, journalists from The Economist magazine, BBC, Associated Press, Agence France-Presse and Indian media organisations like Firstpost were kept out of RBI's press conference by Governor Urjit Patel.
The central bank drew flak for being undemocratic and unreceptive to criticism by keeping out the journalists. Several media outlets, both in India and abroad, have criticised the government and RBI for banning high denomination currencies, saying it would result in job losses and a lower growth rate.
Naturally, Wednesday's move led to questions on whether this was the government's way of quelling negative publicity. For a democracy like India, the arbitrariness was surprising and worrying as far as press freedom was concerned.
Also, if the RBI bans a section of the media from its press conferences, would other government agencies follow suit? If this was not a one-off incident, then the future could be bleak.
Sources told Catch that Alpana Killawala, CGM (communication) for RBI, was bypassed and the invite for Wednesday's press conference came from Deputy Governor NS Vishwanathan. The move seemed odd to some journalists present.
The Economist magazine's Mumbai correspondent Stanley Pignal said the official reason given by RBI's spokeswoman was that they "can't accomodate all media anymore" and that it had nothing to do with the critical coverage of demonetisation by the magazine.
RBI spokeswoman says decision to exclude me has nothing to do with @TheEconomist (critical) coverage of demonetisation.

— Stanley Pignal (@spignal) December 7, 2016
But acording to him, he thought the actual reason was that "I've been critical of new governor not speaking to press". From interviewing former governor of RBI Raghuram Rajan six months ago to being denied entry to a press conference, that's the life of the Economist Magazine's reporter.
I've been critical of new governor not speaking to press, did not expect RBI to freeze us out of press conference. It's their call obviously

— Stanley Pignal (@spignal) December 7, 2016
Shashi Shekhar, member of Prasar Bharti backed the move by the RBI and took the opportunity to take a jibe at the Economist Magazine's home country.
Meanwhile we hear some economic magazine from a small Island across the globe got ignored by the Central Bank of a nation of a Billion .....

— Shashi (@shashidigital) December 7, 2016
Being ignored is exactly what didn't happen. In fact, The Economist got way more coverage than it would have if they were allowed into the tiny conference room.
BBC's business reporter Sameer Hashmi confirmed the news over the phone to Catch News and said it was a "sad day for transparency". He also confirmed that other organisations, without naming them, were not allowed inside due to 'space constraint'.
Even the BBC has not been allowed for the press conference. Indeed a sad day for transparency https://t.co/Fio28kCyHi

— Sameer Hashmi (@sameerhashmi) December 7, 2016
With the increasing number of journalists in India, the reason for cutting down the list of journalists attending the press conference is, on the face of it, "reasonable". But the question arises as to how wa the decision made to include, and exclude. This question was posed via email to spokeswomen Killawala but no response was received at the time of publishing.
Such meetings, over issues like interest rates, are important and closely monitored, especially after the blockbuster announcement of demonetisation on 8 November by Prime Minister Narendra Modi. That makes it more flummoxing as to why RBI chose a small venue with a "long conference table", instead of an auditorium?
Did RBI "accidentally" chose a small venue for the first post-demonetization press conference?. It's unclear. It could also have come from the higher-ups. As it is, Finance Minister Arun Jaitley was reportedly unhappy with media's demonetisation coverage, and especially that of the foreign media.
In the process, transparency has gone for a toss. Let's just hope that this is a one-time thing and all journalists are welcome next time on.
A source present at the press conference point out that Urjit Patel is not comfortable with the media. He said that Patel is a 'media shy' person. During his time as deputy governor under Rajan, Patel addressed the public only once.
Curiously, or rather not, both Rajan and Patel are absent from social media. The RBI does have a Twitter account but it rarely tweets anything apart from its announcements.
As of now, it is unclear what this means for those critical of RBI's policies and whether the lack of transparency from Patel will spread to other members of the government. One can just wait and watch to see if the storm will brew into something bigger or whether it will calm down into a lull.
This story was updated on 8 December to add names of other organisations that were also barred from RBI's press conference.