PM 2.5: Beyond note ban, how has Narendra Modi fared on the economy?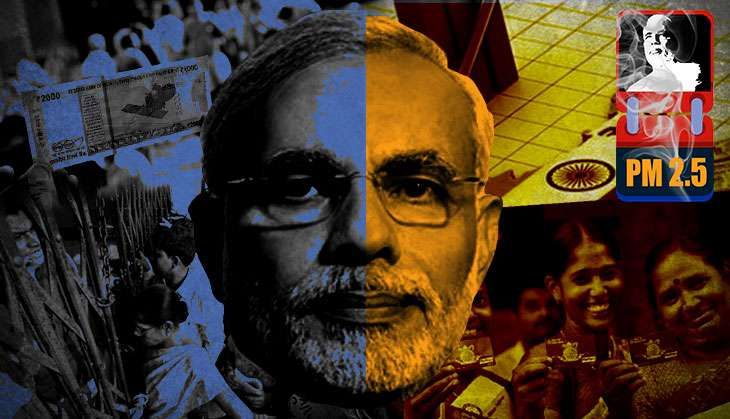 Narendra Modi completes half of his 5-year term this month. So, in this time, how has he done on the economic front? While the mayhem unleashed by the currency replacement may come to define this half, or even the entirety, of the prime minister's tenure, it's only fair that his performance isn't assessed on this alone.
So, here are some figures that could help reveal a much broader picture of Modi's economic performance.
Projected rate of Gross Value Added growth for 2016-17, according to the Reserve Bank of India.

Introducing GVA to measure economic growth is another major change brought about by the Modi regime. Its proponents claim that GVA is an "internationally accepted" metric to calculate growth. However, critics, including the former RBI governor Raghuram Rajan and the government's own Chief Economic Advisor Arvind Subramanian have expressed doubts over GVA numbers. Overall, experts agree GVA numbers should be taken with a pinch of salt.

Essentially, GVA equals GDP after adding taxes and deducting subsidies.
The government's disinvestment target.

Of this, only Rs 69,746 crore worth of disinvestment was effected till 15 November 2016.

Finance Minister Arun Jaitley has been scaling down his disinvestment targets, aware that the exercise has been a flop show, so far at least.
Foreign Direct Investment inflows from October 2014 to September 2016.

In two years before this period, FDI inflows totalled $48.5 billion.

There has been a 60% increase in FDI inflows during the tenure of this government.

Structural and policy changes and improving ease of doing business seem to have helped improve the FDI portfolio of the government.
Number of people enrolled for the Atal Pension Yojana (APY), Pradhan Mantri Suraksha Bima Yojana (PMSBY) and Pradhan Mantri Jeevan Jyoti Bima Yojana (PMJJBY) - three new social security schemes for the poor introduced by the Modi government.

"PMJJBY is a renewable one-year life cover of Rs 2 lakh to subscribing bank account holders in the age group of 18-50 years, covering death due to any reason, for a premium of Rs 330 per annum per subscriber."

"PMSBY is a renewable one-year personal accidental death-cum-disability cover to subscribing bank account holders in the age group of 18-70 years for a premium of Rs 12 per annum per subscriber."

"In APY, the subscribers are to receive a fixed minimum pension of Rs 1,000 per month, Rs 2,000 per month, Rs 3,000 per month, Rs 4,000 per month, Rs 5,000 per month, at the age of 60 years, depending on their contributions, which would be based on the age of joining the APY."

The public response to these programmes, and to the Jan Dhan Yojana, has been good, the government has claimed.

These social safety nets can be counted as successes of Modi's government.
Taken together, the economic road map laid out by Modi is a mixed bag. While there have been disappointments like declining exports, there are success stories too, not least the social welfare policies.
This government can also take credit for rolling out the Goods and Services Tax and implementing the 14th Finance Commission recommendations. But the success of both these reforms, originally introduced by the previous UPA regime, will depend in large part on its ability and capacity to accommodate the concerns of states. Indeed, rather worryingly, both measures are fast taking a political colour.
Still, the biggest game changer could be the currency replacement. How it plays out over the next six months or so will likely be used as the scale to measure Modi's economic record.