OROP, 7th pay panel: why defence got short shrift in #Budget2016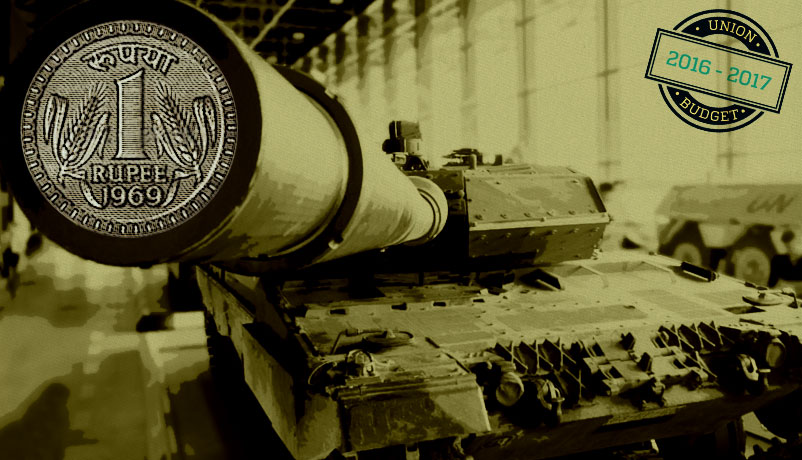 Arun Jaitley began his speech with "Jai Kisan". But "Jai Jawan", the other part of the slogan, didn't find a mention in his two-hour-long speech. Which made sense since he had nothing to offer the defence forces apart from a paltry 4.58% hike in budgetary allocation.
In the 2015-16 fiscal, the expenditure on defence was Rs 2.46 lakh crore, excluding what was spent on developing civil infrastructure and the amount disbursed as pensions - Rs 62,852 lakh crore in total. In absolute terms, the defence allocation was Rs 3.09 lakh crore.
Also read - Rs 1,700 cr for Skill India in #UnionBudget2016. Plenty of challenges remain
This year, the defence allocation is Rs 3.40 lakh crore. This includes Rs 82,332 crore for implementing the One Rank One Pension scheme, which was announced by the Narendra Modi government last year.
So, in absolute terms, the defence budget has been increased by 10% this year.
Interestingly, this is the first time ever that the government has included the pensions component in the defence allocation. The pensions bill has always been earmarked separately.
Feeling the pinch
If one were to compare this year's defence allocation with last year's without the pensions component, then the budget has grown by just 4.58%.
Also, as many people have pointed out, no finance minister has omitted details of the defence outlay from the budget speech in the past 15 years. By leaving out these details this year, the government has indicated where it places defence in its priority list.
The meagre increase in the defence allocation, though, wasn't really a surprise. The government had given enough hints about this, reminding everyone about the huge financial burden that the OROP had put on its finances.
Next fiscal will cast an additional burden on account of 7th Pay Commission and OROP: @arunjaitley
Not without reason either. Compared to Rs 54,500 crore that the central government had to spend on pensions last year, it's giving away Rs 82,332 crore this fiscal. What's more, this figure is only going to increase in the coming years.
As Jaitley pointed out while introducing the budget, "The next financial year will cast an additional burden on account of the recommendations of the 7th Central Pay Commission and the implementation of Defence OROP."