Is Mukesh Ambani extending an olive branch to PM Modi with the Jio ad?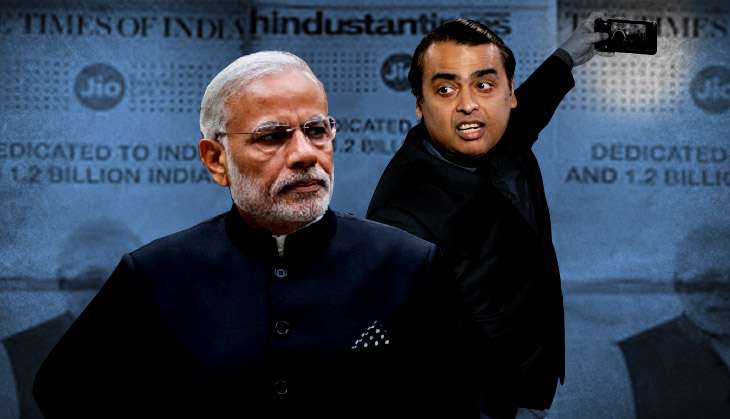 A full-page jacket advertisement in some of India's leading dailies must have confused readers early this morning. Featuring Narendra Modi, this prominent advertisement had nothing to do with government's achievements.
Instead, it was a promotional strategy by Reliance Industries Ltd wherein they dedicated the recently launched Reliance Jio to "India and 1.2 billion Indians".
The message below Modi's smiling photo read:
"In the journey of time, there come a few life changing moments. Our honourable Prime Minister's inspiring vision of a Digital India is one such movement. Jio is dedicated to realising our Prime Minister's Digital India vision for 1.2 billion Indians. Jio Digital Life will give the power of data to each Indian, to fulfill every dream and collectively take India to the global digital leadership..."
This comes in the backdrop of recent developments which suggest that the relationship between the Indian prime minister and country's richest business house are somewhat strained.
Once considered to be particularly close to Modi, before he became the prime minister, reports suggest Mukesh's warm camaraderie with the prime minister is a thing of the past.
In fact, it started right after Modi took over as prime minister despite Ambani generously loosening his purse strings for Modi's election campaign in 2014.
In these circumstances, does the front page ad featuring Modi suggest of world's richest energy billionaire trying to reach out to the prime minister with an olive branch?
What can Mukesh gain?
Mukesh has every reason to reach out and patch up with the Head of State considering it has only done him more harm than good.
Modi's proximity to another business conglomerate Gautam Adani must have been giving Mukesh sleepless night and with government promoting younger brother Anil Ambani's business interests gives him all the more reasons to get back in prime minister's close circle of business tycoons.
To his credit, Anil is playing his cards right which reflected when he acquired Indian offshore giant Pipavav to what many believe was to oblige Modi.
Reports suggest that Pipavav was owned by a Gujarati businessman, considered close to Modi, and the company was in dire straits before Anil rescued it.
"There is nothing small or tentative about Anil Ambani's entry into the defence sector. He hired known consultants from well-known defence corporates like Lockheed Martin, went on to acquire the Pipavav company and shipyard in Gujarat, and is now busy bidding for defence licenses covering a wide expanse of weapons, ships, landing platforms and helicopters," read an article in The Citizen.
In fact, Anil with other business houses is actively promoting Modi's Make in India programme in the defence sector and has frequently been accompanying the prime minister on his foreign tours.
Adding to it, the government returned the favour and allotted 289 acres of land in Nagpur to Anil's Reliance Aerostructure Ltd.
"We started on 16 June 2015 with the first presentation and in less than 10 weeks we got the land. This is a record," Anil had earlier told the media.
The right strategy?
Is Mukesh using the younger brother's strategy to appease the prime minister by promoting Digital India?
By using Digital India as a platform, Mukesh, it seems, is trying to bury the hatchet with the prime minister who has not exactly been very kind to him.
After all, it was the Modi government that raided Reliance Industries office in October 2015 and even arrested company's senior vice president on charges of espionage.
In his first interview as the prime minister with Hindustan Times in 2015, Modi didn't shy away from taking potshots at Ambani, when he said: "Our job is to run a policy-driven government. Red tape nahin hona chahiye. Ab red tape nahin hona chahiye matlab Mukesh Ambani ke liye red tape na ho aur ek common man ke liye red tape ho, waisa nahin chal sakta (Red tape should not be there does not mean it should not be there for Mukesh Ambani, but be there for a common man; that won't do.)
Much to Ambani's chagrin, the central government in August 2016 slapped a hefty penalty of Rs 2,500 crore on RIL for producing less than targeted natural gas from the KG-D6 block.
The total penalty for missing the target since 2010 now stands at a cumulative $2.76 billion.
Reports suggest that miffed with Modi's indifference, Mukesh had earlier dropped out of a business delegation accompanying the prime minister to Japan.
More theatrics?
However, senior Congress leader and former Union Telecom Minister Kapil Sibal disagrees with any feud between the prime minister and Mukesh.
"Modi has a brand ambassador of Reliance Industries since his Gujarat days. He was a national ambassador and could become Reliance's global ambassador in future. The prime minister relies on theatrics and strives hard to be on the news on a daily basis. There is a huge gap between reality and his image. This is likely to a part of his theatrics," Sibal said.
Edited by Jhinuk Sen
Also read: Reliance Jio Vs Airtel: How a 2002 conference haunts Mukesh Ambani
Also read: Mukesh Ambani declares war with Reliance Jio's super cheap data rates
Also read: Good times ahead: Reliance Jio sets aside Rs 5,000 crore-fund for Indian startups