Indian GDP growth numbers are inconsistent with other indicators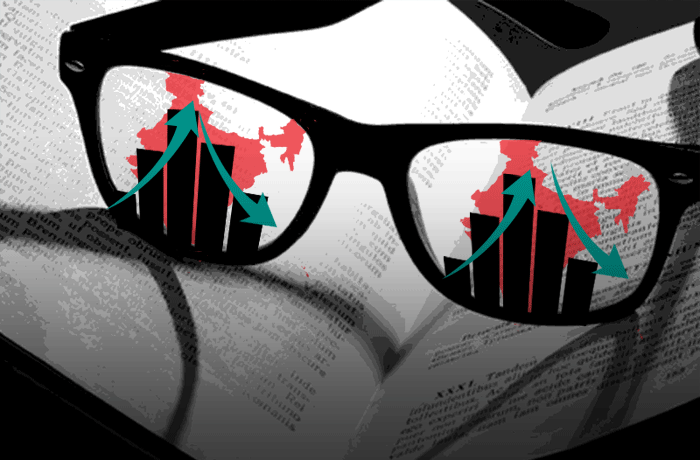 The inconsistency
India\'s GDP growth figures are inconsistent with other indicators
Foreign trade and investment is contracting, prices are falling, manufacturing growth is poor
RBI has released 3 sample surveys: corporate investment, inventories, order books, capacity utilisation
The survey
There were no signs of trouble in 2013. Orders received by companies were growing at 8-10% a year
Then suddenly at the end of the year, there was a drop: order inflows actually fell
Peak capacity utilisation at the end of 2012 was 78%. It was 2% lower in 2014
Total equity raised by Indian companies in 2008-13 was a mere Rs 86 billion
How is the economy doing? One way of answering the question is to look at macroeconomic figures of gross domestic product, balance of payments, investment, fund flows, prices and so on and try to string up a story out of the disparate elements.
At the moment, they tell no consistent story: the high GDP growth rates reported by central statistical office do not sit comfortably with contracting international trade, falling prices, low investment and poor manufacturing growth. But the Reserve Bank has just released the results of three sample surveys - of corporate investment, inventories, order books, capacity utilisation, and consumer confidence. Let us try and piece together the story they tell.
What the RBI sample surveys indicate
There were no signs of trouble in 2013. Orders received by companies were growing at 8-10% a year. Then suddenly at the end of the year, there was a drop: order inflows actually fell. Since then, they have been more or less stagnant, rising or falling by 2% or 3% a quarter; that is, they have stopped growing.
But in the meanwhile, investments planned in the boom years of 2008-12 were getting completed, and new capacity was being created. Capacity utilisation peaks in January-March when companies try to dress up their end-of-year balance sheets by selling as much as they can, reducing inventories and stocking up on cash; in the next quarter, capacity utilisation comes down by about 5%. The trend from one year to the next is much less pronounced, so companies do not always notice it. The peak capacity utilisation at the end of 2012 was 78% and a couple of percentage points lower two years later.
The Securities and Exchange Board of India has virtually killed the Indian capital market with its voluminous controls and regulations. The total equity raised by Indian companies in 2008-13 was a mere Rs 86 billion. In comparison, the capital they raised abroad through the two types of bonds allowed by Reserve Bank - external commercial bonds and foreign currency commercial bonds - was Rs 1,433 billion. But because the capital market is dead, and the Reserve Bank allows only "solid" companies to raise capital abroad, most companies are forced to raise even long-term capital from banks. In the six-year period, they borrowed more than Rs 30 trillion from banks.
Cautious RBI
Central banks make banks follow strict regulations to make sure that they lend the money safely and can meet all expected cash demands from their depositors. Indian banks' investments do not meet these requirements. Why does the Reserve Bank allow them to give such long-term, risky loans? Because they are the only source of such capital left since the capital market is more or less dead.
This may not be the entire picture; Reserve Bank hints at large amounts being raised out of private placements with big financial institutions. But it has no firm figure of how much is raised that way. If even the Reserve Bank is ignorant about a large portion of the capital market, it means that no one knows.
The banks run two types of risks. One is that the cycle of deposits and withdrawals may break down and banks may start running out of cash. That does not matter, because they can always go and borrow as much cash as they like from the Reserve Bank. This is the reason for its existence; the central bank is the lender of last resort.
When banks run out of cash, they can always go to the RBI. It's the lender of last resort
The other risk is that such a high proportion of bank loans turns bad that they go bankrupt. That risk theoretically does not exist in India, because most banks are owned by the government, which can always print money and put it into the banks to write off their losses or increase their capital. Finance minister Arun Jaitley gave Rs 50 crore and Rs 100 crore to many of his party favourites in his first two budgets; he can similarly give Rs 10,000 crore and Rs 1 lakh crore to his favourite banks.
So government banks can take any risk that comes their way. Still, they do not like to go and open branches in villages. They are not worried about villagers defaulting on loans; they cannot persuade their comfortable employees to go and work in villages.
So finally, after getting reports from three committees and making detailed enquiries, RBI has given licences to ten non-banks to convert themselves into banks - that is, to start taking deposits. It did so after making sure that there was not a single non-resident amongst their owners, and that they were fit and proper, financially sound and duly diligent. This was to protect the potential rural bank customer, who will understand why the Reserve Bank makes him wait so long for a bank to open close to him.
The views expressed here are personal and do not necessarily reflect those of the organisation.