Global Entrepreneurship Summit 2017: Tangible results or tourism promotion?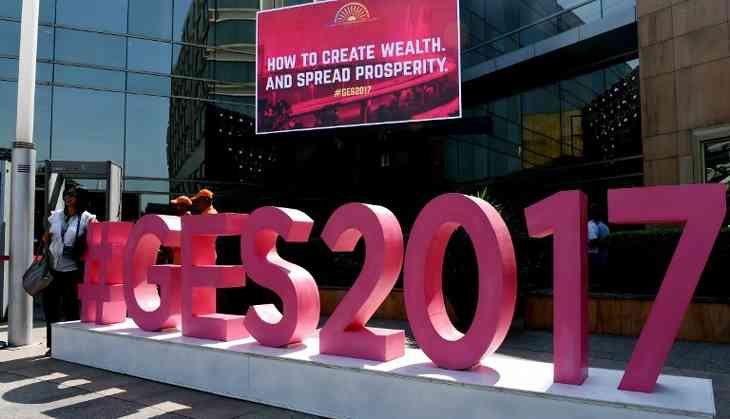 What are the benefits that the Global Entrepreneurship Summit 2017 could fetch to India and Hyderabad?
For the naked eye, some parts of the City have got good arterial roads and clean surroundings. Some areas were decorated well.
And what about the start-ups? Let's get there.
But before that, let's take a look at what do these jamborees really yield?
For instance, how much of the scientific and technical sessions that take place in events like BioAsia, which has been happening in Hyderabad for over a decade, the Internet Governance Forum (IGF), held in Hyderabad in 2008, conducted in the annual biodiversity summit or the Conference of Parties (CoP) that happened in 2012 in Hyderabad, and many such of that ilk, translate into action?
Most of these global meets happen on standalone themes and the key takeaways are never listed and no action-taken report on the resolutions of adaptations of the previous summit are submitted to the next summit.
However, millions of dollars go into conducting these events. In spite of a wide spectrum of sectors conducting such blockbuster events, events successes is never measured on a scale of 1 to 10 in terms of benefits to the stakeholders, host countries/cities and the sectoral growth.
Red carpet to global events sans any benefit
Still, the politicos keep on throwing a red carpet to global investors to invest in their respective states and countries. In fact, over 130 US companies are operating out of Hyderabad and still Hyderabad and Telangana were marketed as fertile grounds by Telangana Chief Minister K Chandrashekar Rao (KCR) for investments in his welcome address.
Prime Minister Narendra Modi, who made an unimpressive Gujarat election speech as part of the inaugural address at GES, however, laid focus on ushering in investments into the country to accomplish his much-touted 'Make in India'.
While he missed out grossly on unveiling his government's vision on start-ups, at least KCR spelt out his government's strategy to promote startups as a saving grace. Modi's speech was devoid of any assertion on the fruits (if there were any) of the Rs. 10,000-crore 'Fund of Funds' and other initiatives like Mudra Bank, etc.
"As such, previous GE summits have not yielded any miracles in terms of promoting investment in the nations that have hosted. I am not too sure if this would also yield any benefit to India.
If we look at the last three years, as a nation, we do not have great foreign funds to flowing into India, despite Modi spending most of his time travelling abroad," says Dasoju Sravan, Chief Official Spokesperson of the Telangana Pradesh Congress Committee and a former HR professional with an IT giant.
However, Telangana IT Minister, KT Rama Rao aka KTR, who shouldered the responsibility of anchoring the event along with NITI Ayog, had a different take.
Rs 15-crore T Fund for women entrepreneurs
On the concluding day, KTR announced the creation of Rs 15-crore T-Fund (Telangana Fund) exclusively for women entrepreneurs which would offer seed fund between Rs 25 lakh to Rs 1 crore on behalf of the state government. The fund would be extended, basis its success and the government would set up a 'WE hub' (women entrepreneurs hub) for incubating these units, just along the lines of T-hub.
The state has pitched itself for playing host to the event and competed with at least seven States and all metros.
"We competed with many cities and states on Niti Aayog's criterion. We have T-Hub, the biggest State-owned incubator in the country, which was instrumental in we scoring brownie points. And, of course, a great progressive Chief Minister," KTR told Catch.
Asked about the key takeaways, KTR came up with four postulates:
"1) Most important from a worldview is: Think India, think Hyderabad. This is important from an investment perspective.
2) Hosting the GES is a strong endorsement of the innovation culture of Hyderabad.
3) There are many positive fallouts in the form of enhanced tourism
4) And, the startups would look at Hyderabad as THE place."
NITI Ayog CEO Amitabh Kant said that the Centre would pitch in to support the startup initiative of Telangana from its Rs 10,000-crore 'Fund of Funds' and also other initiatives, including an additional Rs 1,600 crore.
While 11,356 meeting requests were generated, close to 43,000 contacts were exchanged in the three days.
Women make a difference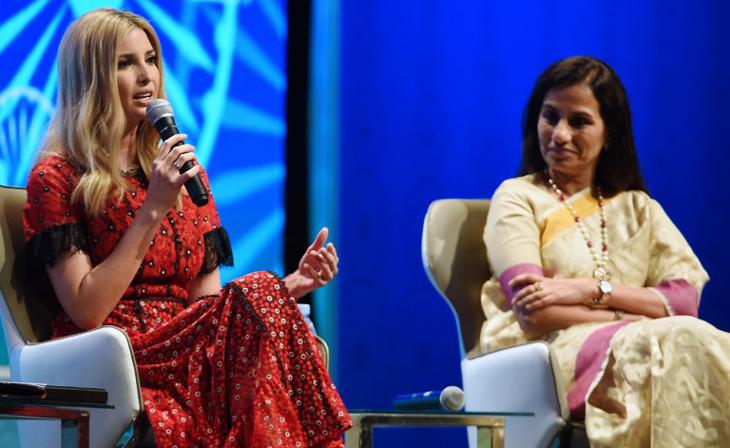 Advisor to the US President Ivanka Trump (L) speaks next to Chanda Kochhar, Managing Director and CEO of ICICI bank limited during a panel discussion at the Global Entrepreneurship Summit at the Hyderabad convention centre (HICC) in Hyderabad on 29 November 2017. Ivanka urged India on 28 November to close its yawning gender gap in the job market, telling a business summit in her biggest foreign mission yet that this would bring huge economic benefits. US President Donald Trump's eldest daughter urged India to seize the untapped potential in women in a speech before Prime Minister Narendra Modi and business leaders in Hyderabad. (Money Sharma/AFP)
Anu Acharya, founder of a successful startup, MapMyGenome, and an invited speaker in the sessions told Catch that the fact that 52% of the attendees are women is an acknowledgement of making a difference. She ironically said: "I don't know much about previous GES events."
Though startups worldwide have a high failure rate, "As we create an ecosystem where access to finance, access to network and mentors make a difference. In India, we have seen a rise of incubators and accelerators. That is a good sign but we need to ensure that these businesses can be scaled. The event puts Hyderabad on the world map for investors and it also showcases it as a city with good infrastructure and thriving ecosystem," she explained.
Suresh Reddy, Chairman of Lycos Internet Ltd, a publicly-listed global digital technology company, said: "It's an initiative by President Obama to bring focus various parts of the world into focus from an entrepreneurial perspective. I hear that the one in Kenya in 2015 helped the local eco-system in a big way. It's an interesting way to highlight ventures from across the world to focus of investors."
"Coming to GES 2017, it got the best of the entrepreneurs to come and share perspectives on markets, business, financing and operations. It projected Hyderabad's capability to host an event of this magnitude, other larger events to consider as a location. Of course, obvious benefits are local tourism which is immediate and fine," Reddy added.
Asked if these jamborees help more for networking and right connects, than any policy making, he said –
"In terms of the hype and buzz around the event, that's the idea. There would be no policy outcome. It's mainly networking and insights on how to run business. Sometimes, one insight is all it takes. I am positive about the show."
He was, however, skeptical about the US Government and NITI Aayog controlling the event. He felt that such events were better when run by industry-based organisations.
However, Sravan Dasoju said: "There appears to be something seriously wrong the way the GES 2017 is organised. It was seen more as tourism and culture promotion event than a business promotion event. First of all, it is hosted in a state where women have scant respect with zero empowerment. This nullified the theme of the event itself.
"Second, the event looked like Ivanka Appeasement Summit. The organisers seem to be engaged in pleasing her with royal dinners, gifts etc. The focus of media also was more on highlighting Ivanka than issues of global entrepreneurship," Dasoju pointed out.
Capitalists are no longer the outcast
Novelist and author of a bestseller Autobiography of A Mad Nation Sriram Karri felt -
"In post-liberalization India, we are trying to create a whole new set of heroes - people who were always depicted otherwise as profit-chasing malefactors - businesspeople. Entrepreneurs are now job creators, value creators, problem solvers. An event like this will psychologically shift the moral debate, albeit partially. Strangely in three days, no one used one word – capitalism. GES will hopefully lead us to a society where capitalists will be as much heroes and moral icons as farmers, soldiers, teachers, doctors and film stars or sports stars."
The whole of the last fortnight before the GES 2017, denizens of Hyderabad tweeted, made Facebook posts, and also went to the extent of taking to streets affixing wall-posters derisively urging Ivanka Trump, daughter of the US President Donald Trump, to visit their colony or travel on their road, so that they would also get repaired.
The effort of officials, including KTR, in explaining that the road repairs and new look were not meant to impress Ivanka Trump or Prime Minister Narendra Modi, there were hardly any takers.