GIIS Leadership Lecture series with President's Swarna Kamal Award- Winning Author Balaji Vittal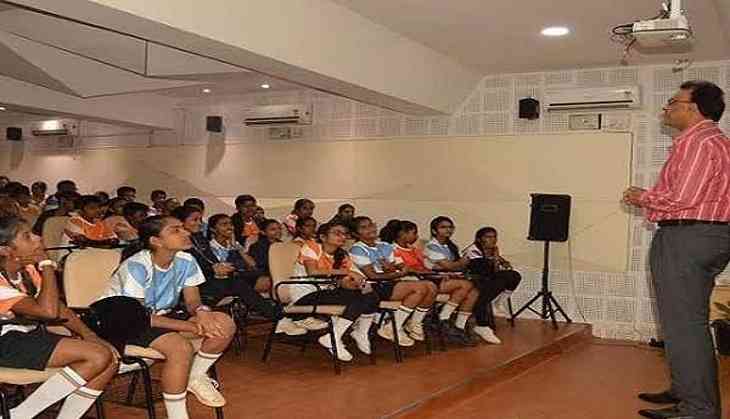 Global Indian International School (GIIS) in Whitefield, Bangalore, on Friday hosted the GIIS Leadership Lecture Series with Balaji Vittal, an eminent writer who has co-authored two books and received wide acclaim.
His first book, R D. Burman: The Man, the Music (2011) won the President's Swarna Kamal Award for Best Book on Cinema at the National Film Awards. His second book Gaata Rahe Mera Dil (2015), was awarded the Excellence in Writing on Cinema at the 17th Mumbai Film Festival.
Vittal shared reading tips and the art of writing a book with the students of Grades VIII and IX. His experience of three years while compiling his first book was a case study that offered valuable insight. The students enjoyed this interactive session and asked plenty of questions related to balancing their hobbies with academics.
The Global Centre of Innovation and Entrepreneurship ( GCIE) is a platform that encourages design thinking and innovation in students. The attitude of entrepreneurship and parallel career-centric mindset are skills that are inculcated from a very young age when the mind is most receptive.
The session on book-reading and developing a writing style, enhance the linguistic intelligence that accelerates an important facet of creative thinking. The session highlighted this aspect of creative thinking in students.
Other than writing, there would be other areas of passion in students like sports, music, art and other hobbies. The idea is to how to cultivate these hobbies and make the most of them.
Talking about alternate career choices, one can always build on a hobby with passion while they pursue a totally different career. It is always better to have a backup plan. This helps them maintain a balance in their professional life, get money inflow and also invest time to pursue a passion.
The students were inspired to follow their dream, enhance visualisation skills and choose a job that drives their inner passion to excel.
Vittal also shared his own experience as a writer; a writer's journey while compiling a book takes a lot of time, patience, and motivation. He emphasised on the habit of reading a newspaper and pages of a novel/story book each day will help them evolve as good writers in the future.
While he is an Engineer by profession, his passion for books finally helped him achieve his dreams of emerging as a successful writer.
-ANI