Beyond guns: what its economic survey tells us about Kashmir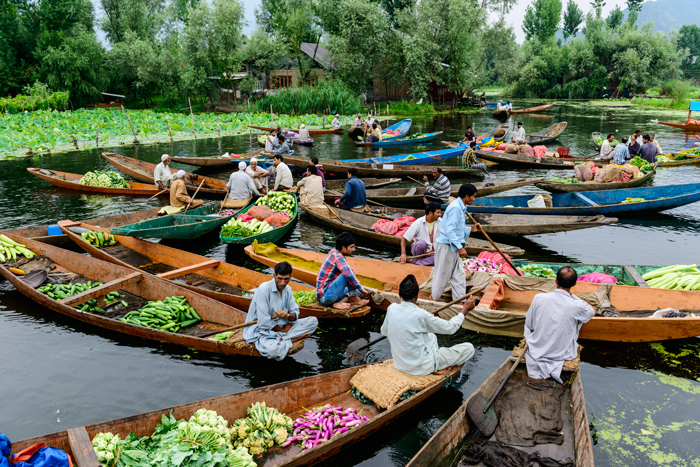 Haseeb Drabu has been many things - journalist, banker and grand-lover inter alia. His latest role is as finance minister in the government of Mufti Mohammad Sayeed.
The finance minister of India tables the Economic Survey in Parliament the day before he presents his budget; the idea is that before the budget tries to improve the state of the economy, he must exhibit his knowledge of it. Drabu has issued an economic survey some months after the budget. It discloses many things that no one knows about Jammu and Kashmir (for brevity I shall call it Kashmir).
The decade from 2002-03 to 2012-13 was a good period for the Indian economy; its gross domestic product grew 112%. Kashmir's GDP grew 73%; the ratio of its GDP to India's GDP fell by 18%. Its income per head fell from 90% to 77% of India's.
This was continuation of a story that goes back to the 1970s; Kashmir has grown ever poorer than India. Between 2004-05 and 2013-14, the share of agriculture and industry in state domestic product came down from 28% to 20% and from 28% to 22%, respectively.
Share of services in Kashmir's SDP rose from 12% to 18%: there was plenty of money for babus
Which sector grew faster? Services, especially public administration, whose share went up from 12% to 18%: there was plenty of money for babus. The share of banking and insurance went up from 3.6% to 6.3%. Drabu was managing director of the Jammu and Kashmir Bank before he became finance minister; maybe he added value to the job.
The army corps and the Border Security Force have their own allocations under the five-year plan; and unlike the state government, they spent their entire allocation. I wonder what on - whether it was for their own enjoyment, or for the population that has to endure their presence. What I hate most on my visits to Srinagar is having to get out of the car and walk a few hundred yards past dour soldiers pointing their guns at me.
Developmental offensive
The government built eight schools, 17 class rooms and three toilets, 139 link or tractor roads, five footbridges and 13 kuls (irrigation channels); 16 roads were built, comprising fair-weather, shingled, metalled and black-topped roads (63, 42, 38 and 54 kilometres, respectively).
Compact fruit cultivation covered 10 hectares, and aloe vera another nine kanals (1.12 acres or half a hectare). Training was given in embroidery, tailoring, carpet weaving and knitting to 135 people, and one sports ground and four fishponds were inaugurated.
Android mobile-based GPS monitoring of projects was introduced in 11 districts. Project engineers had to send photos of the work they had got done, and since the photos would be marked with their GPS location, inspectors could "inspect" the work without going to the site. And ministers and bureaucrats could hold meetings with district officials via video conferencing.
Just in case the technology was insufficient, a subsidiary of NABARD was engaged for third-party monitoring of border projects. Unconnected villages or habitations were identified, and 4,294 kilometres of roads were built to connect 1,288 of them.
Road connections are not the only thing villages lack; many have nowhere for gram panchayats to meet. The elections of 2011 created 4,128 sarpanches and 29,719 panches; they had to get together somewhere. The government began building 1,269 panchayat ghars in 2012-13 and 367 in 2013-14; meanwhile, panches have been given Rs 600 a month for rent. Booklets in Urdu and Hindi have been prepared to tell the panches what powers have been transferred to them.
Between 2004-05 and 2013-14, agriculture's SDP share fell from 28% to 20% and the industry's from 28% to 22%
Three hundred sarpanches were sent to state institutes of rural development (SIRDs) in Karnataka and Andhra Pradesh for training. Experts from there also trained 338,407 panches.
On the model of the MP Local Area Development Programme, the Kashmir government began to give MLAs Rs 25 lakh a year in 1997; the amount has by now gone up to Rs 1.5 crore. The MLAs can spend up to Rs 8 lakh on playgrounds, fencing of graveyards, cremation grounds, bathrooms, parks and parking lots, and up to Rs 25,000 on poor patients' hospitalisation, film projectors in cultural institutions, toilets for migrants and computers for their schools, hand pumps, bedding, utensils, uniforms and books for orphanages, shelters and old age homes, and sport equipment for youth organisations.
In addition, the government released Rs 40 crore in 2012-13 and Rs 10 crore in 2013-14 under the bad pocket initiative. It was not for ministers who had a hole in the pocket, but for outlying, cut-off and remote areas.
So a lot of things are going on in Kashmir besides terrorism. In fact, the picture we get from its economic survey is that its bureaucracy can beat the rest of India in its bookish and unimaginative way of working. It is reassuring to know that Kashmir excels in something that we Indians are so good at.