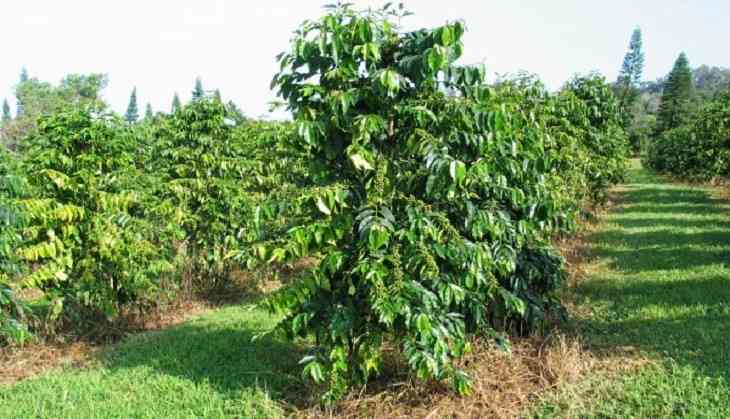 The administration in Odisha's Koraput district is planning to promote coffee cultivation on a "mission mode" as part of its efforts to improve the economic condition of farmers, an official said.
The district authorities have recently undertaken a drive to plant coffee seeds on 20 hectares of government land at Kapsiput village in Laxmipur block of Koraput, he said.
"The climatic condition here is conducive for coffee cultivation. If properly promoted, it can provide a sustainable source of income to the farmers. We have decided to promote coffee plantation on a mission mode among them," Collector K Sudarshan Chakravarthy said.
Last year, the administration formed a coffee development trust, with the district collector as its head, to study and research the viability of the project.
The trust has set a target of expanding areas under coffee cultivation to 46,500 hectares by 2025 from the present 1,467 hectares, the collector stated.
According to a survey conducted by the administration, at least 1,45,170 hectares in Nandapur, Lamataput, Laxmipur, Semiliguda, Dasmantpur and Pottangi blocks of Koraput are "suitable" for coffee cultivation.
"There is immense potential for popularizing coffee plantation in the district. We are planning to organize regular workshops and seminars to motivate farmers in this regard," Chakravarthy said.
The farmers, too, have welcomed the administration's move to promote coffee plantation.
"If the government supports the drive, we can be benefit from coffee plantation in a big way," said a tribal farmer of Nandapur block.
Chakravarthy said the district authorities will also encourage spice cultivation here.
"Along with coffee, we would promote spices and allied plantations. Once, the plantation work is over, it will be handed over to the community concerned for maintenance and harvesting. Recently, black pepper was planted on eight hectares in the district," he added.
The coffee plant, with a life span of around 60 years, bears fruit with minimum maintenance, said Bhabani Shankar Kalo, the deputy director of the coffee development trust.
The seeds are sown nearly two years after shade plantations as the crop requires filter sun rays for growth, Kalo said.
"The beneficiaries will be able to harvest coffee only after the fifth year. In between, they can earn by harvesting spices like black pepper," he added
(PTI)