Neeraj Kabi has no intention of becoming a star. But he's an actor worth watching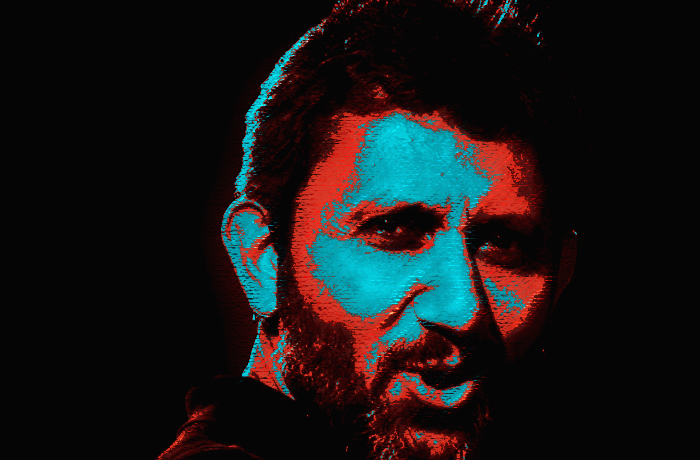 Neeraj Kabi appeared as if from nowhere.
"Who is that guy?" you probably asked of the argumentative monk in Ship of Theseus. Or, if you were director Dibakar Banerjee: "Where was this gem languishing for so long?"
Kabi, Banerjee discovered, was already "a bit of a legend in theatre circles." But before Theseus, Bollywood hadn't even heard of him. That, thankfully, is no longer the case.
The actor got a wide release earlier this year, playing the (spoiler alert) enigmatic villain in Banerjee's passion project, Detective Byomkesh Bakshy. "Dr Guha" - the part essayed by Kabi - "is a personal favourite" of Banerjee's. The director imagined the character along the lines of legendary Bollywood baddies like Mogambo, and is grateful he found an actor like Kabi to pull it off.
On getting under the skin of Guha
Guha is a split personality, played to manic perfection by Kabi. A genteel landlord to Bakshy in the film's first half, he reveals himself as a ruthless drug-dealer in the second. Kabi's transformation took even Banerjee by awe.
"The challenge was to present the genteel Dr Guha in the beginning, and Yang Guang, the absolute monster, in the end - and yet, shock the audience into seeing that they're the same person and both these personalities exist within the same body."
"Neeraj's genius was that he physically separated the two characters. If you see the film again, you'll notice that Neeraj physically slowed down Dr Guha. He's at least 30-40% slower than Yang Guang in everything that he does. He's a lot more deliberate, his dialogue delivery is slower, his pauses are slower, and his walk and body movements are slower. That was a very simple technique - apparently simple but actually very difficult - that Neeraj brought in."
Many reviewers zeroed in on Guha's long, maniacal laughter during one climactic scene as an example of the actor's prowess. "I draw from things like martial arts, which express animal movements," explains Kabi. "When Yang Guang laughs, it's the snake's hiss."
On using his body as a physical tool in his acting
In theatre circles, he has a reputation for being a highly physical actor. It's no accident: he draws his technique from sources including the Natya Shastra, the Navarasas, classical music and dance, but it's never 'method'. "You cannot become Gandhi just by wearing a dhoti," he says. Still, he did lose half his body-weight to play the Jain monk in Ship of Theseus.
The reference to acting as a glamorous profession disconcerts him.
"Dr Shriram Lagoo compared the actor to a coolie. A coolie delivers saamaan (stuff) from point A to point B. [In acting,] the saamaan is the script. An actor takes the script from the writer and director and delivers it to the audience. Where is the glamour? An actor is a labourer."
At 47, after years spent as an actor, director and teacher of theatre, Kabi is clear about why he does what he does - and his big splash in Bollywood hasn't changed that.
He makes a distinction between the 'entertainment industry' and the 'actor's industry', and knows exactly where he stands: "I'm not a person who enjoys being in the public eye. I'm not into commercial cinema. I'm not going to build my body. I don't have the looks. So I'll never be a star."
Never even wanted to? "I've tried out Shah Rukh Khan's famous gestures at home, but they're not for me," he laughs. "Shah Rukh and Salman are perfect in their place. They are charming and people are attracted by their magnetic personalities."
There's no condescension there - he merely wants something different for himself. "What I'd like to be is an actor, and then an artist."
On waiting for his own Godot
It seems hard to imagine that talent like his had to prove itself as long and hard as it actually took. Kabi came to Mumbai nearly 25 years ago, in 1991. He was to meet Shyam Benegal, but was so intimidated by his presence, he clammed up and ran away.
He had been in Pune, having moved there from his native Jamshedpur to study. "It was 1989. NIIT was just coming up. I'm very proud to say I had a computer diploma - I was one of the first 30 people in the country to take up computer studies. I was preparing for the GMAT. I thought I'd go to the US and never come back."
But while in Pune, he made friends at the Film and Television Institute of India (FTII) and became interested in the movies. He tried to get into both FTII and National School of Drama (NSD) in Delhi, but couldn't. In the end, he "got a prospectus of NSD and decided to teach myself each and every subject they were teaching their students."
Mumbai was tough. To make ends meet, he did production work on TV serials and ad films. "I was doing odd jobs - the worst possible. I was working in the industry as the fifth AD. Those days, it was almost like a spot boy's job. All we were doing was running around, getting paan for the cinematographer, ironing clothes for actors and sweeping the floor."
On his big Bollywood break
By the time Anand Gandhi called for Ship Of Theseus in 2009 - with the kind of role he'd been awaiting for years - Kabi was sick of the industry's attitude towards serious actors. "When Anand said he had written Kyunki Saas Bhi Kabhi Bahu Thi, I was like, 'Mere se nahin hone waala hai, bhai' (I won't be able to do it, brother)." But Gandhi convinced him to meet.
The rest is cinematic magic. And Banerjee, for one, believes Kabi is destined to make more: "Like Irrfan [Khan], Nawaz[uddin Siddiqui], Manoj Bajpayee, Radhika Apte and Richa Chaddha, he'll define the finer nuances of Indian acting for a long time to come." He wants to work with the actor "again, and again, and again."
Kabi has a wishlist of his own. He wants to work with Zoya Akhtar, Vishal Bharadwaj, Imtiaz Ali, Shekhar Kapur, Mira Nair and Aamir Khan.
Wait. Aamir Khan? "I totally respect Aamir," says Kabi. "He could have easily gone into hardcore mainstream - but he hasn't. I'd love to work with him." But only on the kinds of films made by his production house. "Not so much his commercial stuff, okay? Not this Dhoom and all."