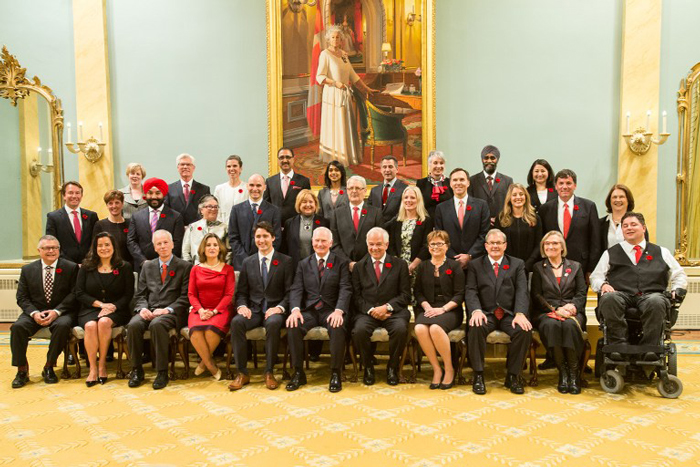 Liberal Party member Justin Trudeau was recently sworn in as Canada's 23rd prime minister at a grand public ceremony.
At the Cabinet swearing-in ceremony in Rideau Hall, two Sikhs were sworn in as Cabinet ministers while the third was appointed as the defence minister.
With a population of over four lakh, the Punjabi population has established themselves as a force to be reckoned with in Canada. Here's a closer look at Indo-Canadian politicians who are big players in the Canadian political scene.
Harjit Sajjan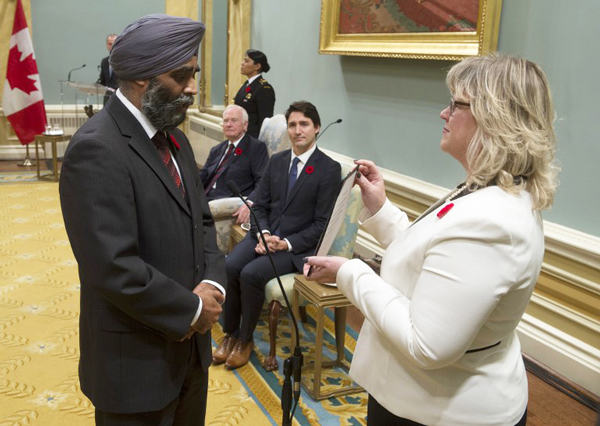 Harjit Sajjan,45, who has been appointed as the Defence Minister, was five years old when his father moved to Canada from Punjab.
Sajjan, who is a part of Trudeau's 30-member Cabinet, has received numerous military honours, including the Meritorious Service Medal in 2013, for reducing the Taliban's influence in the Kandahar Province.
As the new Defence Minister, Sajjan is all set to work with Trudeau on reshaping Canada's combat mission fighting Islamic State in Iraq and Syria.
Watch the video below that shows Mr. Harjit Sajjan in action:
Amarjeet Sohi, Minister of infrastructure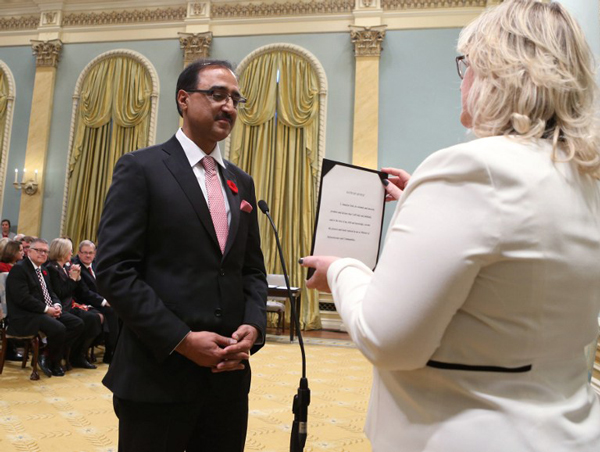 Amarjeet Sohi was sworn in as Minister for Infrastructure.
Sohi will also serve on the Cabinet Committee on the Environment, Climate Change and Energy. First elected to the city council in 2007, Sohi was responsible for spearheading many civic and community initiatives.
Read what Edmonton Journal says about him.
Watch Amarjeet Sohi's interview below:
Navdeep Bains, Minister of innovation, science and economic development
Navdeep Bains played a key role in Trudeau's election as the Liberal Party leader in 2013 and has been awarded with a cabinet berth.
He became MP for the third time last month by winning from Mississauga-Brampton. He previously served as parliamentary secretary to the prime minister in 2005 when he was an MP from 2004 till 2011 when he lost.
Watch Navdeep's interview below where he talks about his constituency and politics:
Others in the list:
Anju Dhillon, a lawyer who contested for the Liberal Party from Dorval-Lachine-La-Salle, became the first Indian-Canadian to win a seat in the French-speaking province of Quebec.
Fellow Liberal candidate Ruby Sahota, also a lawyer, won from Brampton North, Ontario, which has a large immigrant population.
Raj Saini: He is the co-owner of the independent Greenbrook Pharmacy and his main priority is focusing on the need for a national pharmacare policy in Canada.
Raj Grewal: A member of the Liberal Party, he won from Kitchener Centre, near Toronto.
Bardish Chagger: A member of the Liberal Party, he won from Waterloo.
Bob Saroya: He is a member of the Conservative Party and won in Markham-Unionville - a constituency in the Toronto area.
Jasvir Sandhu: He is a member of the NDP and beat Sucha Thind of the Conservative Party and Randeep Sarai of the Liberal Party.
Others in the list include, Kamal Khera, Ruby Sahota, Sonia Sidhu, Rameshwar Sangha, Gagan Sikand, Sukh Dhaliwal, Darshan Kang, Anju Dhillon, Deepak Obhrai, Jati Sidhu, Jasbir Sandhu, Jasmine Ratansi and Chander Aryan.