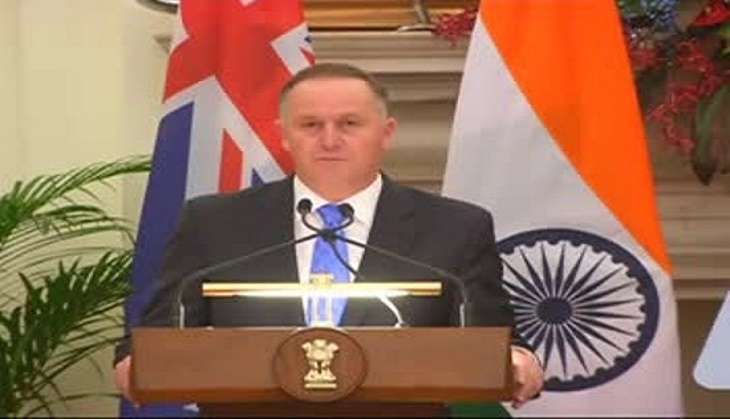 New Zealand Prime Minister John Key today assured to back India to bag a seat at the reformed United Nations Security Council (UNSC) and the Nuclear Suppliers Group (NSG) and asserted that Wellington is committed towards its relationship with New Delhi, .
Addressing a joint press conference with his Indian counterpart Narendra Modi, Key said that New Zealand will maintain close coordination with New Delhi on a range of security issues including international terrorism.
"I reiterated to Prime Minister Modi, New Zealand's consistent support for India to become a member of the reformed United Nations Security Council including if this means an expansion of permanent members," said Key.
"PM Modi and I also discussed about India's application to become a member of the NSG. I acknowledge the importance to India of joining the NSG. New Zealand would continue to contribute constructively to the process currently underway in NSG to consider India's membership. New Zealand is committed to working with NSG members to reach a decision as soon as possible," he added.
The visiting Prime Minister said New Zealand and India share a very strong and growing relationship, which can go on from strength to strength.
"India has undergone change and development. And we are trying to build warm relationship with India as we can. We are truly committed towards the relationship between India and New Zealand. We had a very productive meeting today," said Key.
"Today the Prime Minister and I discussed a range of new initiatives, which will help in this regard. We have agreed to work more closely together in areas such as food safety, cyber security, education and customs. This reflects the broadening nature of our relationship which is substantiated by our growing trade ties," he added.
The Prime Minister said trade between India and New Zealand has increased since his last visit in 2011, adding there is potential to do more.
"Prime Minister Modi and I are committed in creating business environment in our countries which allow our people to get ahead to create jobs and opportunities and create prosperity for our people and streamline trade rules through high quality trade agreement will encourage this," said Key.
"And Prime Minister Modi and I agreed to work towards that goal through bilateral free trade agreement negotiations and the regional comprehensive economic partnership talks," he added.
--ANI