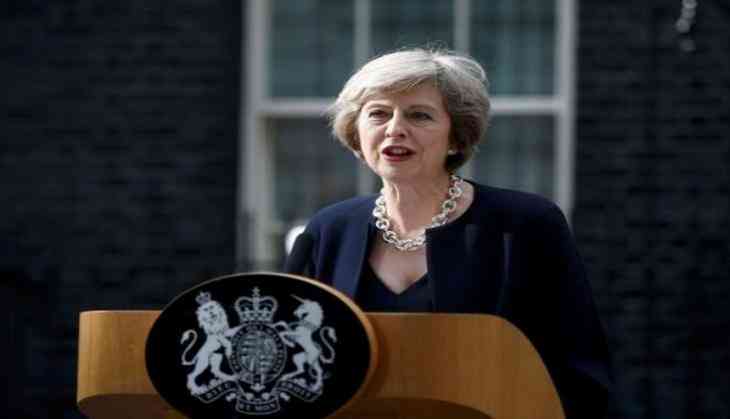 British Prime Minister Theresa May has stated that she was geared up to break up human rights laws to impose new restrictions on terror suspects as she wanted to gain control over the security agenda.
May said that she was looking at "how to make it easier to transport foreign terror suspects and to increase controls on extremists where it is thought they present a threat, but there is not enough evidence to act against them."
The intervention comes after days of pressure on May over the policing cuts and questions over intelligence failures.
"But I can tell you a few of the things I mean by that: I mean longer prison sentences for people convicted of terrorist offences. I mean making it easier for the authorities to deport foreign terror suspects to their own countries. And I mean doing more to restrict the freedom and the movements of terrorist suspects when we have enough evidence to know they present a threat, but not enough evidence to prosecute them in full in court. And if human rights laws stop us from doing it, we will change those laws so we can do it," she said.
The planned measures appear to be an attempt at strengthening the Terrorism Prevention and Investigation Measures (TPIMs).
May has also said she would check with the intelligence agencies about what they think is needed
"When we reduced it to 14 days, we actually allowed for legislation to enable it to be at 28 days. We said there may be circumstances where it is necessary to do this. I will listen to what they think is necessary for us to do," she said.
Earlier in the day, London attack ringleader Khuram Butt was identified as a major potential threat, which led to an investigation starting in 2015.
"The British police and the MI5 began investigating Butt intensively as part of a major drive to dismantle and destabilise al-Muhajiroun, a grouping of extremists in the U.K. supportive of the ISIS," U.K. counter-terrorism officials told CNN.
The investigation into Butt involved a "full package" of investigatory measures.
As soon as the British extremists began to flock to Syria to join the ISIS' newly declared caliphate in 2014, counter-terrorism officials moved more aggressively to take down al-Muhajiroun.
Butt was considered to be potentially one of the most dangerous extremists in the U.K., owing to his hardline views.
After the ISIS called for attacks in the West in September 2014, the British security services grew increasingly concerned that al-Muhajiroun members, who had remained in the U.K., would carry out terrorist attacks. One of those they were most concerned about was Butt.
The police say Butt was one of the three men, who rammed a van into pedestrians on the London Bridge before launching a stabbing spree in bars and restaurants at nearby Borough Market on 3 June's night. All three were shot dead by the police.
As many as seven people were killed and 48 others were injured.
-ANI