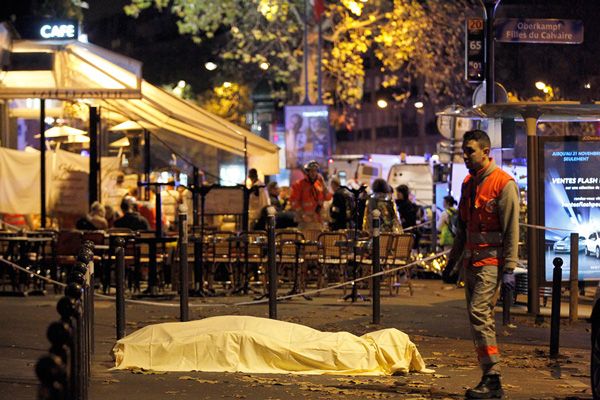 From opening their homes for strangers to standing up in unison to sing their national anthem in the face of a major terror attack, Parisians have shown how courageous people react to such tragedy. But at the same time, Friday's attacks, that killed 129 people, have instilled a deep sense of fear and insecurity within them.
This was palpable when the sound of firecrackers triggered scenes of panic and sparked rumours of fresh shootings. The incident happened on Monday, when people had gathered at Place de la Republique in central Paris to lay flowers and candles in memory of the victims. People were seen running for cover and calling the police after they confused the noise of firecrackers with that of a fresh attack.
Similar scenes were witnessed in nearby areas when sounds of a heater or lightbulb exploding was mistaken for a new attack, leading to people reporting it social media. A few hundred metres away, a few people jumped into the cold waters of the Ourcq canal, a security agent, reported AFP.
RAW VIDEO: Crowds flee in panic amid mourning the victims of Paris attacks https://t.co/fIGSCobcnG

- The Associated Press (@AP) November 15, 2015
Militants carried out multiple attacks across Paris on Friday late night killing 129 people and injuring several hundreds. President Francois Hollande called the attacks an "act of war" by the Islamic State. On Saturday, the Islamic State claimed responsibility for the attacks, calling it as a retaliation to French action in Syria.