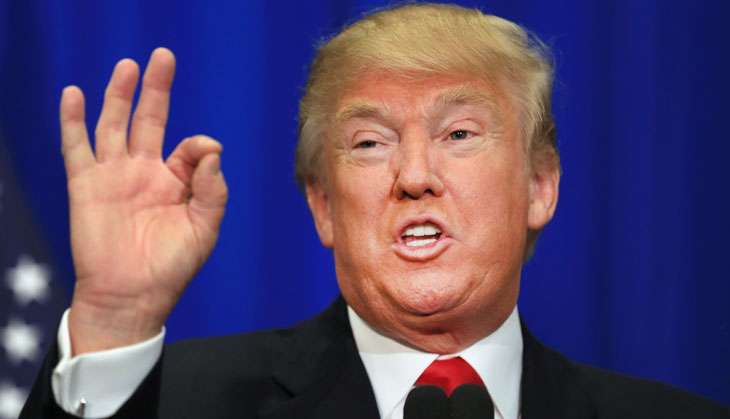 Republican presidential nominee Donald Trump's mixed messages on immigration have reportedly created tension in the party with several leaders drifting away from him and looking towards a Democratic presidency.
His demur speech in Mexico City and a vitriolic rally in Phoenix can be best examples.
Following his speech in Phoenix, the Republican National Committee is reported to have withheld planned praise.
Arizona senator Jeff Flake told CBS's Face the Nation on Sunday that Trump pivots and then pivots right back.
"So it's kind of a 360-degree pivot at times. That's not clear at all. Some people said it was hardening, some said softening. I say it was just confusing," the Guardian quoted Flake as saying.
He is one among the few republicans, who have refused to support Trump,
He, however, yesterday said that he would like to escape that "uncomfortable" position and vote for the New York billionaire.
Flake indicated a hint of praise for Trump's rival, Hillary Clinton, who has recently urged the Republicans to remember that the businessman's claims that Mexicans are "rapists" and refugees a "Trojan horse" of terrorism do not reflect their party.
"I wish more Republicans would say that as well. But if Hillary Clintonwants to say it I'm glad - I'm glad people, voters, are being reminded of it, anyway."
Trump then responded on Twitter - by bashing Flake.
"The Republican Party needs strong and committed leaders, not weak people such as Jeff Flake, if it is going to stop illegal immigration," he said.
He then elaborated that Flake was "a very weak and ineffective senator".
Trump and Flake in the past had already clashed, exchanging sharp words when the Arizona senator confronted the former in a meeting with elected Republicans on Capitol Hill.
Meanwhile, Senator John McCain, Flake's fellow Arizona senator has started running an ad that is said to look toward a hypothetical Clinton presidency.
"My opponent, Representative Ann Kirkpatrick, is a good person," he says in the ad.
"But if Hillary Clintonis elected president, Arizona will need a senator who will act as a check, not a rubber stamp, on the White House."
Though he has not explicitly rejected Trump, who last year mocked the Vietnam war veteran for having been captured by the Vietcong.
McCain has repeatedly asked the businessman to apologize to other former prisoners of war.
According to polls only some voters are said to be swayed by Trump's winding week.
In CBS poll, 47% of voters in swing states said they saw no change in his policy, and 37% said they thought he had slightly eased is proposals and the ABC poll, 78% thought Trump would fail to make Mexico pay for any wall, and 67% had a negative to his speech.
Meanwhile, some felt that Trump's Phoenix speech was a return to form.
Former Ku Klux Klan leader David Duke tweeted, "excellent speech by Donald Trump tonight."
Conservative author Ann Coulter compared it favourably to the speeches of former British prime minister Winston Churchill.
-ANI