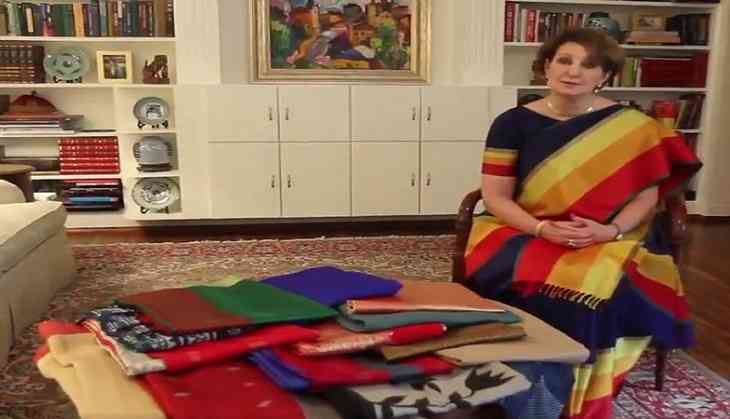 As India prepares to celebrate its 72nd Independence Day on August 15, US Deputy Chief of Mission (DCM) in Delhi, MaryKay Carlson, who is a fan of Indian sarees, said that the traditional garment represents the culture and diversity of the country.
In a video posted by the US Embassy, Carlson, who is drapped in a saree, said, "I love sarees. I love the kick of the plaids, the fall and draping. I feel that if I am not going to have a difficult day at work, then wearing a saree feels better all day long."
Carlson recalled that during the last Independence Day celebrations, she desired to wear a saree but was afraid of picking up a wrong one.
"I was afraid whether I would pick up a wrong one. So, we had an online contest called #SareeSearch. It was so much fun. It was so interesting to learn the rich textile heritage across this great nation," she added.
Carlson beamingly said that the different types of textiles, each having vibrant colours, truly represents India's diversity, adding that she wore the traditional garment to work last week.
Showing a pile of sarees kept on a table, Carlson elucidated that Kanjivaram, Dupion, Jamdani and Tusser are her favourites and called them as "beautiful."
"Most people are pleased to see their rich culture, especially the khadi culture and its link to the Independence Day that is celebrated by all the people. The sarees, especially during Independence Day represent the vast culture, colour and diversity of this great country," she said before signing off with a greeting, "Happy Independence Day".
(ANI)