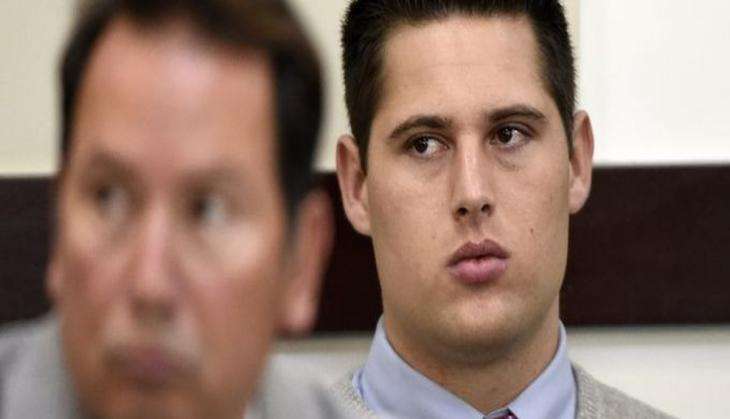 A student and former football player of Vanderbilt University, Brandon Vandenburg, was found guilty in the sexual assault of an unconscious female student and also encouraging his teammates to do the same.
A Tennessee jury found Vandenburg guilty in the sexual assault of an unconscious female student, said Stephanie Mosley, a court officer with presiding Judge Monte D Watkins, reports CNN.
Vandenburg was accused of taking the woman, whom he was dating, into a dorm room on the Nashville campus in June 2013, where three of his teammates sexually assaulted her.
The jury convicted Vandenburg on five counts of aggravated rape, two counts of aggravated sexual battery, and one count of unlawful photography.
Vandenburg will be held in jail and sentenced at a later date.
This was the second time Vandenburg was convicted for sex assault in 2015 but the judge declared a mistrial after finding one of the jurors was biased and not impartial.
Beth Fortune, Vanderbilt Vice Chancellor for Public Affairs, issued a statement that read: "It is our sincere hope that today's verdict strongly sends the message to victims and to perpetrators that sexual assault will not be tolerated in our communities. Vanderbilt will continue its work to combat the threat of sexual violence on our campus, and we appreciate our strong partnership with the Metro Nashville Police Department and Office of the District Attorney which helped deliver today's verdict and, we hope, some measure of resolution for the victim."
Two other former players, Brandon Banks and Jaborian McKenzie, who have pleaded not guilty have been charged but are yet to face trial in the case.
The sentence comes not long after another on-campus sex assault case gained notoriety. Former Stanford University swimmer Brock Turner was sentenced to six months in prison for sexually assaulting an unconscious student behind a dumpster, reports CNN.