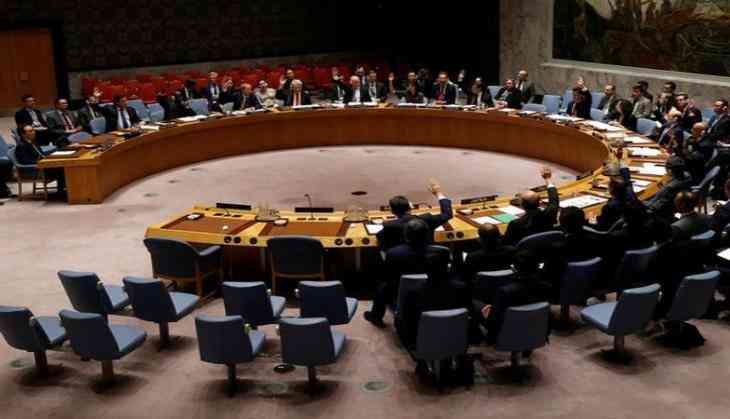 The United Nations Security Council has unanimously adopted a new resolution to expand sanctions against North Korea, including officials, entities and a military units handling ballistic missiles with both China and Russia voting in favour of the restrictions put forward by Washington.
Tthe 15-member council adopted Resolution 2356.
According to local news, Russia's deputy UN envoy Vladimir Safronkov said, after the vote that although Russia has supported the UN Security Council resolution 2356, imposing international sanctions on four entities and 14 officials to the sanctions list, including the North's Strategic Rocket Force that may be contributing to North Korea's weapons programs but talks with defiant Pyongyang must be resumed to find a political solution.
Moscow still believes that further confrontation with Pyongyang may have serious consequences for the region.
This time it is the seventh resolution the Security Council has adopted to impose sanctions on North Korea over its nuclear and missile programs since its first nuclear test in 2006. The new resolution came six months after the previous resolution was adopted in November to punish the North's fifth nuclear test in September.
"The Security Council is sending a clear message to North Korea today: Stop firing ballistic missiles or face the consequences," U.S. Ambassador Nikki Haley said after the vote.
"The logic of confrontation may have serious consequences for the Korean Peninsula. The crisis situation on the Korean Peninsula necessitates the resumption of collective work, and Russia is ready for it," the diplomat added.
Moreover, China's UN envoy, Liu Jieyi, said after the vote that the crisis should be resolved through resumption of talks if North Korea scales down its nuclear program while the United States and South Korea simultaneously end their bilateral military exercises in the region.
Tensions on the Korean Peninsula intensified in early 2016 when North Korea conducted a nuclear test and after that launched a ballistic missile carrying a satellite.
-ANI