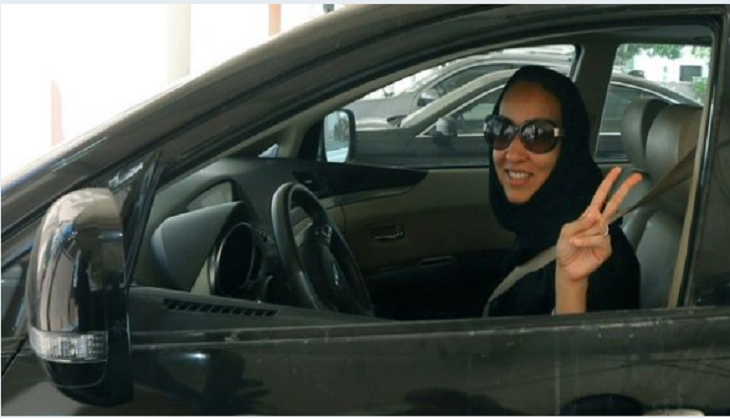 A major decission came on 26th September when Saudi Arabia's King Salman ordered to end the law and a conservative tradition of not allowing a woman to drive. Saudi Arabia was the only Gulf nation in the world that forbidded female drivers but now the ban on women drivers have been lifted. The decission came when the kingdom's Foreign Ministry announced the decission on their official Twitter account that read,"Saudi Arabia allows women to drive."
Saudi Arabia allows women to drive

— وزارة الخارجية 🇸🇦 (@KSAMOFA) September 26, 2017
Saudi Arabia which is the birth place of Islam followed this conservative tradition and had even received great criticism for the same. The decision was also announced on state television and in a simultaneous media event in Washington.
As soon as the decission came, celebrations began on the social media platform where Twitterati came out in full support of the decission and rejoiced. Check out how the people reacted on Twitter:
Congratulations to all women in Saudi Arabia! The ban on driving will be lifted next year & all women will have the right to drive #Progress pic.twitter.com/Zsc7gbMR8n

— Kris Jenner (@KrisJenner) September 27, 2017
I welcome Saudi Arabia's decision to lift the ban on women drivers. An important step in the right direction.

— António Guterres (@antonioguterres) September 27, 2017
Thank you King Salman, this is one big step forward in improving women's rights in Saudi Arabia. pic.twitter.com/uNoTaVIACG

— MGAG (@My_MGAG) September 27, 2017
#قياده_المراه_السعوديه
' I do not need to drive a car I have a special driver, but I would say congratulations to all Saudi Arabia women😍🇸🇦

— Reem Alsharif (@ReemAlsharif11) September 27, 2017
Saudi Arabia finally allows women to drive. A small gesture from kingdom, a giant leap for women civil rights & liberties#SaudiWomenDriving

— Willie Kabathi (@mbirakabathi) September 27, 2017
Congrats to every woman in Saudi Arabia! The ban of letting women drive will be lifted next year! #progress pic.twitter.com/6GamWF7B2N

— Hansen Optenberg (@fashion_duke) September 27, 2017
So glad girls in Saudi Arabia get to drive now. If only they could do other things too. #staystrong #freedom

— Yvette Madrid (@WHYvetteM) September 27, 2017