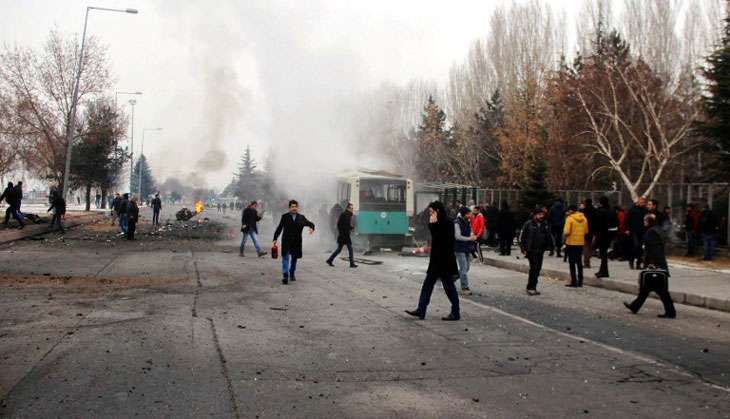 Thirteen Turkish soldiers were killed and dozens wounded on 17 December in a car bombing targeting off-duty conscripts being taken by bus on a weekend shopping trip. This is the latest in a string of attacks that have rocked Turkey in recent months.
Forty-eight soldiers were wounded in the attack in central Anatolian city of Kayseri, the army said in a statement, adding that there could also be civilian casualties.
Television pictures depicted that the bus had been reduced to a smouldering wreck by the blast's impact, as the wounded were taken to waiting ambulances.
The explosion comes a week after 44 people were killed on 10 December in a double bombing in Istanbul after a football match. The attack was claimed by Kurdish militants.
Deputy Prime Minister Veysi Kaynak said in televised comments that the attack in Kayseri was "unfortunately similar" to last weekend's strikes in Istanbul.
The army said that the bus -- carrying low-ranking privates and non-commissioned officers -- was attacked after leaving the commando headquarters in the city.
The bus was owned by the municipal transport authorities in Kayersi but was transporting the soldiers who had taken permission to go to a local market for the day, the Dogan news agency said.
President Recep Tayyip Erdogan has been informed of the attack by the chief of staff General Hulusi Akar, Anadolu added.
Interior Minister Suleyman Soylu was on his way to the city, it said.
Turkey has seen a spate of deadly bombings in a bloody 2016 blamed both on jihadists and Kurdish militants that have left dozens dead and put the country on daily alert.
In June, 47 people were killed in a triple suicide bombing and gun attack at Istanbul's Ataturk airport, with authorities blaming the Islamic State group.
Another 57 people including 34 children were killed in August in a suicide attack by an IS-linked bomber at a Kurdish wedding in the southeastern city of Gaziantep.
Kurdish militants have twice struck with bombings that killed dozens in Ankara in February and March.
The attacks have come with the civil war still raging in neighbouring Syria, where Turkey is staging its own incursion to force jihadists and Kurdish militia from the border area.
Turkey is also still reeling from a failed 15 July coup blamed on the US-based Islamic preacher Fethullah Gulen that has been followed by a relentless purge of his alleged supporters from all state institutions.
One of the main cities of central Turkey, Kayseri is a key industrial hub with a population of over one million and usually seen as a peaceful area.
It is well west of the southeast of the country that has been hit by months of deadly fighting between the outlawed Kurdistan Workers Party (PKK) and the security forces.
-PTI