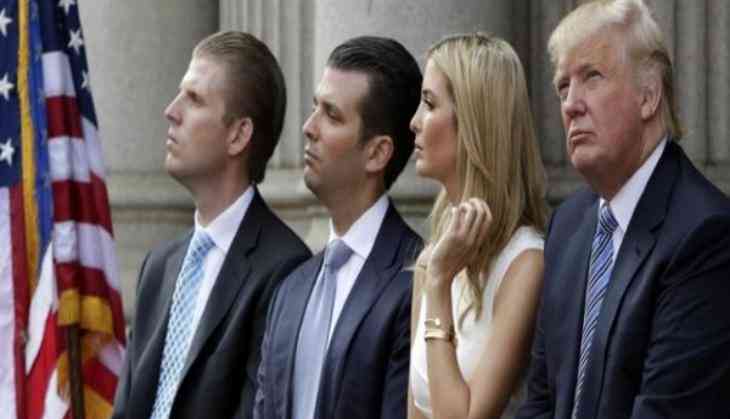 US President Donald Trump
Defending his eldest son, Donald Trump Jr., who has been caught at the centre of the controversy surrounding Russian meddling in the 2016 elections, United States President Donald Trump has called the former a high-quality person and also applauded his transparency.
"My son is a high-quality person and I applaud his transparency," CNN quoted a statement from the President as saying by White House deputy press secretary Sarah Huckabee Sanders.
Trump Jr. on Tuesday released an email chain that shows him discussing plans to hear damaging information on Hillary Clinton that were described as "part of Russia and its government's support for Donald Trump."
Trump Jr. tweeted that he was releasing the emails to be "totally transparent", quelling reports that cited that he was told before his meeting with a Russian lawyer that he would be offered compromising information about Hillary Clinton.
"Here's my statement and the full email chain," he tweeted.
Here's my statement and the full email chain pic.twitter.com/x050r5n5LQ

— Donald Trump Jr. (@DonaldJTrumpJr) July 11, 2017
Here is page 4 (which did not post due to space constraints). pic.twitter.com/z1Xi4nr2gq

— Donald Trump Jr. (@DonaldJTrumpJr) July 11, 2017
It was earlier reported that Trump Jr. was promised to damage information about Presidential nominee Hillary Clinton before agreeing to meet with a Russian lawyer, who has connections to the Kremlin.
As per the New York Times, the information provided by three advisers to the White House briefed on the meeting and two others who had knowledge of it.
According to reports, the unreported meeting, which took place on June 9, 2016 at Trump Tower in Manhattan, was attended by Trump's campaign chairman, Paul J. Manafort and his son-in-law Jared Kushner.
Though, it is still unclear whether Russian lawyer Natalia Veselnitskaya, actually fulfilled the promised compromising information about Clinton or not.
Donald Trump Jr. in a statement had said he had met the Russian lawyer at the request of an acquaintance.
"After pleasantries were exchanged the woman stated that she had information that individuals connected to Russia were funding the Democratic National Committee and supporting Clinton. Her statements were vague, ambiguous and made no sense. No details or supporting information was provided or even offered. It quickly became clear that she had no meaningful information."
He further claimed that he turned the conversation to adoption of Russian children and the Magnitsky Act.
According to a report by the New York Times, Trump Jr. was informed in an email that the cited material was a part of a Russian Government's effort to aid his father's candidature.
The email was sent by Rob Goldstone, a publicist and former British tabloid reporter, who helped broker the June 2016 meeting.
The emails are the first documentary evidence that a top Trump associate took a meeting that was connected to a Russian government effort to help Trump in the 2016 election. Trump Jr., in addition to being the president's son, was deeply involved in his presidential campaign.
-ANI