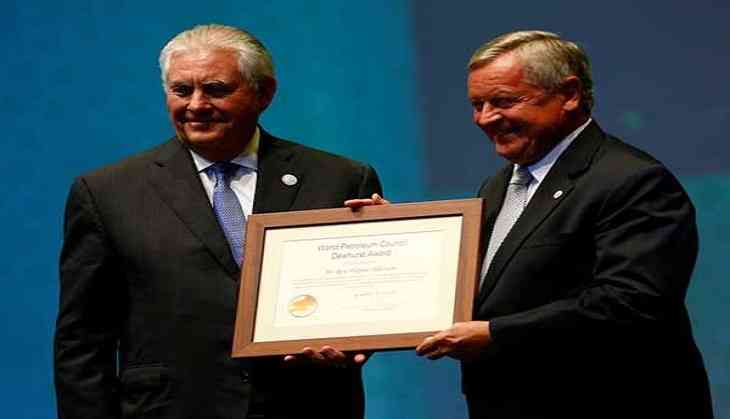 U.S. Secretary of State Rex Tillerson has signed a memorandum of understanding on combating terror financing with Qatar. He said the U.S. will extend support to Kuwait to find a solution to the ongoing conflict between Qatar and other Gulf nations. Tillerson is traveling to Jeddah on Wednesday to meet the officials and explore options to resolve the ongoing crisis.
"We have signed a memorandum of understanding on combating financing terrorism," said Qatari Foreign Minister Sheikh Mohammed bin Abdulrahman al-Thani during a press conference on Tuesday.
Tillerson said, " The major outcome of the talks was the memorandum of understanding signed between United States and Qatar on combating financing terrorism collectively, which for long the blockading countries have accused Qatar of financing terrorism. Now the state of Qatar is the first country to sign this memorandum of understanding with the United States."
Inviting other blockading countries to join signing this understanding, Tillerson said, Qatar today carrying with me the same spirit which President Trump traveled in Riyadh with in May. The United States has one goal: drive terrorism off the face of the Earth. The President said, and I quote, "Every country in the region has an absolute duty to ensure that terrorists find no sanctuary on their soil." The agreement in which we both have signed on behalf of our governments represents weeks of intensive discussions between experts and reinvigorates the spirit of the Riyadh summit."
Speaking on the rift between Gulf and Qatar and the role of Kuwait in mediating the talks, Tillerson said, "We had a good trilateral exchange around the conflict with His Highness The Emir and the foreign minister, with our Kuwaiti mediator partner. And my role is to support the efforts of the Emir of Kuwait and the Kuwaiti mediator to bring what we can to the discussions to help both sides more fully understand the concerns of the relative parties and also point out possible solutions to those."
Qatari Foreign Minister Sheikh Mohammed bin Abdulrahman al-Thanisaid, "We support the role which is carried out by the Kuwaiti mediator and supported by the United States, and we have been very much positive and forthcoming in engaging in a constructive dialogue which will result for a solution, which is - which has been the behavior of the state of Qatar from the beginning of this crisis. And we hope that the blockading countries behave in the same manne.
Tillerson further said, "The memorandum lays out a series of steps the two countries will take over the coming months and years to interrupt and disable terror financing flows and intensify counter-terrorism activities globally."
-ANI