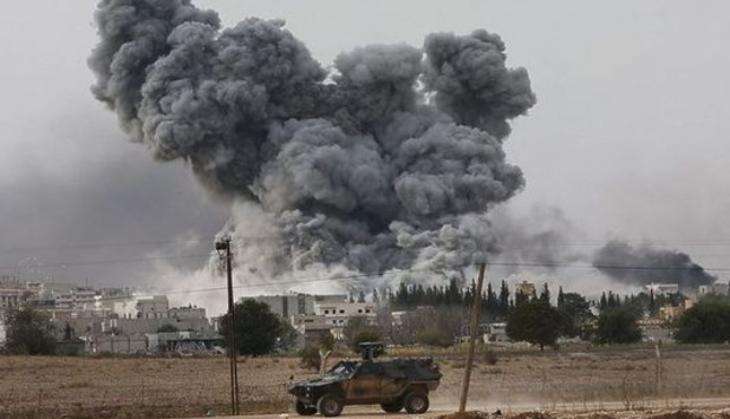 At least 35 civilians - including a number of children - were killed in Syria's rebel-held Idlib province on 27 October when air strikes hit a school and the surrounding area.
The Syrian Observatory for Human Rights said "warplanes -- either Russia or Syrian -- carried out six strikes" in the village of Hass, including on a school complex.
Eleven schoolchildren were among the dead, said the Britain-based monitor. The White Helmets civil defence group released pictures of four rescue workers clambering over a mound of rubble in search of survivors after what it said was a "double-tap" strike on the school.
The raids hit Hass around 11.30 AM (local time), an activist with the opposition Idlib Media Centre told AFP.
"One rocket hit the entrance of the school as students were leaving to go home, after the school administration decided to end classes for the day because of the raids," the activist said, speaking on condition of anonymity.
The authenticity of the pictures and footage could not be independently verified. The latest attacks took to 89 the number of civilians killed in air strikes on Idlib province in the past seven days, said the Observatory.
Syrian government forces and their Russian ally have been accused by rights groups of carrying out indiscriminate attacks on civilian infrastructure.
A leading opposition group condemned the raids.
The Istanbul-based National Coalition said Russian and regime warplanes "targeted children in their schools, deliberately and intentionally hitting civilians with high-explosive material".
Idlib province is controlled by the Army of Conquest, an alliance of rebel groups and jihadists including the Fateh al-Sham Front, which changed its name from Al-Nusra Front after breaking off ties with Al-Qaeda earlier this year.
Syrian and Russian warplanes regularly bomb Idlib, but air strikes have intensified in recent weeks, according to the Observatory. Swathes of eastern Syria is controlled by the Islamic State group.
Today, US Defence Secretary Ashton Carter and his British counterpart Michael Fallon said an offensive to drive IS out of its Syrian stronghold of Raqa would begin in the next few weeks.
--PTI