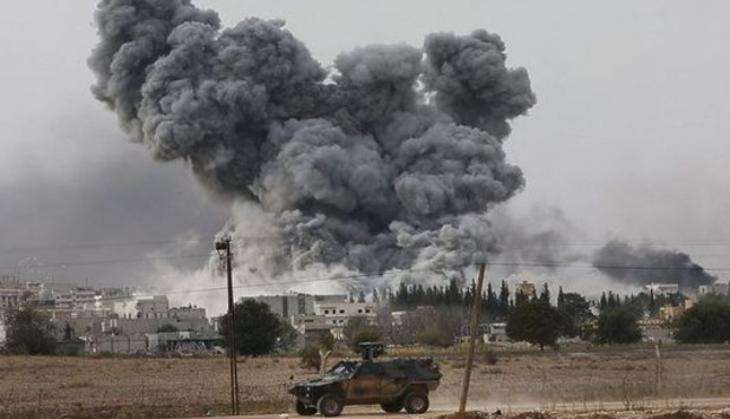 Syria: Several children among 35 dead in air strike hits school in Idlib (Representational image)
At least 35 civilians - including a number of children - were killed in Syria's rebel-held Idlib province on 27 October when air strikes hit a school and the surrounding area.
The Syrian Observatory for Human Rights said "warplanes -- either Russia or Syrian -- carried out six strikes" in the village of Hass, including on a school complex.
Eleven schoolchildren were among the dead, said the Britain-based monitor. The White Helmets civil defence group released pictures of four rescue workers clambering over a mound of rubble in search of survivors after what it said was a "double-tap" strike on the school.
The raids hit Hass around 11.30 AM (local time), an activist with the opposition Idlib Media Centre told AFP.
"One rocket hit the entrance of the school as students were leaving to go home, after the school administration decided to end classes for the day because of the raids," the activist said, speaking on condition of anonymity.
The authenticity of the pictures and footage could not be independently verified. The latest attacks took to 89 the number of civilians killed in air strikes on Idlib province in the past seven days, said the Observatory.
Syrian government forces and their Russian ally have been accused by rights groups of carrying out indiscriminate attacks on civilian infrastructure.